It's December and the holiday season is upon us.
Atlas Coffee Importers will be closed
Monday, December 26 & Monday, January 2.
We have collected holiday schedules from our warehouse vendors and combined it with our calendar to help you in timing your orders. Better grab a cup of coffee and have a seat. There is a lot of info to come and it's very important, in terms of your inventory management.
How to Place an Order
When submitting your order, please make sure you are emailing the correct personnel to avoid missed orders or processing delays. Include your preferred will call or shipping date so that we can process your order appropriately. Orders submitted without a specified date will be processed for the next available pick up or shipping date.
To ask about coffees or place an order, contact Sophia, Berenice & Tiffany in Customer Service | email customerservice.atlas@nkg.coffee | call 206.652.4880 ext 382
To discuss freight, request tracking, or to initiate a freight claim, contact Donna & Liz in Outbound Logistics | email outbound.atlas@nkg.coffee | call 206.652.4880 ext 129
When to Place an Order
Warehouses and carriers are working at maximum capacity to handle high volume in the supply chain. Winter weather can cause transit delays as well. Orders may take longer to prepare, carriers may not pick up on the scheduled day, and transit times may be longer than in the past. Plan ahead. Place your order early! Leave extra warehouse processing time and plenty of shipping time.
When our offices or a warehouse is closed, orders for that facility will not be processed or revised. If a warehouse is closed, orders will not be available to pick up or ship.
Below you will find four graphics to help you decide when to place your orders. First, is a Winter Schedule showing when Atlas and our third-party warehouses will be closed or running only partial days. This is followed by a set of Order Deadlines graphics, which highlight when we need to have your request so that it can be prepared on the day needed.
For each image, you may click to enlarge.
Winter Schedule
The graphic below shows the standard order deadlines for each warehouse as well as warehouse closure dates. Blank cells indicate the business is open as usual. Warehouses are sorted by required lead time; orders needing the most lead time are at the top. Please note, TGR has 3 deadlines, depending on the order size and delivery method.
The deadline for any order over 50 bags is 3pm, two days prior to the ship date.
Orders of 50 bags or less must be finalized by 8:45am one day prior if they are moving via TGR Delivery/Sunrise.
Orders of 50 bags or less moving via other methods (will call, common carrier, exw) are due by 11am one day prior to the ship date.
Listed lead times are ideals; a warehouse's ability to meet the turn time as listed is dependent on their volume on any given date. During peak volume periods, a warehouse may take longer to process orders.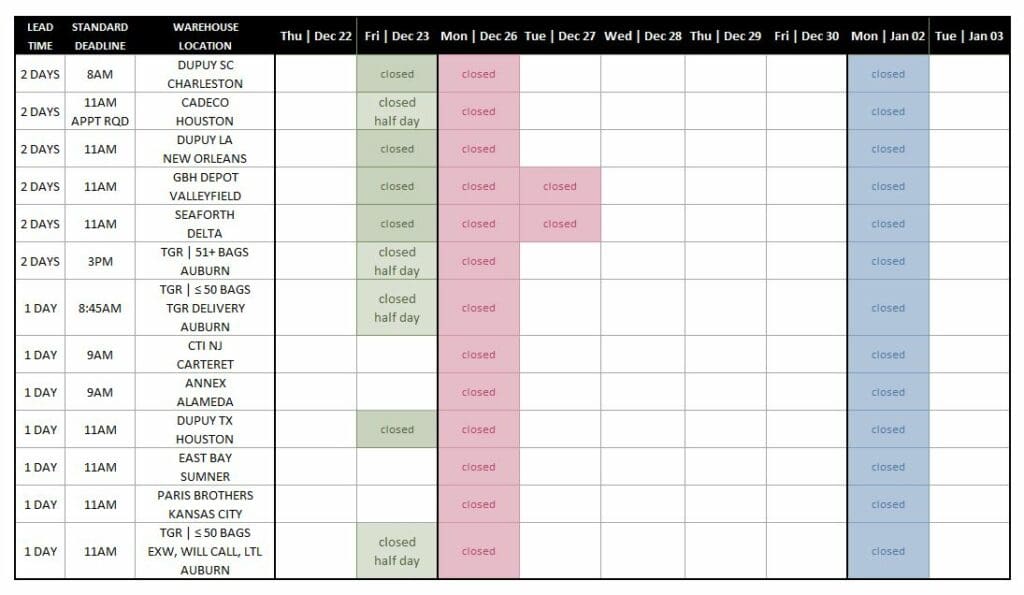 Order Deadlines
This set of graphics shows the last possible date to finalize an order and have it prepared and ready to pick up or ship. These are not delivery dates. Again, please remember that busy warehouses may need more time to prepare orders and busy carriers may not be able to pick up on the requested date. As a reminder, we highly recommend ordering earlier than the last possible date.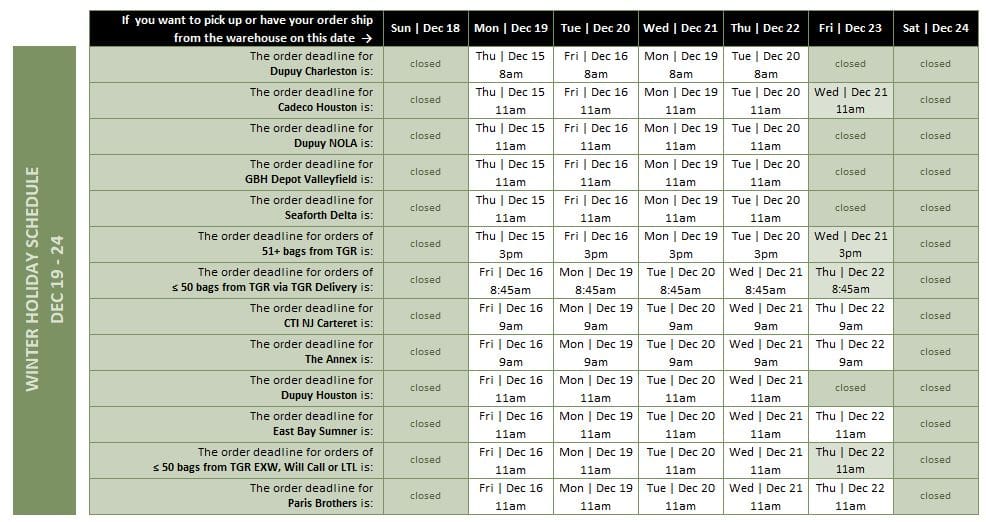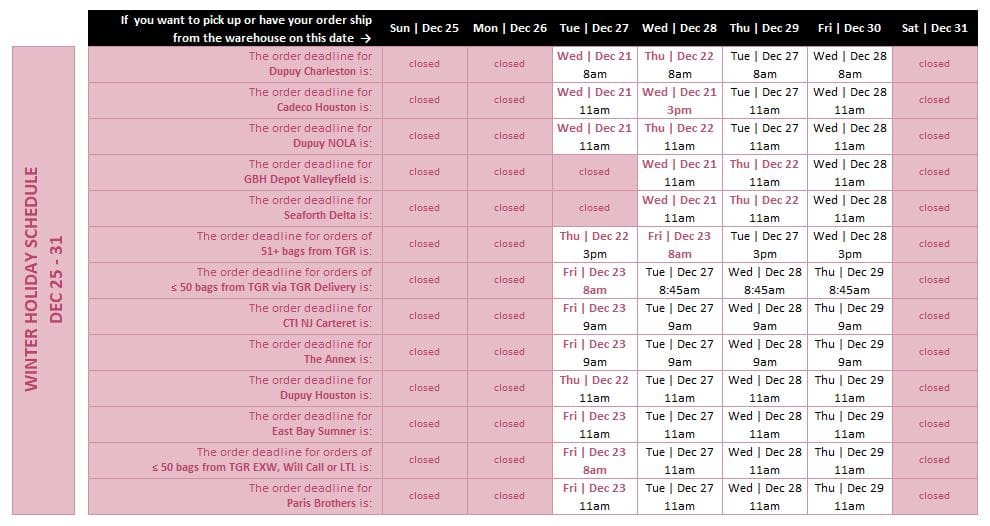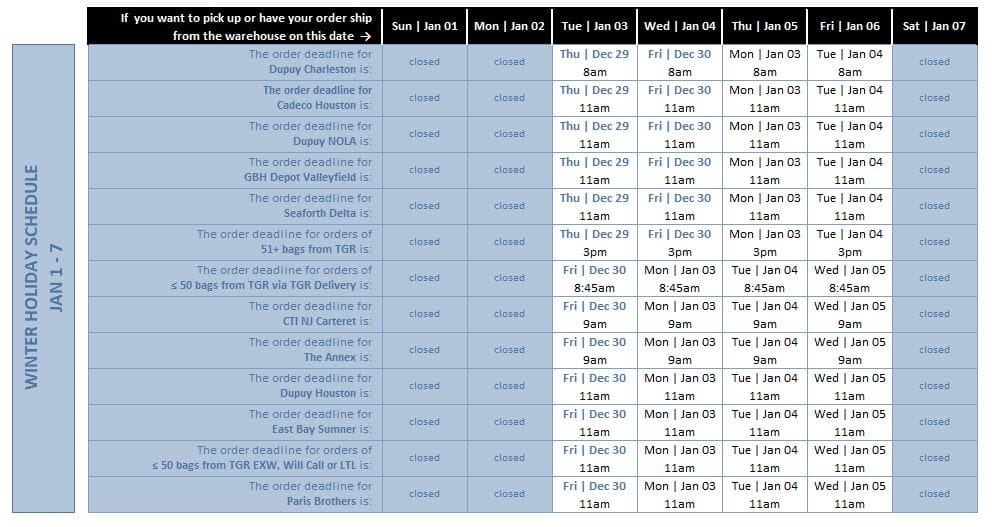 Well, now! You made it to the end of the post! You deserve a gold star!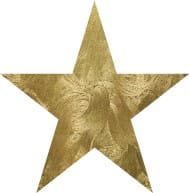 We know that was a lot of information and we understand that you may have questions. We're here to answer them. Please email outbound.atlas@nkg.coffee.
We wish you 

a very Happy Holiday season 

& a peaceful, prosperous New Year!
---
Banner image credit | George E. Koronaios, CC BY-SA 4.0 httpscreativecommons.orglicensesby-sa4.0, Via Wikimedia Commons