Thanksgiving is Thursday, November 24
Wishing you all a safe and happy Thanksgiving!
---
Atlas Coffee Importers will be closed Thursday, November 24 & Friday, November 25.
Additionally, our warehouse vendors are running modified schedules. These closures impact order timelines.
Cadeco, Paris Brothers, and The Green Room will close early on Wednesday.
All U.S. warehouses are closed on Thursday.
All U.S. warehouses, except Paris Brothers, will be closed on Friday.
Ordering Guidelines
Wondering when to place your order? Our best advice? Order ASAP!  This doesn't apply just to Thanksgiving. We expect winter weather and holiday freight to increase the already extended freight times we've all been experiencing. Plan ahead! Do your part to make sure you have coffee when you need it by placing orders early & leaving plenty of transit time.
When submitting an order, always include your delivery address, contact information, and any special requirements you might have (such as your need for an appointment or a lift-gate.)
Lead Times
Lead times vary by warehouse. Please review the graphic below, created based on each warehouse's published schedule and lead time. Holiday closures do not count as part of any warehouse's lead time. Some warehouses may need additional processing time. If you are arranging your own freight or picking up your order, please review the warehouse's response to the delivery order email to find the date on which they will have your order ready.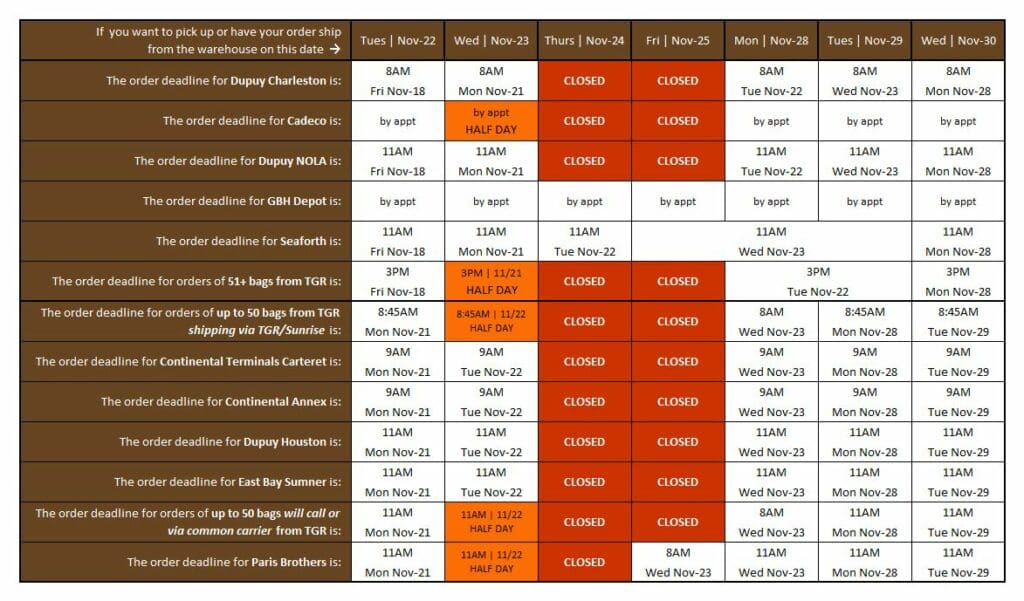 Contact Info
That is about everything. But we get it. It's a lot. If you need more info, we're available!
To ask about coffees, your position, or place an order, email customerservice.atlas@nkg.coffee or call 206.652.4880 ext 382.
To ask about orders in process or to talk about warehouses or freight – including any issues you've experienced with your delivery, email outbound.atlas@nkg.coffee or call 206.652.4880 ext 129.
Okay, that's everything for now, but let's circle back next month to talk about ordering timelines for the end of the year holidays, okay? Until then, stay well. We are grateful for you and hope that you have a lovely Thanksgiving.
---
Credit for the beautiful autumnal leaves banner image: Marta Boroń, CC BY 2.0 <https://creativecommons.org/licenses/by/2.0>, via Wikimedia Commons | https://upload.wikimedia.org/wikipedia/commons/6/60/Jesienne_li%C5%9Bcie_-_Autumn_leaves_%2835850984981%29.jpg