In early January we headed to Uganda with roasters to visit producer partners and to participate in the 6th Annual Bukonzo Joint Cooperative Union (BJCU) Microlot Competition. In order to include additional buyers, we held a near-simultaneous competition in our Seattle lab, making it the 1st  International BJCU Competition by averaging the scores by judges in both Uganda and Seattle. Atlas' Director of Education and QC Drew Billups will write another post detailing the nitty-gritty of the competition itself along with additional QC trainings that he conducted, so this post will focus on other aspects of our visit to BJCU as well as recapping a quick visit a new partner, Rwenzori Farmers Cooperative Union (RFCU).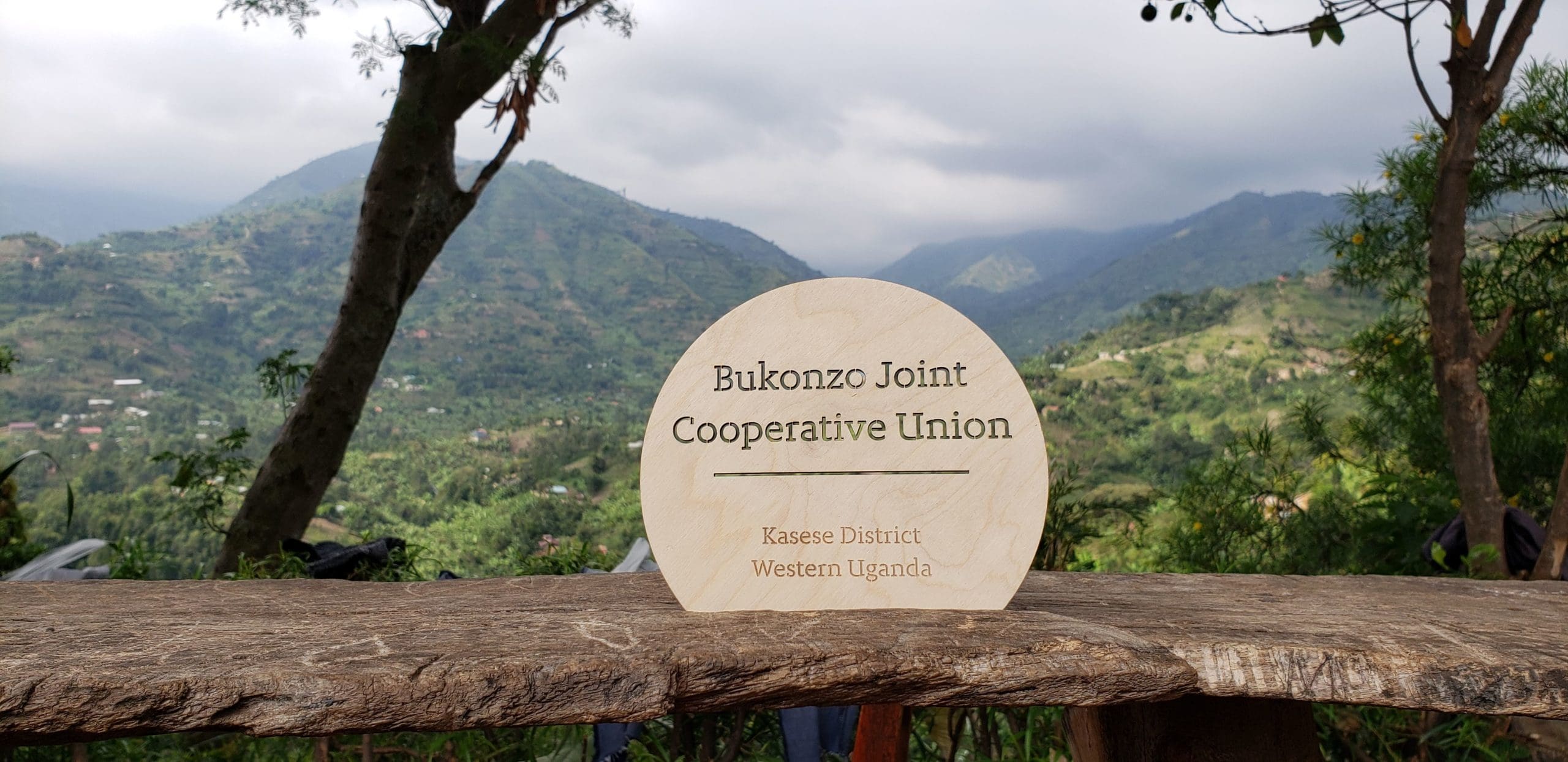 Atlas has been purchasing coffee from BJCU, located in the heart in Uganda's Rwenzori mountains, since 2011. Over the past decade BJCU has weathered its fair share of storms, both literal and metaphorical. Competition for cherry-buying in the Kasese region has increased dramatically in recent years, and climate change has wreaked havoc on farms and farmers (e.g. the main crop and fly crop are nearly back-to-back, hail storms are more frequent, and the flood-drought cycle has become more pronounced). And yet, each year we visit BJCU members, they continue to push their quality standards and hold to their values as a cooperative and a community.
Gender Action Learning System (GALS)
One of Bukonzo Joint's highest values is gender equity among their members, which has been implemented through a program called Gender Action Learning System (GALS). This year we had the opportunity to participate in a GALS workshop, run by members of Katherere micro washing station and facilitated by BJCU General Manager Baluku Paineto. We focused primarily on vision journeys—a GALS tool that uses symbols and pictures to do individual/household/community long-term goal setting. The shorthand version is:
Step 1: Draw your current situation in lower-left-hand side of the paper
Step 2: Draw your goal in the upper-right side of the paper
Step 3: Draw the opportunities/resources you have that will help you achieve your goal
Step 4: Draw the challenges you have preventing from reaching your goal
Step 5: Draw the specific milestones you will take to achieve your goal
Step 6: Share your vision journey with others to find commonalities
Step 7: Periodically review and assess your progress.
What made this specific GALS training especially memorable was vital step 6: the conversation that followed the vision journey activity. Discovering the commonalities in our own vision journeys even as we each represented different links in the coffee supply chain highlighted shared opportunities, challenges, and values. Our particular group, which included a Nicaraguan coffee producer, BJCU members, Atlas, roasters, and café owners, had risk mitigation, transparency, and trust as some key shared values. At one point, Paineto said, "There's a big mountain between producers and buyers and we must both climb to the top." GALS is just one way to meet at the summit and bridge that gap.
Practically speaking, BJCU uses vision journeys at multiple levels of the cooperative: individual, family, core cooperative, and union level. Each level's vision journey is based on this central conversation around commonalities and shared values, so the goals are representative of all stakeholders.
BJCU's History
We then visited two older members of the community, Yona Bafera (76 years) and Yonia Magambo (72 years) to learn more about BJCU's roots. In 1978, the Bwimaro Peasant Savings Society was founded with the aim to education children and help with medical bills. In 1992 the group received training on how to make local stoves and improve cooking. Several groups joined together to form credit and savings groups, and in 1999 Bukonzo microfinance association was formed. Bukonzo Joint Cooperative Union grew out of the microfinance association and was formed in 2005. From 2005-2010 the coop sold its coffee locally but received decent prices due to good negotiating power.
In 2007 Linda Mayoux came to BJCU to facilitate GALS trainings and attitudes started changing. Even though, "In some homes, men are still kings," many households started sharing household tasks and responsibilities, with significant impacts on household incomes and opportunities. Historically only boys received education, but the BJCU said, "Out of your earnings for coffee, some will be set aside for girls' education, and some will be set aside for boys' education." BJCU wanted land titles to be under name of both men and women so women could own land.  In Uganda, even women can legally own land, in practice it's difficult, and the local district officials initially rejected their request. BJCU persisted (and succeeded): "Take your time. We have walked these long miles to achieve what we have achieved."
Over the years, BJCU has invested in its members, post-harvest processes, and infrastructure. This year they purchased an optical sorter, built additional storage spaces and drying tables, and are meticulously keeping delivery lots well-tagged and separated in the warehouse. Fair Trade funds have been used to provide electricity, repair roads and bridges and invest in infrastructure in local schools.
Today BJUC has 15 micro washing stations throughout the Rwenzori mountains, one central dry mill, and 1,700 members. Each micro washing station services 100-200 members, who rotate managing the washing station and use small pulpers to depulp coffee cherries before dry fermenting in buckets for 12-13 hours, bucket wash the mucilage off, and dry the parchment on raised beds for 3-4 weeks until it reaches 12% moisture (a formidable task given that coffee harvest is during rainy season). The efforts have paid off, with the top lots in the microlot competition achieving scores of 86+.
Rwenzori Farmers Cooperative Union (RFCU)
Down the road from BJCU, also in the Rwenzori mountains, you can find members of Rwenzori Farmers Cooperative Union (RFCU) working to produce specialty natural arabica coffee. Atlas is delighted to be importing RFCU's first container of coffee this year, and around 150 bags will be available in May/June on the West Coast. RFCU, registered as a union in 2016, is an umbrella cooperative of 16 primary cooperative societies, representing 3,200 members. Each primary cooperative society has small drying stations, and RFCU has 5 larger drying stations for drying overflow.
RFCU started as a vanilla cooperative, and later added cacao and coffee. They are Fair Trade + Organic in Vanilla and Fair Trade certified (and passively organic) in cacao and coffee. Around 2,600 of their 3,200 members grow coffee, and women comprise around 60% of their members. RFCU encourages its members to grow at least two of the three crops for risk mitigation and to have additional income sources. Vanilla, in particular, is a risky crop. Because it can fetch such high prices (over $100/kg of ripe vanilla beans), farmers invest in additional fencing, and will even sleep outside to guard against thieves. Some people have even been killed defending their vanilla, and others have had their entire crop stolen, so farmers intercrop with other, less risky, crops such as coffee, bananas, cassava, and cacao.
Members harvest coffee ~ 1,200-1,600 MASL, and the average member has around 1.5 acres of coffee, and yields of around 1.5 kg of coffee cherry per tree. Most trees are SL14 and SL28, and members have a three- trench system to create organic fertilizer, as well as trenches for rainwater retention. As opposed to most DRUGAR sold in Uganda, where cherries are dried on the ground, RFCU is focused on quality. When the primary societies buy cherry from farmers, they sort, float, and then return floats to farmers. Coffee is dried on raised beds, where members and staff monitor and continue to sort on tables, and dry the cherries for 10-14 days depending on weather. Once the moisture reaches 11% the cherries are brought to the primary society's store, then brought to central store to be bagged and placed on pallets (separated by primary society and delivery lot), then taken to BJCU for dry milling and export preparation. Main crop runs from Sep-Dec, and fly crop Feb-May/June.
Aside from working capital, RFCU's main challenges have been with weather and lack of drying tables. There is also considerable competition in the Kasese area, with some buyers paying similar prices but without any quality expectations. In order to retain/grow their membership, RFCU talks about their 2nd payment, social Fair Trade premiums, training, demo plots, credit/savings schemes for farmers, and cash advances to farmers (who can pay back in cherry delivery).
Atlas is happy to be offering a traceable, natural process, Fair-Trade certified coffee from Uganda, and after cupping the pre-ship at both a cupping roast and espresso shot, we are even more excited about this partnership and the potential uses for this coffee.
Look for both BJCU and RFCU coffees to be hitting our West Coast offerings in June.