From January 30th through February 12th, I had the opportunity to attend the annual Africa Fine Coffee Association (AFCA) Conference in Dar Es Salaam, Tanzania, as well as visit several cooperatives in Rwanda and Uganda. I also spent much of my time with the fine folks at Twin, a partner organization of Atlas', and a UK-based NGO working directly with farmers and cooperatives throughout East African and Latin America.
Twin and AFCA jointly hosted a Gender and Coffee Summit to discuss why gender justice is central to the sustainability of the specialty coffee industry, and they did so by moderating panels at four different levels: farm/household, producer organization, market and national/international.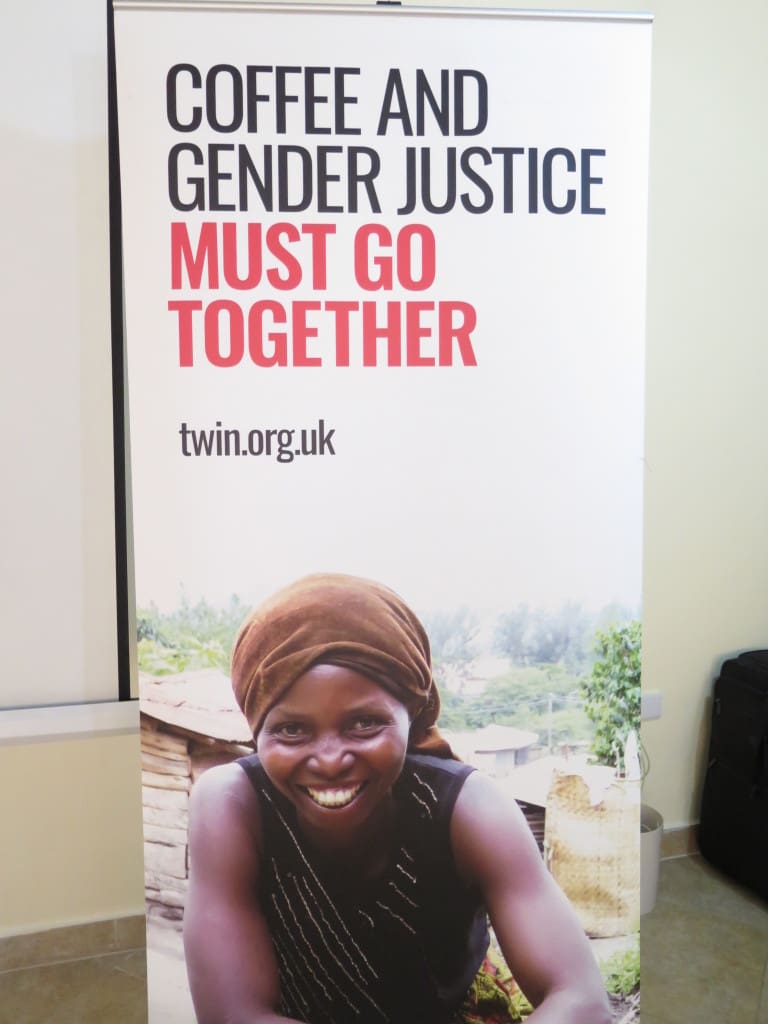 Heading into the panel, most people where familiar with the research: In East Africa, female farmers account for 70% of agriculture labor, but only access 15% of income and only 20% own land. When women own land and receive more income, studies have found that women prioritize their earnings back into their homes and the community (nutrition, education, and health). When women receive technical training related to coffee, quality and productivity increase, prices increase, and there's more money to go around at the household and community level. Win-win, right?
But, on a practical level, how are participants in the specialty coffee world promoting gender justice?
This is where moderated panel discussions, followed by audience questions, were useful formats to discuss these issues.
At the household level, we discussed GALS (Gender Action Learning System), a well-used and proven methodology that many on the panel and in the audience had used. GALS (based on PALS-Participatory Action Learning System—which was developed and piloted by Linda Mayoux in Uganda in 2002) is a community-led methodology based entirely on pictures that enables household members (men and women) to identify and negotiate their interests, needs, and goals. Participants learn awareness, participatory, and communication skills through a variety of diagrams, such as Road Journeys (to analyze progress over time), Trees (to analyze inputs and outputs by each family member), Diamonds (to develop and rank goals), and Calendars (to look at income/expenditure throughout the year), among other tools.
At the Producer Organization level, we discussed Gender Policies, women and land ownership, women in leadership positions within Producer Organizations, and women-produced coffees. At this stage in the discussions, people were particularly interested in women and land ownership. Currently, many East African countries have provisions and laws at the national level granting women access to land, but customary laws seem to take precedence, making it challenging for women to co-own land with their husbands, or for widows or single women to own land. While this is a big issue, both at the local and national level, and one that won't be solved immediately, several of the cooperatives have begun addressing it. Several women's groups within various cooperatives have purchased communal land in which to grow coffee and other agricultural crops, and as gender justice is addressed at the household levels within communities, mindsets are slowly changing.
At the Market Level discussion, I sat on a panel with Emily Hawken, a coffee buyer at Taylors of Harrogate, UK, and Cristina Ruiz, Head of Coffee program of Twin. Katherine Nolte, Senior Marketer at Twin, was the moderator. We primarily discussed women-produced coffee, and the opportunities we saw in the marketplace. Prior to the conference I discussed with several of Atlas' clients about the opportunities and challenges they saw surrounding women-produced coffee (the primary one being lack of communication/awareness of the availability and role of women's coffee in the greater specialty marketplace). I also spoke to Christy Thorns, Director of Sourcing and Quality Control at Allegro Coffee, (as they have been purchasing women-produced coffee for over a decade) about her experience of sourcing women-produced coffee. Christy noticed that, overall, coffee from women's groups tended to score 1-2 points higher (based on SCAA scoring) than bulk lots, and that women would put the social premium they received back into the community (training centers, bakeries, education, families).
Throughout the morning, we spoke a lot about the balance of recognizing women for their work (paying a premium for separating and milling women-produced coffee, although there's not yet an industry-standard premium) while at the same time not alienating the male members of the cooperative. We also discussed how women-produced coffee isn't always the best way forward for a given cooperative. At BCJU, gender justice has been so practiced in their cooperative and communities that the men and women don't feel the need to produce women-produced coffee lots. For other communities, women-produced coffee lots work especially well when in conjunction with GALS and gender justice training at the household and community levels so that men are just as much a part of the process as the women.
At the national/international level, all of the panelists spoke of the advocacy work being done by AFCA, the International Women's Coffee Alliance Chapters in Africa; and initiatives that the 4C Association (www.4c-coffeeassociation.org) and International Trade Centre (arm of UN and WTO – www.intracen.org) are doing to promote gender justice.
A week after the conference, while sitting down with Teddy Ithungu (a GALS trainer and member of Bukonzo Joint Cooperative Union (BJCU) in Western Uganda), I witnessed first-hand how GALS has impacted her life. She showed me all of her diagrams and walked me through her finances, goals, income, expenditures (expected and actual). She had a better pulse on her finances and goals through her diagrams than I do with my accounting software at home! The GALS tools are used not only on a household and community level, but also a producer organization level.
The picture above was drawn and developed by the members of Musasa Lower (micro washing station within BJCU), of which Teddy is a member. Each of BJCU's 39 washing stations has its own diagrams, which is another reason why I think GALS is successful – while participants learn the various tools needed to draw and use the diagrams, participants draw the diagrams themselves, and come up with their own goals. The system provides tools for participants to communicate and empower themselves, their families, and their communities in a way that is meaningful to them, which is proving to be a sustainable and successful model across many different communities. The system seems so successful that I think it could be used across all communities, and I'm tempted to try it within my own family.
During my time in Rwanda, I toured the 1.2 hectare community plot owned by "Ejo Heza", a women's group within the Kopakama Cooperative to see the some sustainable agricultural methods they are implementing, with the help of Twin.
I also visited Abakundakawa cooperative (a group Atlas has been purchasing coffee from for many years), and met with Colette Nakabonye and Cecile Mukahirwa, the President and Secretary of Abakundakawa's women's associciation called Hingakawa. From them, I and learned about the initiatives they've been able to implement using the women's premium, including purchasing pigs and goats for member, a plot of land on which to build a training center, and sewing machines and sewing instruction for members.
During my time in Rwanda, Atlas sold out of the container of Hingakawa we had in Seattle. It was encouraging to be able to tell Colette and Cecile, "The quality of your coffee was so high that many people bought it and we are now sold out until next harvest."
While women's societies and groups within cooperatives are not a new phenomenon, and women's-coffee is not the be-all, end-all, but rather a stepping stone for gender justice, it's encouraging to see how gender justice (through GALS, women-produced coffee premiums, women in leadership, etc.) are impacting farmers' livelihoods in a positive way. In recent years, as the market for and interest in women-produced coffee has increased, I'm excited to see how buyers, sellers, and producers can work together to promote gender justice and great-tasting coffee at the same time.
Atlas is excited to be bringing in a greater variety of women-produced coffee (from Sumatra, Rwanda, Nicaragua, and others to come) as we continue to cultivate relationships with women's groups and learn more about their work.