Atlas Residency
at La Marzocco Café
Week 2 - February 20th to 26th: Solid Foundations for Quality
To experience the residency from afar, follow @atlas_coffee and @lamarzoccocafe to learn about our featured coffees, specialty drinks and events! Banner photo by ForageWorks.

Serving as the resident at the La Marzocco Café has been an absolute pleasure for the Atlas team!  During our first week, we explored some of our favorite long-distance relationships through showcasing the efforts of coffee producers in Myanmar, Peru, and Indonesia.  We tasted "bad", or defective, coffees to explore all that can possibly go wrong at origin, and we told an exciting story from Yemeni seed to cup and unveiled that mystery that is logistics through diving into of Mokhtar Alkhanshali.  As you now know, we have curated our menu and the café space to shine the spotlight on farmers, roasters, and local businesses while infusing the environment with a touch of Atlas culture and history.
We proudly source coffee for a wide variety of roasters that represent the entire range of size, scope, and roasting styles across the specialty coffee industry. As such, the beverage menu curated for the La Marzocco residency is anchored by classic beverage offerings typically found on cafe menus, such as espresso and lattes, along with filter staples such as batch brew.  To illuminate some of the innovation and emphasis on traceability within the specialty coffee community, we are featuring rotating Single Origin coffees brewed on Chemex along with signature espresso beverages. During Week 2, we examine "Solid Foundations For Quality," or the exceptional quality that results from institutional support at origin and lengthy partnerships.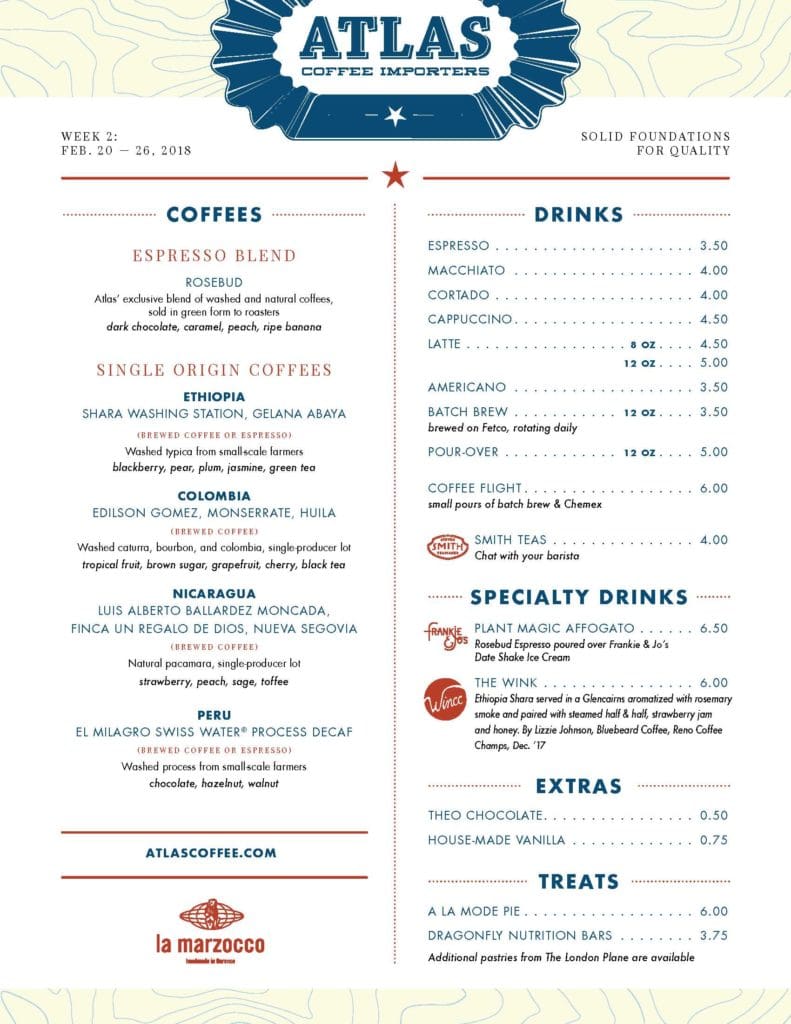 Our Single Origin Espresso of the week is a washed process coffee produced by small-scale farmers from at the Shara Washing Station near Yirgacheffe, in Gelana Abaya, Ethiopia.  During our most recent visit to Shara WS in Gelana Abaya, we were blown away by the tidiness of the facilities, and terrific condition of the equipment.  The depulping machinery and fermentation tanks were all pristine, and the drying beds were all in fantastic condition.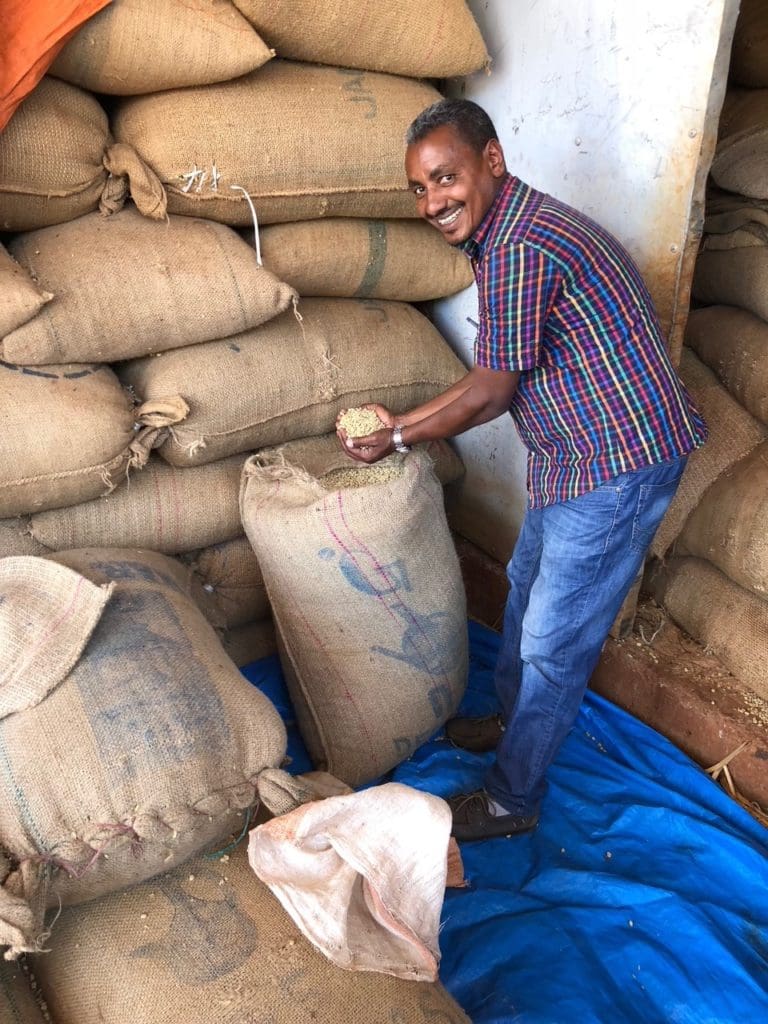 Also extremely impressive was the teamwork of the workers at the Gelaya Abaya washing stations, particularly at Shara.  A group of a dozen or so worked together with long wooden paddles to stir up the fermenting parchment coffee before washing through the concrete channels to ensure removal of loose mucilage from the parchment.  Another several dozen workers sorted drying parchment coffees together on raised beds, both groups singing in time to the rhythm of their activities.
It's obvious from the cup that the attention to detail in processing at the Shara WS applies to the production of the coffee cherry at the smallholder farm.  It's this complexity along with the evident care invested in the coffee by the farmers delivering to Shara that sets it apart from the scores of Yirgacheffe offers Atlas receives each year.
The clarity of the Shara coffee represents the classic sweetness, fruity and floral tones for which Ethiopian coffees are known.  With hints of lilac, blackberry, melon, and stonefruit, the Shara is remarkable in flavor, both as an espresso extracted on the La Marzocco Strada and as a pour-over.  Moreover, our specialty drink of the week celebrates our partnerships with roasters and retailers.
For the US Barista Competition Qualifiers, Atlas joined WINCC and Brandon Paul Weaver of Foreigner Coffee in sponsoring first-time barista competitor Lizzie Johnson from Bluebeard Coffee in Tacoma, WA.  Lizzie and Bluebeard owner Kevin McGlocklin blind-cupped a range of coffees at the Atlas lab and selected the Shara as Lizzie's competition espresso for Reno Coffee Champs.
For her signature beverage, to represent the community of people that had supported her coffee career and opportunity as a competitor, Lizzie extracted the espresso and enhanced it with strawberry jam made with fruit from her mother's garden, wild honey from Tacoma, steamed half & half from a local dairy, incorporating the ingredients and serving it in a Glencairns glass aromatized with smoked rosemary, a plant which is also commonly cultivated in Ethiopia.  The Wink, named as a nod to the nonprofit WINCC that sponsored Lizzie, is being served at the La Marzocco Café through Monday, February 26th.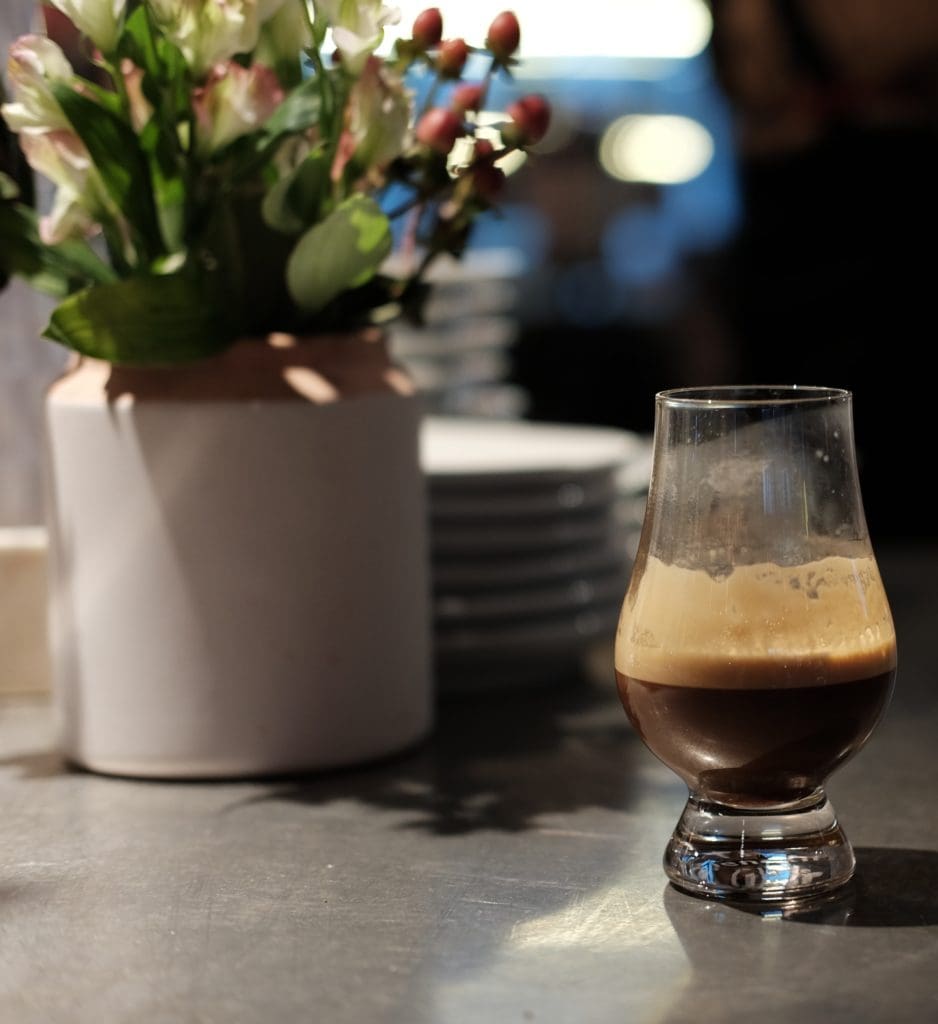 Want to recreate The Wink at home?  Colectivo Coffee, based in Milwaukee, WI, serves as a featured roaster.  To experience an Atlas-sourced washed Ethiopian coffee at home, order a bag their delicious Kebero.
This week, Atlas and La Marzocco also celebrate the quality produced by at our beloved Monserrate community in Huila, Colombia.  As the contractor for the five-year, USAID-funded Colombian Specialty Coffee Program, ACDI/ VOCA introduced Atlas to the farmers of Monserrate in 2005. Craig Holt, Atlas' founder, initially traveled to Monserrate as an ACDI/VOCA volunteer and worked with the growers to assess the quality of their coffees, review their harvesting & processing techniques, and offer suggestions on how to position themselves in the specialty coffee market.
Impressed with the possibility for truly exceptional coffee production in the community, Craig returned the following year with several roaster clients and solidified a relationship. Today, Atlas continues to purchase Monserrate's coffee at a high premium over the internal price for conventional coffee and promotes the majority of their production under the community's name.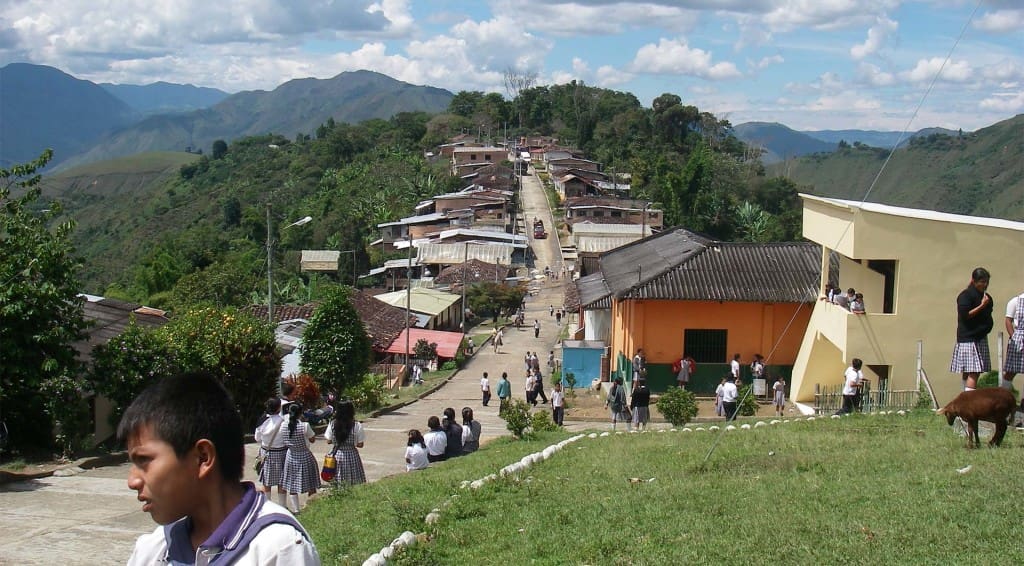 While the blended coffee from Monserrate has always been fantastic, it didn't take long for us to realize that certain producers were taking a little more care with their farming and processing practices than others. In 2008, Atlas facilitated the first "Lo Mejor de Monserrate" microlot competition, in order to give farmers the opportunity to have their lots cupped and scored independent of the rest of the group. During our residency, we feature one such microlot, produced by Edilson Gomez and sourced for Coava by owner Matt Higgins.  You can taste Edilson's coffee on batch brew, Chemex, and as a component of La Marzocco's Rosebud Blend.
To round-out our Single Origin selection, baristas are also brewing a natural Pacamara grown and processed by our friend Luis Alberto Ballardez Moncada on his farm Finca Un Regalo de Dios in Nueva Segovia, Nicaragua.  Finca Un Regalo de Dios (URDD) is Luis' pride and joy. The farm is located in a lush pocket of forest protected on three sides by high mountains in the otherwise dry and piny area of Mozonte. The farm is divided into several plantíos based on altitude, which interestingly enough has little direct corrolation to quality. On several occasions we've seen lots from the middle plantios of La Peña and La Amistad in the 1,500 – 1,600 masl range show best, although the plantio called El Aserradero is near the top of the farm above 1,600 masl and frequently is our highest scoring lot from URDD each year. As the popularity of his coffees increases, Luis Alberto is separating pickings even more specifically. His farm managers keep Red and Yellow Catuai cherries seperate, and even multiple lots from the same plantio harvested and processed on the same day may have subtle variations that might make them better suited to Pulped Natural or Full Natural processing rather than conventional washing. At the very top of Finca Un Regalo de Dios sits the plantio "El Ganador," which is entirely Pacamara variety and named for its previous success as a first place Cup of Excellence competition winner.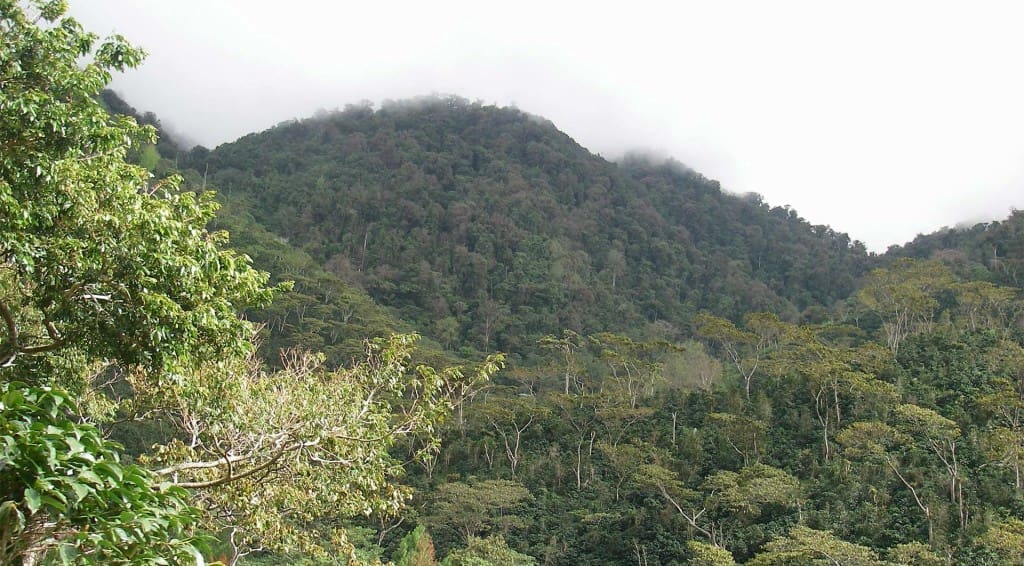 Victrola Coffee Roasters, who generously provided the use of their Diedrich IR-12 roaster for the residency, serves as our featured roaster.  If you cannot taste the Atlas roast of the natural Pacamara at La Marzocco, order a bag of Victrola's washed Pacamara.
Finally, throughout our residency, La Marzocco baristas are also extracting Peru El Milagro that has been decaffeinated with Swiss Water.  Perhaps the smallest of our cooperative partners in any origin, CASM El Milagro began supplying us in 2010 and has provided consistently solid Peru FTO. While this accomplishment might be noteworthy on its own, the journey that the coffee takes just to get to the nearest highway is even more so. The co-op's base of San José de Lourdes is located near the Río Chinchipe, and to cross the river a vehicle first must drive on to a flimsy-looking raft attached to a metal cable that keeps the raft from drifting away in the often-strong current. Even faced with such obstacles, El Milagro continues to look for ways to improve quality and succeeded in selling its very first single-producer micro-lot in 2015.  How fitting that El Milagro then becomes an exceptional, and traceable, decaffeinated coffee!
Peru El Milagro Swiss Water Decaf is currently being roasted by DOMA from Sand Point, Idaho.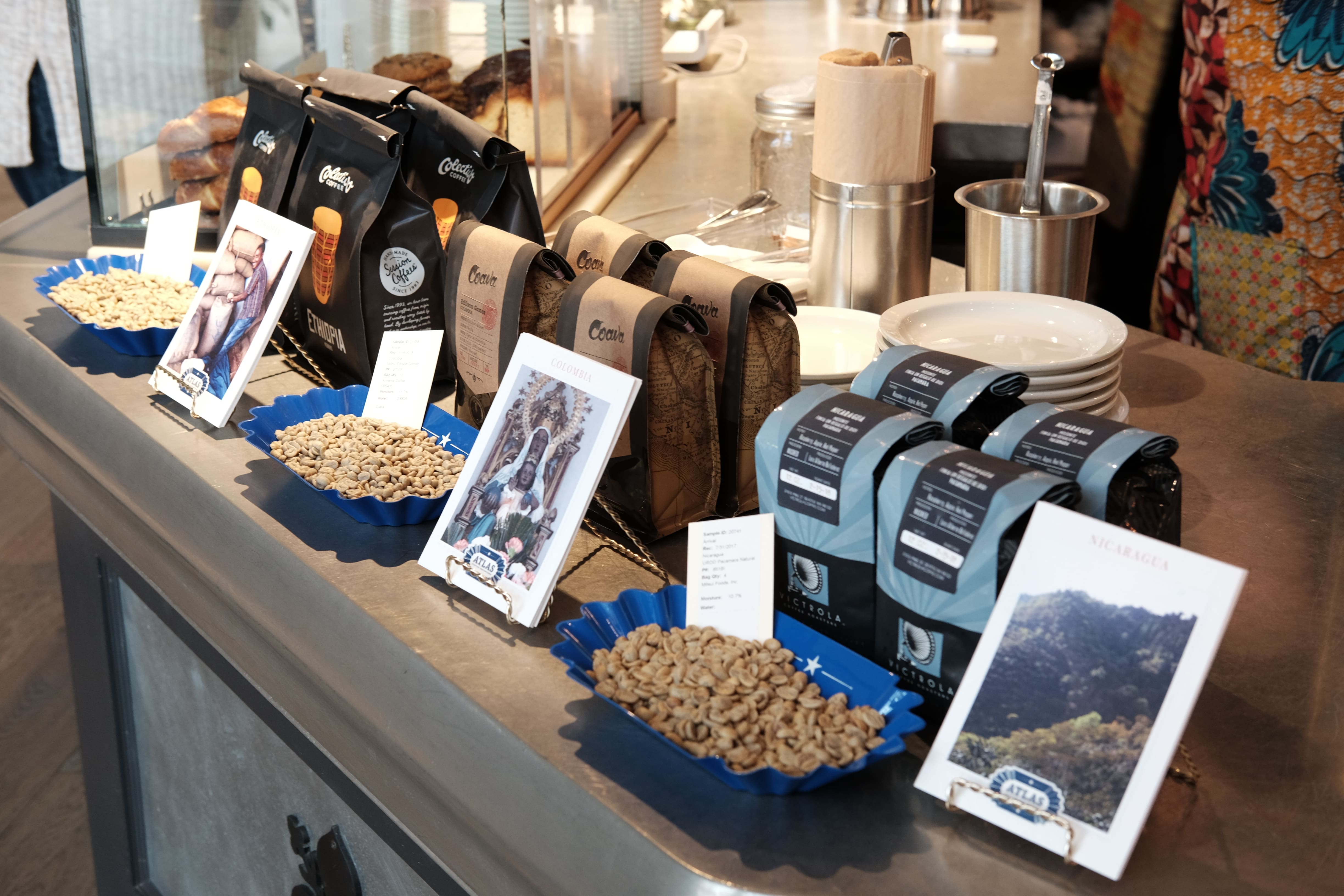 Finally, our residency includes a series of panel discussions, presentations, and public coffee tastings to highlight the work that goes into the sourcing, logistics, and quality control work of importers. Highlights include:
On Wednesday, February 21, "Trip Report: Emerging Origins in a Changing Environment," join Craig Holt, Founder of Atlas Coffee Importers, as he discusses the ever-changing global coffee landscape and how Atlas works to develop new supply chains.  Coffee and successes from Myanmar will be served.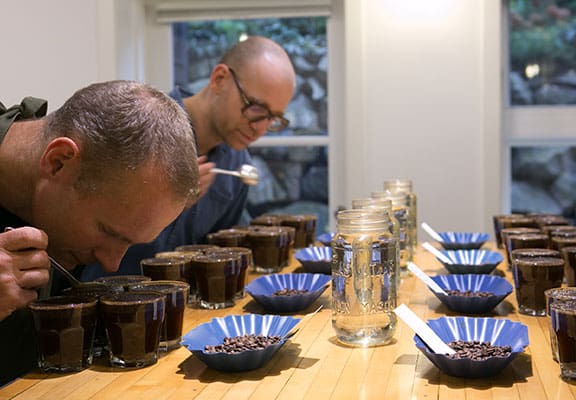 On Friday, February 23, "Watch Us Work," tag along as we recreate a day in the life of their QC team. We will showcase and taste a variety of samples received in their lab and will discuss their process for quality assessment including sensory and physical analysis tools.
For full event info and tickets, check the La Marzocco Home Calendar and Facebook page.
The Atlas Coffee Importers residency at the La Marzocco Café & Showroom will be open daily from February 13 through March 5 inside the KEXP Gathering Space at 472 1st Ave N, Seattle.  If you are in Seattle or feel like making a special visit, please let us know so that we may meet you for a cup of coffee!
To experience the residency from afar, follow @atlas_coffee and @lamarzoccocafe to learn about our featured coffees and specialty drinks!