Atlas Residency
at La Marzocco Cafe

Week 3--February 27th to March 5th : The Power of Partnerships
To experience the residency from afar, follow @atlas_coffee and @lamarzoccocafe to learn about our featured coffees, specialty drinks and events!

Serving as the resident at the La Marzocco Café has been an absolute pleasure for the Atlas team!  Last week, we examined the exceptional level of quality made possible by consistent resources, organization, and infrastructure at origin, as represented by farmers in Ethiopia, Colombia, and Nicaragua.  Atlas Founder Craig Holt gave an illuminating presentation on working with producers in new origins such as Myanmar to build a specialty coffee market, and Jeff from our Lab and Michelle from our Customer Service teams played cupping games with coffee enthusiasts to demonstrate the daily hustle of Atlas operations.
We proudly source coffee for a wide variety of roasters that represent the entire range of size, scope, and roasting styles across the specialty coffee industry. As such, every week, the beverage menu curated for the La Marzocco residency is anchored by classic beverage offerings typically found on cafe menus, such as espresso and lattes, along with filter staples such as batch brew.  To illuminate some of the innovation and emphasis on traceability within the specialty coffee community, we are featuring rotating Single Origin coffees brewed on Chemex along with signature espresso beverages. In Week 3 of our residency, we recognize "The Power of Partnerships" necessary to grow, process, export, and import specialty coffee.  The partnership of Atlas with U.K.-based N.G.O. TWIN and our collaboration with cooperatives in the Great Lakes region of East Africa, including DRC, Burundi, and Rwanda, results in coffees with remarkable clarity and sweetness.  The featured coffee cooperatives exemplify the quality that results from collaboration, particularly the team work of female producers due to the focus on gender equity among producers.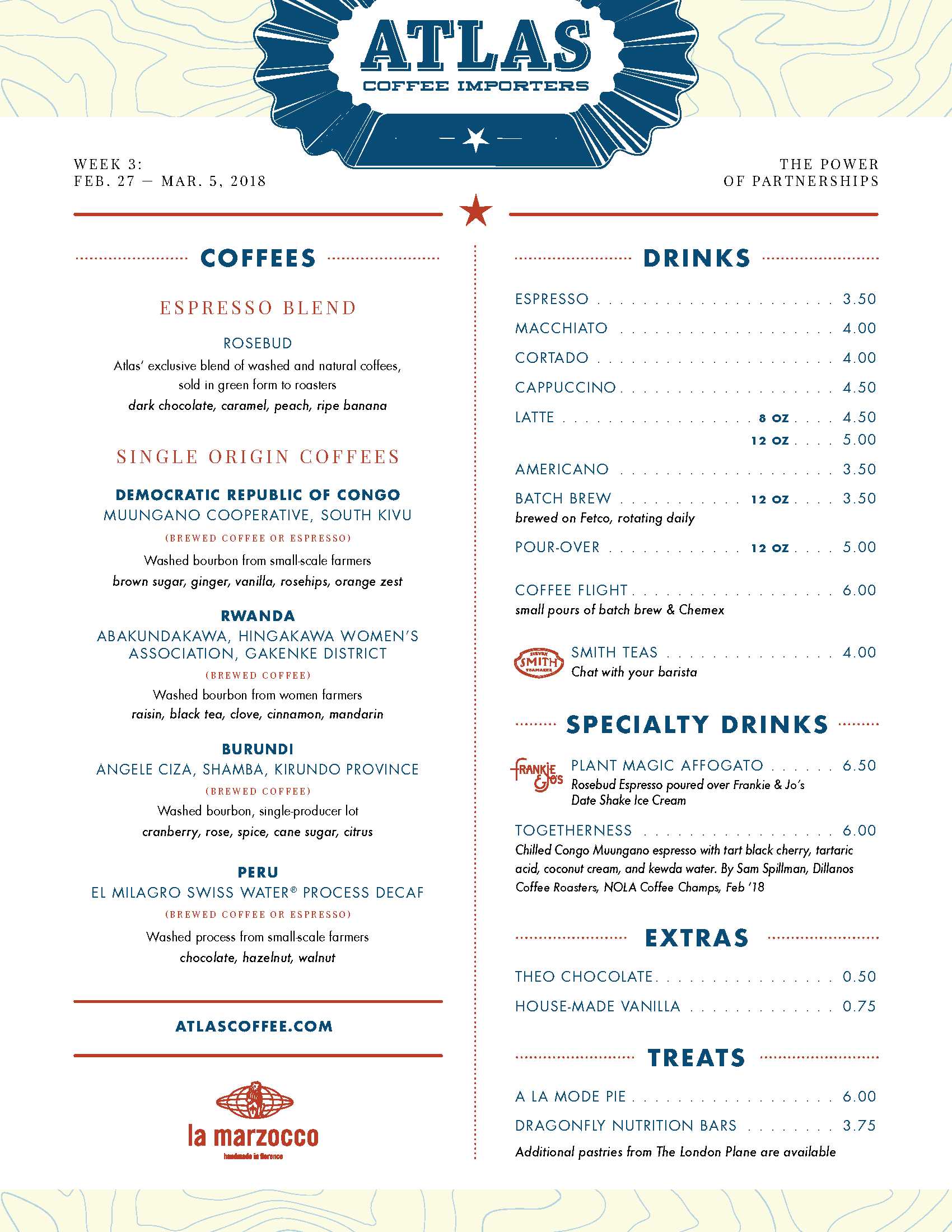 A washed bourbon produced by small-scale farmers of the Muungano Cooperative in South Kivu, Democratic Republic of Congo, serves as our Single Origin Espresso.  Founded in 2009, Muungano coop is comprised of around 4,400 smallholder farmers, nearly half of them women.  Gender justice is a principal focus of the members, as is integrating farmers from different ethnic groups into the operation.  The word "Muungano" actually means "Togetherness" in the Swahili language.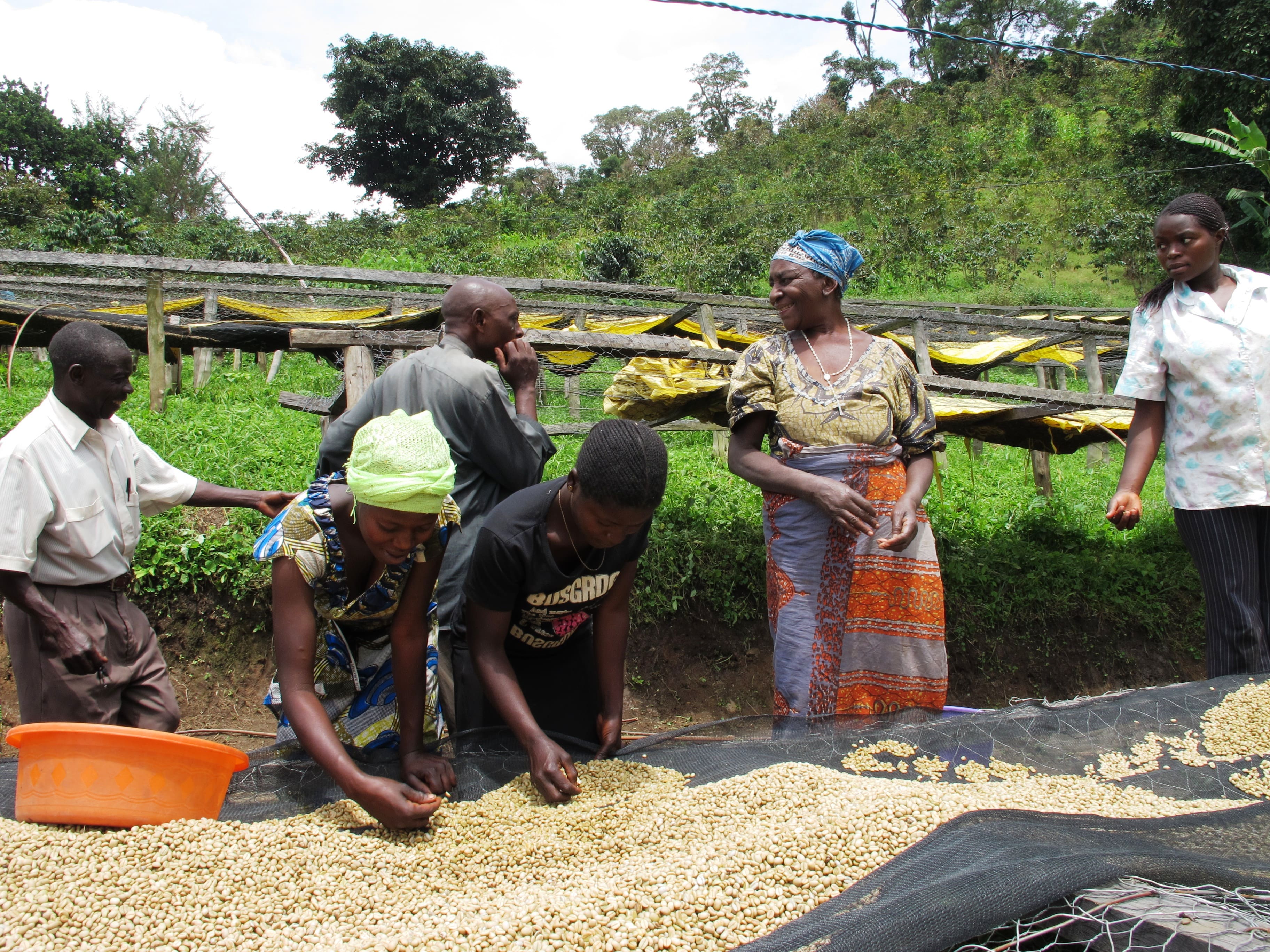 When we first visited the group, they were milling coffee on equipment from the early twentieth century, but still managed to produce the best Congo coffee we had ever tasted. Since then, they have installed two new washing stations, a new cupping lab and have a trained roaster and cupper on staff. Despite the many challenges faced by coffee producers in the DRC, the co-op members are remarkably focused, professional, and upbeat. Our friends at Twin, who first partnered with the cooperative and did a lot of training with the producers, have done a phenomenal job of helping growers get the most out of the ancient Bourbon coffee trees growing in the region.
The sweet, bright, and complex Muungano coffee is clear result of the hard work of the producers.  With a brown sugar sweetness and notes of ginger, vanilla, rosehips, and orange zest, the Muungano is nuanced and balanced, both as an espresso extracted on the La Marzocco Strada and as a pour-over.  Furthermore, our specialty drink of the week celebrates our partnership with the Muungano cooperative and the roaster-retailers featuring their coffee.
In anticipation of the U.S. Barista Competition Qualifiers in New Orleans, seasoned competitor Sam Spillman, Educator at Dillanos Coffee, and Green Buyer Phil Beattie reached out to Atlas for their competition needs.  After cupping range of coffees blind at the Atlas Lab, Sam chose the Muungano as her competition espresso.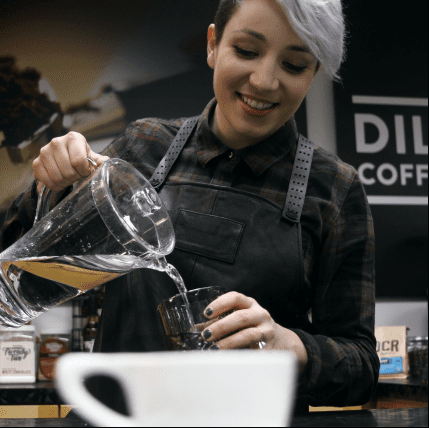 For her signature beverage, Sam combined syringes filled with tart black cherry juice, tartaric acid, coconut cream and kewda (white lotus!) water to transformed the ingredients.  Togetherness emphasizes the tart black tea and mango notes of the Muungano espresso and is being served at the La Marzocco Café through Monday, March 5th.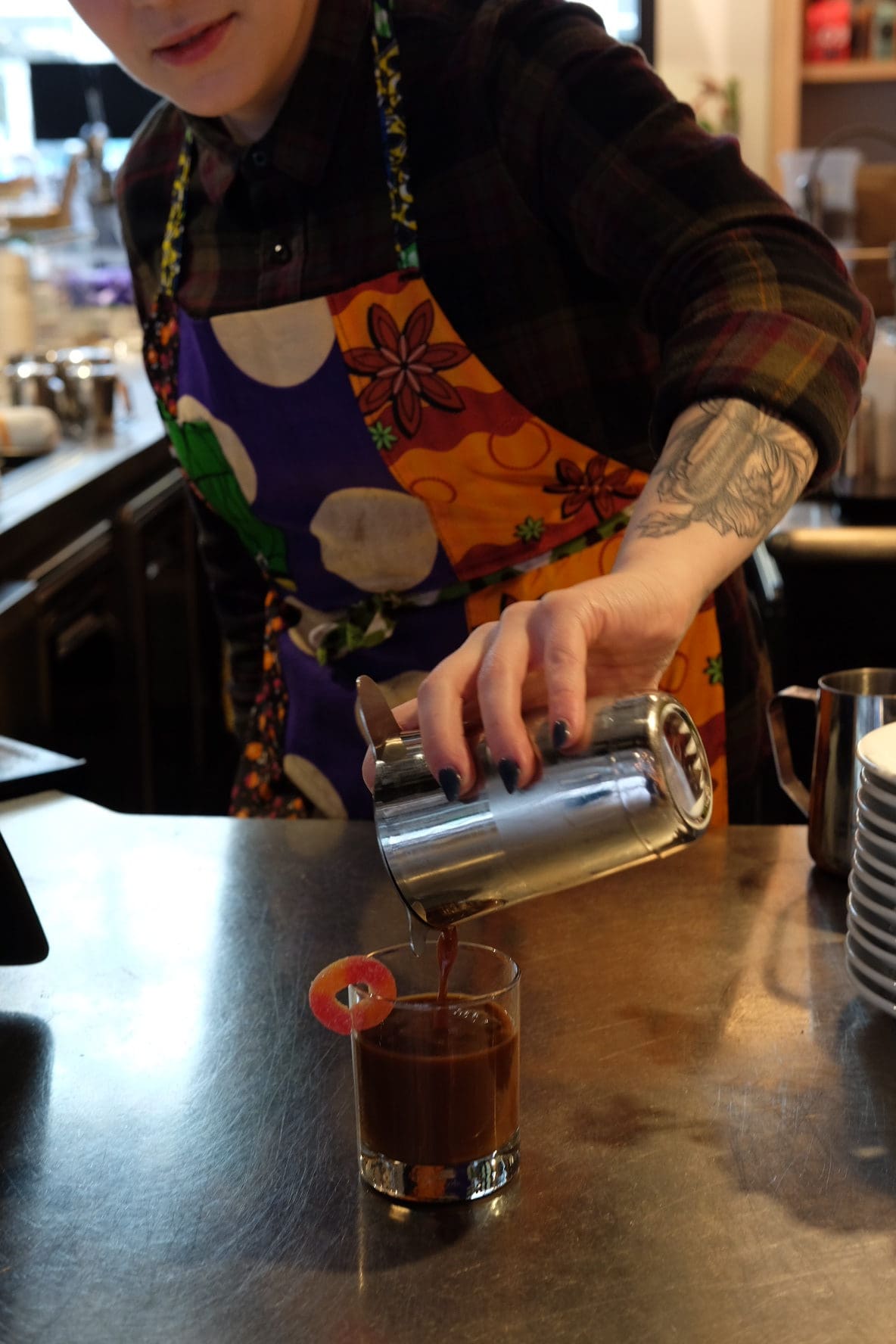 Order the Congo Muungano from Dillanos to recreate Togetherness at home.  To experience a different lot from the Muungano cooperative for which Atlas served as a logistics agent, order a bag the delicious Buchiro from our friends at Counter Culture.  Visiting Seattle?  Sam is serving as a guest barista on Tuesday, February 27th to prepare Togetherness, and Amanda Byron of Counter Culture will be brewing on the afternoon of Friday, March 2nd.
In addition, this week La Marzocco and Atlas also recognize the excellence produced by Angele Ciza in Shamba, Kirundo Province, Burundi.  In 2012, Angele and Consolata, two friends (and experienced business women) decided to go into the coffee business together. They purchased seven washing stations that had been part of the old government-run Sogestal program, with the idea of working in close partnership with growers so they could process and export Burundi's best coffees. The pride and satisfaction Angele and Consolata take in their company comes through in the excitement they have for forging friendships with their buyers.
This washing station in the Kirundo Province in North-Eastern Burundi serves 1,000-3,000 small-scale farmers who grow primarily the bourbon varietal. To improve the quality of the coffee produced, Angele and Consolata knew they needed to start with the education of the producers, so they began with outreach to ensure best practices from nurseries to picking. As the quality and value of the coffee increases they are investing in additional training, environmental protection, inputs, micro-credit, micro-insurance, and social infrastructures in partnership with the producer organizations that deliver to their washing stations.
Sourced with Green Buyer Cheryl Kingan of Cafe Grumpy in New York, this washed bourbon tastes of vibrant cranberry, rose, spice, cane sugar, and citrus.  Visit the Cafe Grumpy site to brew the Shamba at home and learn about The Shamba Mushroom Project.
A selection of the Great Lakes Region of East Africa would be incomplete without featuring fresh-crop coffee from Rwanda, as represented by washed bourbon coffee of the women-produced Abakundakawa Hingakawa Women's Association.  The group receives a premium to use for the additional work of lot separation, and to re-invest in programs benefiting the members. The group has already purchased a communal farm and distributed cows, pigs & goats to members, and their next plan is to build a training center to be used for a wide variety of initiatives from child development and nutrition to sewing instruction for additional income.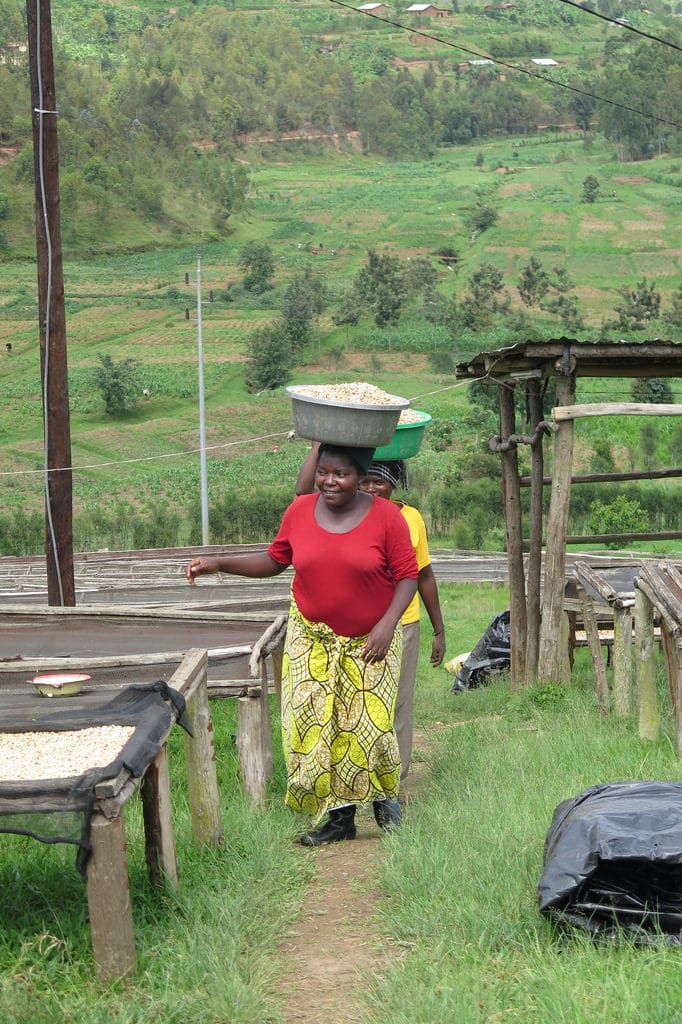 The coffee is processed on single-disc pulpers, with an initial dry fermentation of 18-24 hours, followed by washing and soaking. Parchment is moved from the soaking tanks to shaded tables for hand-sorting to remove defects that are only visible when the coffee is still wet. The final stage prior to milling is drying in the sun on raised beds for 10-15 days.  All of this care leads to a cup with flavors of raisin, black tea, clove, cinnamon, and mandarin.
Our friend Blas at Fulcrum Coffee Roasters in Seattle, WA, is serving as the featured roaster for the exceptional Hingakawa Women's Association coffee. Fulcrum features a number of traceable coffees sourced in partnership with Atlas, so make sure to check out their full lineup of current coffee offerings!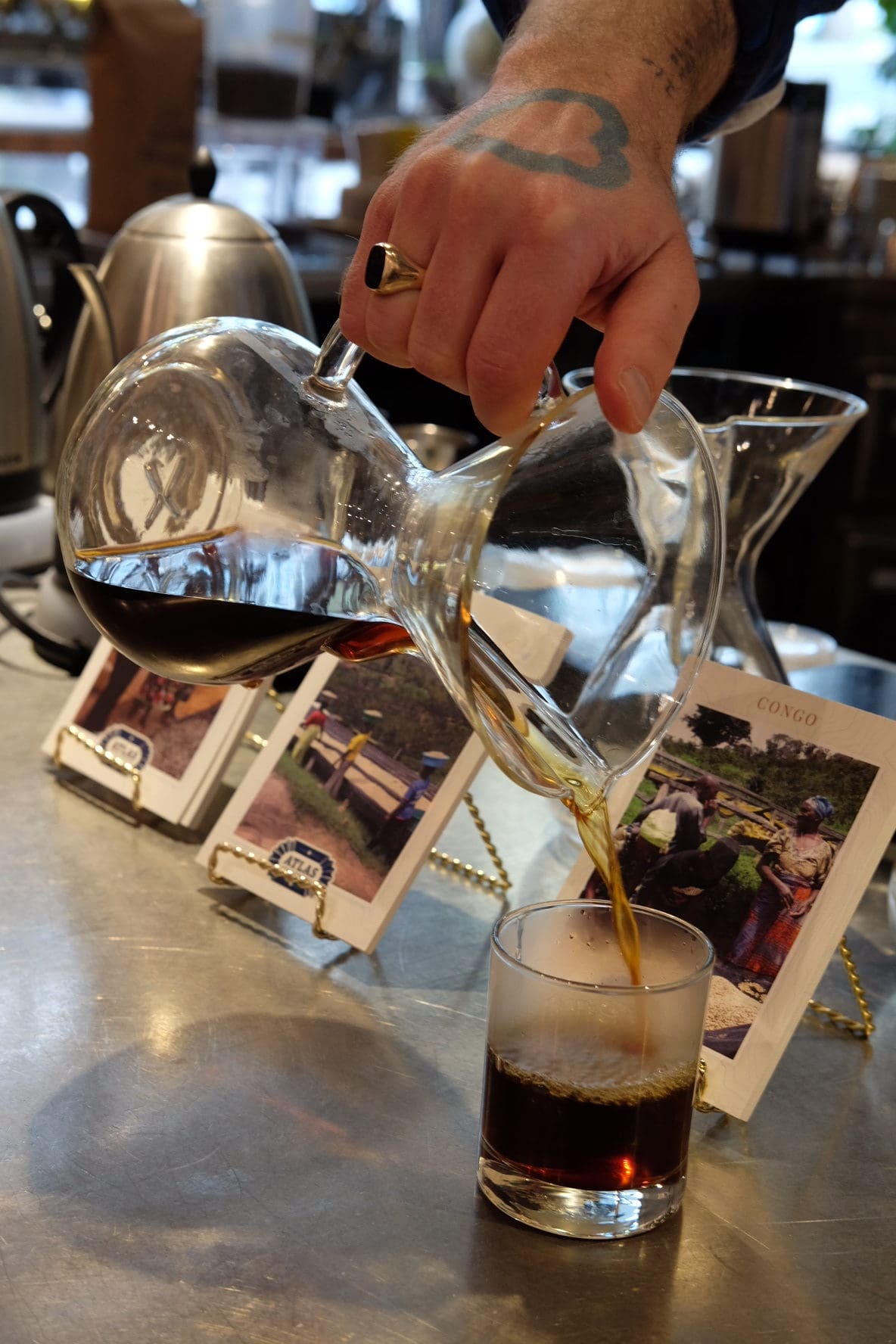 Our residency includes a series of panel discussions, presentations, and public coffee tastings to highlight the work that goes into the sourcing, logistics, and quality control work of importers. Highlights include:
On Wednesday, February 28, "Trip Report: It Takes a Village," Join Atlas Coffee Importers COO, Jennifer Roberts and  Mollie Moisan from Atlas partner Twin, a UK-based NGO, as they discuss coffee cooperatives in East Africa with a focus on gender equality.  A selection of coffees will be served including, Congo Muungano, Burundi Shamba, and Rwanda Abakundakawa Hingakawa.

On Friday, March 2, "Long-Distance Relationships," At the La Marzocco Cafe, they host a weekly Friday Coffee Tasting at 10 AM that is free and open to the public.  Join Founder Craig Holt and Traders Chris Davidson and Evan Stockdale as we feature key producer partnerships in a coffee tasting and discussion on what it takes to communicate across time zones and cultural distances.  We'll taste and compare sample roasts received by Atlas to the roasts of Atlas customers, including Counter Culture, Coava, Victrola & Colectivo.
 For full event info and tickets, check the La Marzocco Home Calendar and Facebook page.
 The Atlas Coffee Importers residency at the La Marzocco Café & Showroom will be open daily from February 13 through March 5 inside the KEXP Gathering Space at 472 1st Ave N, Seattle.  If you are in Seattle or feel like making a special visit, please let us know so that we may meet you for a cup of coffee!
To experience the residency from afar, follow @atlas_coffee and @lamarzoccocafe to learn about our featured coffees and specialty drinks!