Traveling to Muungano is the closest thing to time travel that I have experienced. Within minutes of crossing the border from Gisenyi, Rwanda to Goma, DR Congo, the road infrastructure disintegrates, the building architecture changes, and the foothills of Virunga National Park, home to a quarter of the world's 880 remaining mountain gorillas, rise in the distance to the north like a scene out of "Jurassic Park."
It's rumored that various members of government are responsible for the upkeep of certain stretches of roads within the city of Goma, and if it's true, some folks are doing a better job than others. Over the course of a mile the road can go from smooth and paved to barely passable with mud tracks several feet deep.  The contrast between a high cost of living and a low average income can also be jarring in a country (literally) sitting on heaps of diamonds, copper, cobalt, and other minerals. In spite of (or maybe because of) the poverty, corruption, and infrastructure and security challenges that have become endemic to Eastern Congo, there is a deep resiliency, grit, and beauty in the heart of many a Congolese that's gotten under my skin.  Someone called it "the Congo bug," and it hasn't left since.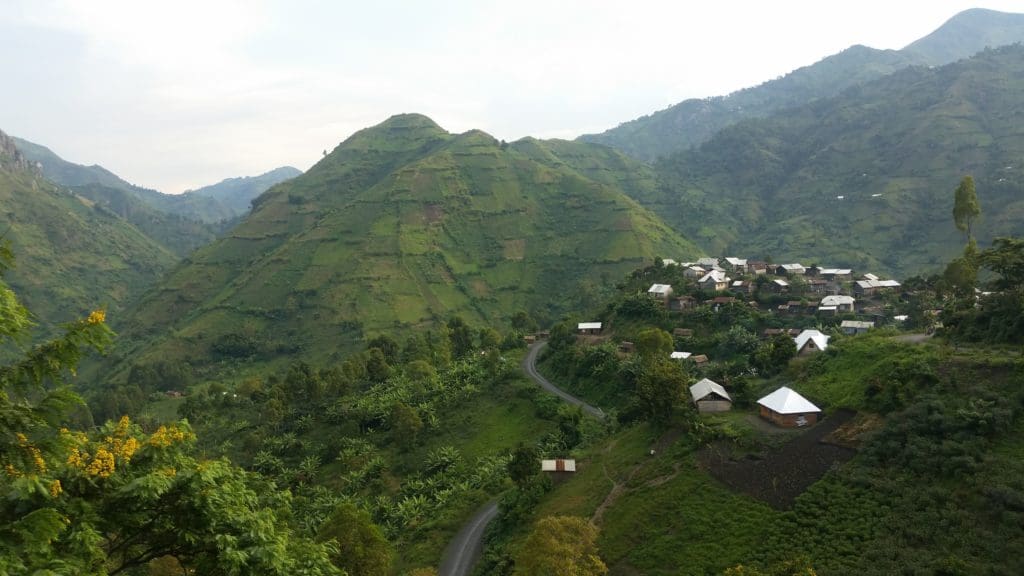 This respect for resiliency only deepened as we—Congo expert Richard Hide, Twin associate Pascasie Nyirandege, and myself—slip-n-slided our way along the western shores of Lake Kivu (1,480 masl) on our way to visit our producer partners at Muungano Cooperative (est. 2009). Their three washing stations—Kinieziere, Buchiro, and Nyabirehe—sit along or near the lake about a three-hour drive from Goma.  Just before Kinieziere, the road was so bad and washed out that a UN convoy of tanks were stuck in the mud, with one of the having been stuck for over 24 hours. They eventually unearthed the tank, but it had to be towed out...talk about slow going. The only other vehicles we encountered were a Mercy Corps Land Rover and a convoy of Red Cross vehicles. Other than that, just a lot of moto and pedestrians. The road was far too muddy for bicycles and non-4WD vehicles-- with high levels of rainfall and deforestation within DR Congo, landslides are common.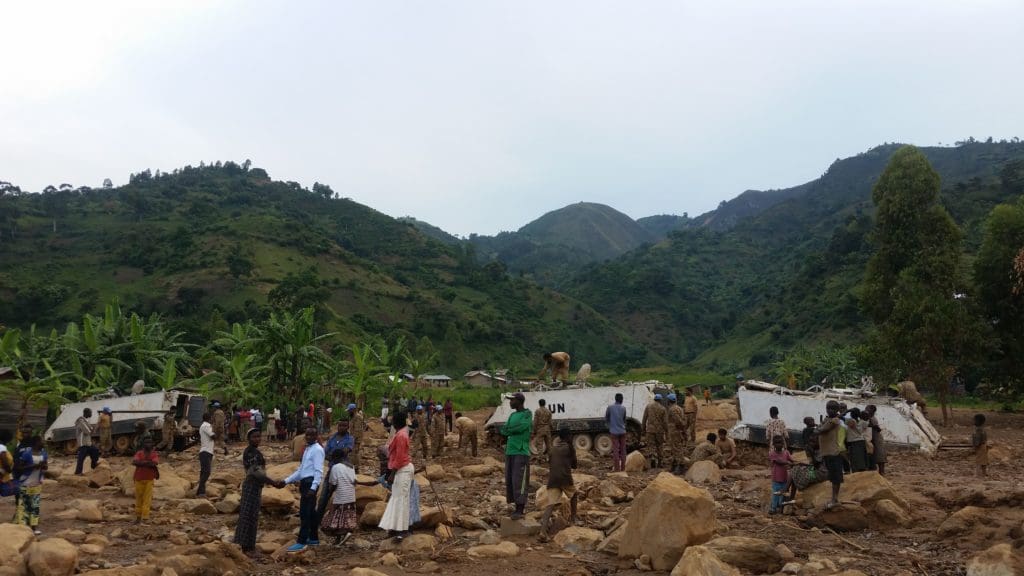 During the main coffee harvest (March – June) some of Muungano's 4,230 members deliver cherry by boat to one of 16 cherry-collection sites or the three washing stations, adding time, energy, and considerable cost to an already arduous process. Yes, boat! On this visit, we witnessed members near Kinyiziere washing station load an entire container's worth of parchment onto two separate boats as they prepared the day-long voyage to the dry mill in Goma. The cooperative is looking to build a fourth washing station to meet the needs of its growing membership, shortening the distance some producers need to travel to deliver cherry, and is also hoping to increase the number of drying tables.
At the beginning of our visit we met with the cooperative's six board members, and got out our drawing supplies. Through a series of translations and pictures, the cooperative members drew each stage of harvest and preparation, Richard drew the steps from dry mill to departure port, and I drew the steps from arrival port to warehouse to cupping/sampling to roaster to consumer. For coffee producers, once the parchment leaves by truck or boat for Goma, it's a complete mystery as to where it ends up and in which form, so it was nice to have the complete supply chain drawn out in a series of pictures.
As for Muugano's process, producers pick cherries, bucket float, remove floaters, and deliver red cherries to one of Muungano's 16 cherry-collection centers by early afternoon each day. The cooperative pays for the transport of members who live very far away, since members can live up to 40 km away from the cherry collection station. Then cherry is taken to the nearest washing station and each evening the cherry is depulped from 3 pm all the way to midnight depending, on how busy the day is. Cherries are put in a tank, floated again, then depulped and dry fermented for 12 hours. Then they are washed and floated in tanks for another 12 hours. The parchment is sorted ("pre-sechage") before put on drying tables for around 15-16 days where every hour the coffee is stirred. When it rains or is too hot, the tables are covered, then uncovered when weather appropriate. When moisture is between 10-12% (some of the washing stations have a moisture meter), the parchment is brought into the store, where coffee is weighed and put in to bags by day lots before it is finally transported to the warehouse by boat or truck. Muungano's biggest challenges, which plague many cooperatives in the area, are access to pre-harvesting, instable road infrastructure, and stiff competition for cherry prices with other cooperatives in the area.
As we spoke to producers from different sectors around the cooperative, it was clear that they knew the importance and impact that their best practices had on quality (and therefore price and long-term buying partners).
Still, old habits die hard, and Muungano is working diligently to mitigate the common local agricultural practice of "weeding" the soil around the coffee trees. This exposes and thus kills microorganisms in the soil. Julie, one of Muugano's 16 agronomists, shared that some producers didn't believe her when she told them that planting ground crops, composting, mulching, careful pruning, and avoiding turning the soil would improve yields. A young producer herself, she purchased a small plot near one of the washing stations to demonstrate. At first, she had some issues with her cherries turning yellow, but did an exchange and visited the Bukonzo Joint Cooperative Union. There, she learned about better agricultural practices, and in short order had improved her yield from 5 kg cherry/1 kg parchment to 4 kg cherry/1 kg parchment. Other producers started following suit once they saw with their own eyes how healthy her trees were.
Nearly half of Muungano's members are women, and they deliver cherry to the washing stations two days a week, which is how they separate the lots. To become a part of any sector's women's group, each of which has a leadership team, a woman has to be a member of Muungano, own land or have 100% responsibility for the land, and deliver cherry to the washing station.
In early 2017, the women wanted to figure out what to do with their quality premium, so Pascasie visited and had a two-day governance/leadership training with the women. They had a lot of ideas, but the one they decided would benefit the most women would be to do a goat program. She returned seven months later (after first round of goats reproducing) to see which sectors successful, which so-so, and which not, and why.
Each sector organized their program slightly differently, but the sector we visited, Vomo, has 84 women and was able to purchase 13 goats, so divided membership into 13 groups of 6-7 women. One woman in each group got a goat, and when the goat had a baby kid, the woman with the next-most cherry delivery got her goat and so forth. They started with 13 goats, and now have 23 goats. It's slow-going, but within a couple more years all their members should have a goat. They don't use goat milk, but when the female goats have kids, they are able to sell them. Goat meat is very popular in Congo, and goats very little to raise as they will eat anything!
Some women said that before Muungano they wouldn't hurry to deliver their cherry, they would sell to anyone, they would get paid barely anything, and didn't know about good agricultural practices. Now they have access to finance, prune their trees, pick ripe cherry, compost, and are really invested in quality.
Each sector also has a micro-finance program, where groups of around 10-12 people each contribute at least 1,000 francs/week (~65 usc), and then when need a larger amount do to a larger or unexpected expense can withdraw.
On the second day, we left the main town of Kinieziere, and visited Nyabirehe washing station by boat. We were greeted by members singing and dancing, and the volume only seemed to increase as we weaved our way along the fields to the washing station and store house, located about a quarter-mile from shore. Pascasie has visited Muungano several times over the years to lead various workshops on GALS (gender action learning system), even returning to do 'train the trainer' sessions, so Muungano members can teach each other how to use GALS' many tools for long-term planning and resource management. The beauty of GALS is that, aside from the trainings, a pencil and paper, and personal dedication, the system requires no outside 'inputs'.  It's sustainable and easy to learn. The biggest hurdle is changing a mindset about what you can accomplish, and how to plan for the future when hand-to-mouth is the norm and often the reality. We listened to a presentation about how to draw a vision journey-- draw a picture of your goal, and of your current system, draw all of your opportunities, all of your threats, and how you will go through each step, month by month, to achieve your goal. Various members shouted their comments and showed us their personal vision journeys about going from a thatched-roof house to a corrugated-metal-roof house, and it was abundantly clear that GALS had impacted their lives in a meaningful way and was not just an idea.
That evening at dinner, I met Mathieu, a moto driver from Kiniezire, and started asking questions about his story. He had been working for a moto company and was Pascasie's transport to one of the GALS trainings. As he was waiting to transport her back, he started listening in on the trainings and thought, "I want to do my own vision journey because my goal is to own my own moto." Today he is the proud owner of a motorcycle and is currently saving for a second one. Should you ever need a moto driver in the Kiniezire area, Mathieu's your man.
Muungano means "togetherness" in Swahili, and from the strength of its board to the women's groups to the GALS methodology and the enthusiasm of young agronomists like Julie, it's clear that Muungano's members have banded together to produce delicious coffee and a strong community in an isolated region of a country wrought with challenge. As we left someone shouted, "Ne nous oubliez pas!" ("Don't forget us!") and our hope is that once you taste this coffee, landing in November on both the West and East Coast with notes of market spice, ginger, lemon, and apricot, with berry-like acidity and syrupy body, you'll be as hooked as we are with this coffee and its people.
Save
Save
Save
Save
Save
Save
Save
Save
Save
Save