You might be wondering who works behind the scenes at an importing firm, and what actually goes in to working with international partners-- from large mills to small-holder producers-- to select coffees for purchase and bring them into our US warehouses. Although we have fostered relationships with and between producers and roasters for over twenty years, just a small team of twenty people work together to move coffee along our internal supply chain.  With our "Watch Us Work" series, we take a peek behind the coffee-curtain to introduce you to Atlasians. 
Up today is Jeff Webre, Atlas' QC Technician. We more commonly refer to Jeff as our Sample Choreographer; read on to see why!
Q: "What did you do pre-Atlas, and how did you get to Atlas?"
Prior to Atlas I was a barista for 16 years, starting in 1999 in my hometown of New Orleans. I started working in specialty coffee here in Seattle in 2006.  Gavin (another Atlas lab-mate) and I worked together for a few years prior to Atlas and when he told me about his new job in the Atlas lab, I was very inspired to follow in his footsteps.  We were on a cupping/education team together at our former job so our successful work dynamic had a good history and context.
Q: "What can you do at Atlas that no one else can?"
Much to the amusement of my co-workers, I can genuinely, regularly, score naturals above 86, and use the descriptor "gummy bears," also with sincerity. My unabashed appreciation for naturals seems to be an oddity  that has landed me the nickname "Natural Man."  Hey, fruity, aggressive naturals make me blush, what can I say?
Q: "What is your favorite part of your role?"
My favorite part of my role is managing the flow of samples in our building. Since my job is almost entirely reactive to sample volume, choreographing the flow of samples is really important. I love that my job involves concrete, tangible tasks and that I get to touch and smell and taste coffee, green and roasted, all day long for a living.  I also really enjoy making macchiatos for Gavin and myself.
Q: "What is your favorite thing about Atlas?"
My favorite thing about Atlas is working with really good people who know more than me and have more skills than me. It's a place where we regularly have fun, laugh, and respect each other.  It's a super productive company with a lot of integrity and it's awesome to work in that type of environment.
Q: "What do you do when not at work?"
When I am not at work I hang out with my partner and our dog at our new house, which is so much fun and so fulfilling for me. My partner is my best friend and we have great companionship. I am also a hockey player.  Outside of my family trio, hockey is what I love most in life.  It's what brings me true joy and I think I genuinely smile more playing hockey than any other time in my life.  I follow the NHL very closely, regularly attend the junior A games in Everett or Kent, and as a goalie myself, I obsess over goalie gear and goalie training.  I am fortunate to play twice a week around Seattle and I've played now continually for 23 years since I was 14 years old.  Growing up in Louisiana I used to fantasize about ice hockey, winter, snow, mountains, and having a Siberian Husky, which is basically my life now, so I consider myself very fortunate.
Q: "How do you feel about the Golden Knights winning the Stanley Cup this year?"
Haha, ah, the Golden Nights. What a story that was.  I was completely taken by them last year and would have loved it if that fairytale ended in them winning the Stanley Cup.  This coming year?  We shall see.  With the goalie they have, they will always be a contender.  My favorite team is the Boston Bruins but it's looking more and more like Seattle will finally get our team in 2020 and if that happens, I will likely lose my mind.  I can not tell you how exciting that would be for me.  I am buying a hat and a shirt and never taking either off, like, never, ever.
Q: "If you could make coffee for anyone, living or otherwise, who would it be, and what would you make for them?"
Wow, that's really tough. Well, I'd definitely make a macchiato for this person because for me espresso is superior to any coffee brewed otherwise.   Do I get to have a conversation with them after or just make them coffee?    Well, I'm torn over Ryan Gosling, Natalie Merchant, Ben Shapiro, Justice Elana Kagan, or Michael Stipe.  I'll leave it to you to speculate why in each case.
Q: "Please provide a photo of Link. Is he a good boy?"
Haha, here's Link. He's the best.  He's also the most romantic thing I've ever done.  I named my Siberian Husky Link when I was 10 or 11 years old and I didn't get him until I was 31.  In the truest sense of the word, I consider that very romantic.  I love that dog.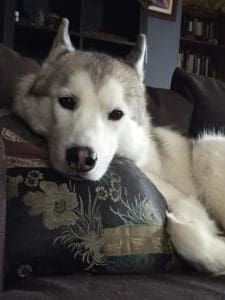 Thank you for following along! You can read previous "Watch Us Work" installments here. 
To experience our adventures in Seattle and at origin from afar, follow @atlas_coffee