All of the elements that make a coffee distinct and nuanced exist before we ever receive a coffee, whether as a roaster or a brewer. This potential of flavor results from terroir and from the choices of the producer and processor.  When we brew a well-extracted cup, our expression of this flavor creates a sense of place. It points back to the choices of the people that produced it.  Therefore, brewing is a natural way to showcase the work of an importer by highlighting the work of producers, our partners.
From March 15th through the 17th, I competed in the United States Brewers Cup Semi-Finals and Finals.  If you want to know the nitty-gritty details of how competition works, check this out. Ultimately, it is like a Food Network competition, but with coffee.  In the "Compulsory Service" event, every brewer has the same coffee, water, grinder, and 38 minutes to practice brewing, immediately followed by seven minutes to make the best cup of coffee possible for a panel of judges that will evaluate the coffee blind.  In the "Open Service" event, competitors choose their coffee and method and have ten minutes to brew three cups of coffee and present.
This 2019 competition experience was meaningful and fulfilling in that our entire team collaborated, and I was honored to be the representative of Atlas. Jennifer and Craig supported me and invested in my desire to compete since my first day joining the team. Chris Davidson sourced a beautiful washed coffee from the Gakurari Factory during his trip in February to Ethiopia and Kenya, and the exporters shipped the coffee via air-freight to ensure that I would have it in time for the competition.  Drew Billups roasted my coffee on an Ikawa, and the entire Lab and Trading team helped to evaluate the roast profile, my brewing, and my presentation. During the competition, I was supported by my fellow Sales team members Katherine Hartline, who was a phenomenal coach and co-captain for the entire season, and Tymika Lawrence, who helped me in between sessions as a Coffee Champs Emcee.
Ultimately, I selected my coffee for Open Service because it demonstrated the remarkable level of quality that is possible from a collective effort and our relationship as an importer is also deeply meaningful to the community of the producers. Read on the learn why.
I could have talked for two hours about my coffee and my brew method, so the ten-minute limit in Open Service to present felt really constrained.  Using a visual aid can strategically help a competitor to share additional information.  In addition, I wanted the audience that was physically present to share in that experience, so I passed out a pamphlet, along with candy that tasted like my coffee and samples of green and roasted Gakurari.  Who doesn't love swag? Listen to my performance playlist or shop from my idea list for a sense of what the Kansas City audience experienced.  With those experience-enhancing materials, the audience and judges were able to listen and take notes while I brewed.  
With the stage set, I brewed and shared the story of 500 smallholder farmers, all members of the Gatunyo-Kigio Farmers Cooperative Society, in Muran'ga County, Kenya, south of Nyeri.  The producers grow and harvest SL28 and 34 and deliver their cherry to Gakurari Factory, one of the society's four washing stations. Although the members may deliver to their cherry to any factory, considerations such as price, convenience, and long-term relationships result in many producers loyalty to Gakurari year after year.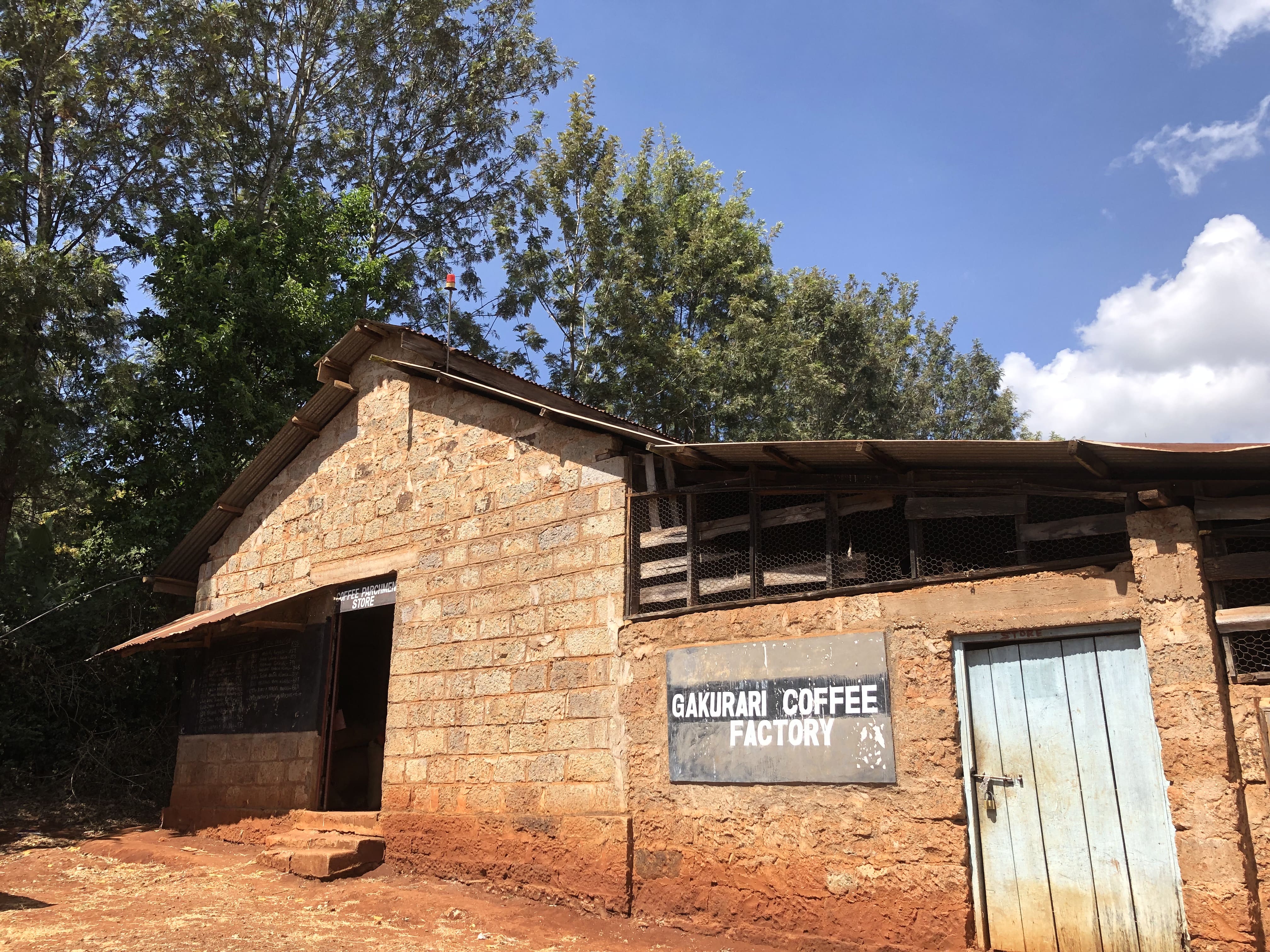 Gakurari Factory employees meticulously process their coffee, monitoring the temperature of the environment, fermentation tanks, and drying beds to promote desirable enzymatic reactions and bacterial growth which impart delicious flavors unique to their terroir.
From origin to consumption, throughout the operations chain, every custodian of a coffee must monitor and control temperature to maintain quality.  Like the temperature in processing, we also monitor temperature to properly extract coffee.
At that point in my performance, I asked everyone to flip their visual aid to review info on the other side.  On the left, there are details about my extraction variables and their impact, and on the right, corresponding taste descriptions.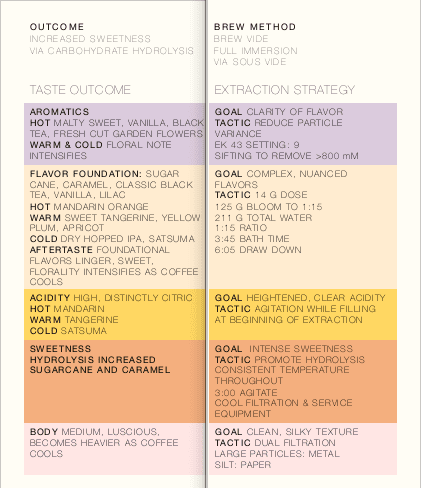 As previously mentioned, I created and utilized a new brew method, which added an insane level of complexity and challenge for me as a competitor compared to relatively simple innovations in my first two competition seasons.  
For context, the benefit of a full-immersion brew is that it provides a consistent contact time between all of the coffee particles and the water for a more even extraction and higher yield than other methods.  However, the drawback is that manual brew methods lack controllable temperature stability.I created my coffee jacuzzi by using a sous vide that constantly heats and circulates water to a set temperature, to maintain a stable brewing environment.  Sufficient temperature stability, heat, and time provide the ideal environment for hydrolysis.  Hydrolysis is a reaction in which complex molecules breakdown to more simple forms.  This breakdown results in increased sweetness on the palate. My goal is to increase the sweetness of coffee.
As my foundation, I ground my 14 gram dose on an EK 43 and sifted the coffee to remove all particles less than 800 micrometers. This reduces particle distribution. Consistent particle size and full immersion set the stage for proper extraction, reveals the complexity of flavor.
Brewers must be able to extract three separate cups of coffee in a very intentional, consistent manner.  Furthermore, brewers provide specific taste descriptions, the accuracy of which are scored. Here is my description of the Gakurari AA during the competition, and I will italicize the rest of my notes as I shared them with judges:
The hot aroma is like malty black tea and vanilla.

The warm and cool aroma opens up a floral quality, like fresh cut lilac.

The foundation of Gakurari's flavor at all temperatures is a rich caramel sweetness, like soft, fancy caramel, vanilla, black tea, and fresh cut lilac.  As the temperature drops, the intensity of those flavors shifts, and the fruit quality evolves.

In addition, when

hot

, we also get Mandarin orange.

When warm, the coffee becomes magically complex, with a sweet tangerine, yellow, tart, juicy plum, and faint apricot.  

As it cools, the caramel note dominates, followed by intense lilac, and we get the hoppy quality of hazy IPA, which is unfiltered.

Throughout the cup, flavors linger on the palate and remain for the

aftertaste

.  
While adding water, I constantly spiraled the water flow of my goose-neck kettle to increase agitation.  I added 100 grams of water at 205 degrees to bloom the coffee for one minute and fifteen seconds and then completed my fill to total 236 grams of water, for a ratio of 1:16.  My intentional agitation during these beginning stages of extraction heightens the acidity of the Gakurari.
The acidity is high and distinctly citric.  It evolves from mandarin when hot to tangerine to satsuma.
The brew vessels are submerged into the water bath heated to 202 degrees. With the appropriate conditions of time and temperature provided by my coffee hot tub time machine, I promoted hydrolysis by agitating the brew at two minutes and thirty seconds to facilitate an increased rate of extraction.  This enhances sweetness in all coffees and creates a rich caramel sweetness in the Gakurari.
I removed the vessels from the bath at three minutes to decrease temperature and the corresponding rate of extraction after hydrolysis.  This mutes bitter flavors during the end of the extraction. Then, I begin a two-stage filtration of the brew. To allow the temperature to cool, nothing is preheated.  A metal Coava Cone removes 99% of the particles from the liquid.  Next, a V60 paper filter removes the tiny bit of organic matter, or silt, that remains after sifting the grounds.  The total time was 6 minutes.
This filtration method creates a medium body with a clean and silky, texture.  The body is luscious, becoming heavier as it cools.
This expression of the Gakurari is exceptionally well balanced. The high acidity is anchored by the pronounced sweetness and complemented by the luscious body.  Overall, the holistic experience of taste is harmonious and well-integrated.
You might question whether my equipment set-up was novel for the sake of competition, but I confidently brewed using this method because it truly results in the best overall extraction of coffee and celebrates the integrity of the Gakurari's flavor.
I shared my journey in creating a brew method to illuminate my process and hopefully help you appreciate my expression of Gakurari.
But every coffee has a journey...
Next, I guided the audience and judges to open their visual to review the supply chain of Gakurari.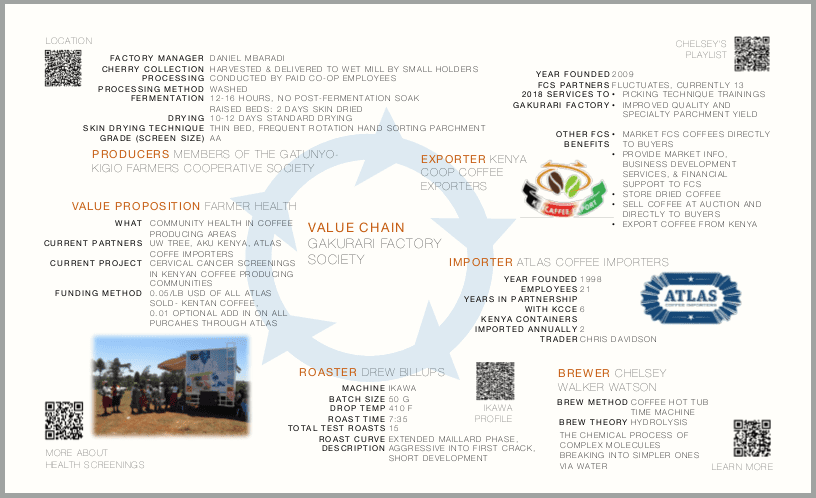 As is standard in Kenya, the exporter for the Gakurari coffee, Kenya Cooperative Coffee Exporters, provides the greatest level of resources to these smallholder farmers, including training and purchasing at auction.  Our team at Atlas Coffee Importers partners with KCCE as an intermediary and our unique role is to provide market access.  
In Green Coffee Sales, my role is to play matchmaker and storyteller between roasters and green coffee by telling the story of Gakurari and other producers.  I continue to wonder, what if coffee always had a story?
What if coffees ALWAYS had a place, people, and acknowledgment along the value chain? Would coffee drinkers be connected to the impact on producers and their communities? For example, five cents per pound of the Gakurari and every Kenyan coffee sourced by roasters from Atlas goes to fully fund mobile health clinics operated by Aga Khan University Hospital and University of Washington TREE program, providing cervical cancer screening programs to women in Kenyan coffee-farming communities.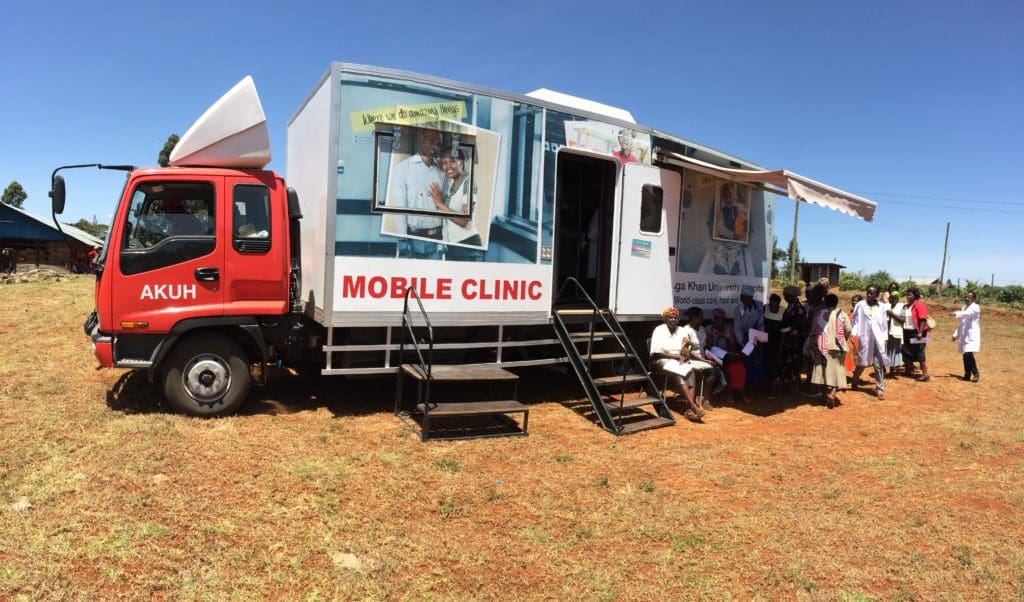 As a reader, does this make you care more? Would you pay more for your daily cup of coffee, knowing stories like this?
It has been a pleasure to share the Gakurari with the specialty coffee community and with you. I hope that you have enjoyed your experience reading about my competition journey.
Gakurari lands on the West Coast in June.  Call or write to me, Katherine, Tymika, and Brooke for more info on this and other coffees from Kenya, and if you have not already, please enroll in a Check-Off program to support your values through your green coffee sourcing.  Not a roaster or green buyer? You can also support farmer health through the online donation portal for UW TREE.
Finally, I competed with a group of outstanding brewers, and Kaley Gann from Messenger Coffee took home a well-deserved win! On a personal note, it was also thrilling that in an often male-dominated competition world, female coffee professionals won four out of five competitions at US Coffee Champs this year.  And a special shout out to my all-female competition staff for Finals. 
TIME