Brazil is always an exciting origin to visit and our September trip this year was made especially so due to sheer amount of activities we packed in. It was a true seed to cup experience including a visit to an experimental varietal garden containing heirloom and exotic varieties destined for research and development, a micro-lot cupping competition of unique and delicious coffees from small-scale producers, a stay at a beautiful and high-tech coffee estate, a visit to one of the largest coffee exporters in Brazil, a tour of port in Santos and to cap it all off, a São Paulo coffee house tour.
We began by visiting our friends at SanCoffee in Santo Antonio do Amparo about 170 kilometers southeast of Belo Horizonte in the state of Minas Gerais. We were hosted at the beautiful Fazenda Engenho guest house owned by the president of SanCoffee cooperative Henrique Dias Cambraia. Visiting Fazenda Engenho is a little bit like stepping back in time. The farm was built in 1896 and converted into a guest house by Henrique retaining much of its original charm.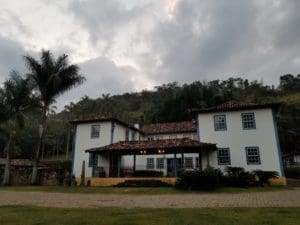 Fazenda Engenho
SanCoffee is always pushing the limits and constantly working towards quality improvements. On our visit, we toured an experimental varietal garden planted in 2016. The garden consists of different exotic coffee varieties not yet used commercially. In partnership with the IAC (Instituto Agriconomico de Campinas) a respected coffee research institute in Brazil, SanCoffee is undertaking research to evaluate these varieties and determine if any might merit further development. SanCoffee expects their first small harvest next year and we can't wait to hear about the results!
Our next stop was our much-anticipated visit with AFASA (Associação dos Agricultores Familiares de Santo Antônio do Amparo) to check in with producers and to take part in our 4th annual micro-lot cupping competition. AFASA is composed of 62 coffee producing families and the average farm size is only 5 hectares. While Brazil is known for its large scale, fully mechanized farms, it is producers like those at AFASA that form the backbone of Brazil's coffee sector.
Our cupping competition with AFASA this year was a resounding success with some fantastic coffees making it into the final selection. The winning lots this year include flavor notes of black current, honey and peach tea.
After a long day of cupping, we got together with AFASA producers and their families for the big awards ceremony and celebration. A nasty storm with heavy rain forced the celebration indoors but some last minute improvisation by AFASA's leadership saved the day.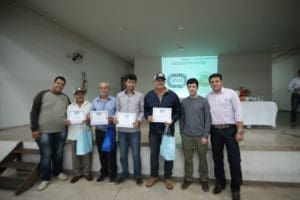 AFASA Awards Ceremony
During our visit with AFASA, we were also fortunate to speak with Elio Cruz, Manager of the Hanns R. Neumann Stiftung Foundation (HRNS) in Brazil that has been working with AFASA since it was first established in 2008. The Foundation is a non-profit development organization founded by the Neumann Family of the Neumann Kaffee Group (NKG), of which Atlas is the newest member company. Elio explained how the foundation helped AFASA initially with funding to get the association off the ground and has continued to provide support in the form of agronomy assistance and by assisting with best agricultural practices for the association's members, all with the aim of empowering AFASA to be self-sustaining and financially viable long term.
HRNS is doing great work with many producer communities in Minas Gerais in quality improvement, market access and climate change adaptation. You can read about their work here.
The next day, we were hosted by the winners of the AFASA cupping competition Jacson Kilder Viana, his wife Wilomena and their two daughters. The family rents 3 hectares of land and has built a beautiful farm with raised african beds for drying and some of the happiest and healthiest trees we'd seen on our trip. Wilomena became passionate about coffee after being mentored by some of Atlas' good friends Miriam Monteiro de Aguiar and her husband Rogerio of Fazenda Cachoeira. With her newfound coffee knowledge, Wilomena convinced her family to get into coffee farming. Their dedication to quality and passion was clear during our visit and we are expecting many great things from the Kilder Viana family.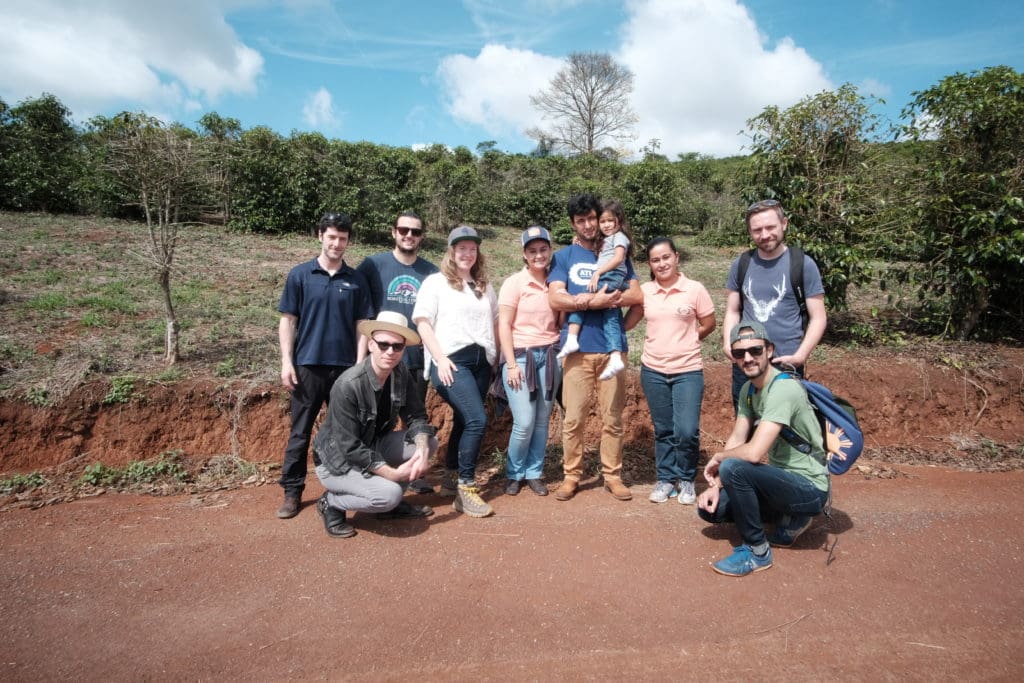 AFASA Competition winners Jacson and Wilomena Kilder Viana
After leaving our friends at SanCoffee and AFASA, we headed to Fazenda Lagoa part of the Neumann Kaffee Group. Fazenda Lagoa is a very old and beautiful estate farm established in 1764 by Manoel Ferreira Carneiro who received land from the Portuguese crown. His 7th generation descendant Joaquím Paiva is one of two managing directors on the farm today.  Coffee was first planted at Lagoa in 1860 and it has grown to become one of the preeminent estates in Brazil.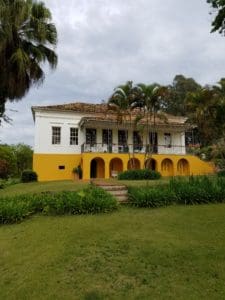 Fazenda Lagoa
The farm consists of 1,990 hectares of coffee with over 700 hectares of forest reserve that provides habitat for a myriad of native species. The farm also contains 40 natural springs, each one marked as a permanent preservation area.
Fazenda Lagoa is a marvel of technological innovation and efficiency with a strong dedication to quality and sustainability. During our visit, we toured an amazing nursery consisting of over 200,000 seedlings of varieties like Catucai, Topazio and Yellow Bourbon. They also grow over 70 native plant species in the nursery that are planted throughout the farm including Flor de Ipe trees and fruit trees like passion fruit and papaya.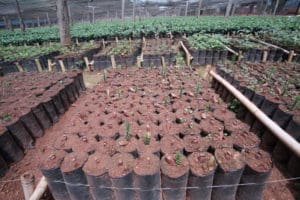 Fazenda Lagoa Nursery
Fazenda Lagoa has a strong commitment to the community of Santo Antonio do Amparo. In 2016, Fazenda Lagoa along with HRNS and SENAR, a Brazilian NGO, helped to re-open the Casa de Criança  (Children's Home) in the town of Santo Antonio do Amparo. The stated mission of the Casa de Criança is to prepare young people from the age of 14 to 21 for the labor market both professionally and culturally by supporting them with courses in vocational and social skills. Started in the 80's, the Casa de Criança was an important focal point for the community for decades.
When a corrupt mayor was elected, funds were diverted away from the community center and it was shut down. It remained so for over 10 years.  Thanks to the help of Fazenda Lagoa and others, the center is fully funded again and helping hundreds of children each year.
After saying goodbye to our hosts at Fazenda Lagoa, we headed south to the town of Varginha to visit Stockler's new warehouse. Stocker is the third largest exporter in Brazil and recently finished building an enormous new warehouse space on the outskirts of the town. Everything there was on a grand scale. Incredibly efficient, it was fascinating to see how a warehouse of this magnitude is operated. We saw trucks emptying their container-loads of coffee in a matter of minutes and giant silos capable of holding hundreds of bags each towered above while dozens of forklifts darted around somehow avoiding each other (and us) as they expertly shifted around super-sacks each containing over 1,000 lbs. of coffee.
After visiting Stockler's gargantuan warehouse, we headed further south to the port city of Santos.  Santos is a special place to visit for any coffee professional. Steeped in coffee history, it is home to beautiful Portuguese colonial architecture and homages to its coffee past can be found throughout the city in the form of monuments and statues. It's even home to its very own coffee museum which is full of fascinating exhibits about the history of coffee in Brazil.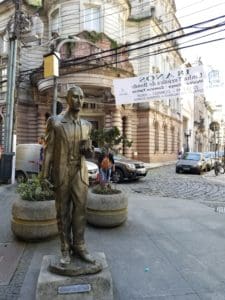 Outside the Coffee Museum in Santos
Santos was once the home of most of Country's coffee warehouses and exporters. Although it will remain Brazil's principal port, there has been a slow but sustained exodus of exporters from the historic city and warehouses have gradually moved north over the years. While an ideal location as a port, the humid, subtropical climate and marshy surroundings of Santos was never ideal for storing coffee.
On our last day in Santos, we were lucky enough to organize a tour of the port by boat. It was awe-inspiring to see giant cranes loading container ships destined for ports around the world. We were grateful to witness this important but often overlooked step in the coffee supply chain.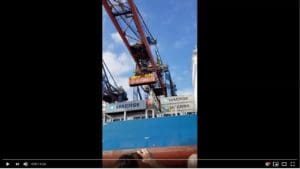 No trip to Brazil would be complete without a coffee house tour and São Paulo is home to some of Brazil's best. The highlight of our tour was Coffee Labs in the Vila Madalena neighborhood. Owned and operated by Brazilian barista champion Isabela Raposeira, Coffee Labs houses a coffee school, roastery and coffee shop where baristas in colorful jumpsuits treated us to a whole range of delicious coffees from Brazil. It was truly a perfect end to our trip.