It's that time of year... the air is getting crisper, leaves are starting to turn, and people are reaching for cozy coffees!
If you are looking for seasonal options to add to your lineup, read on for some of our current favorites.
Catch up on past seasonal coffee recommendations here.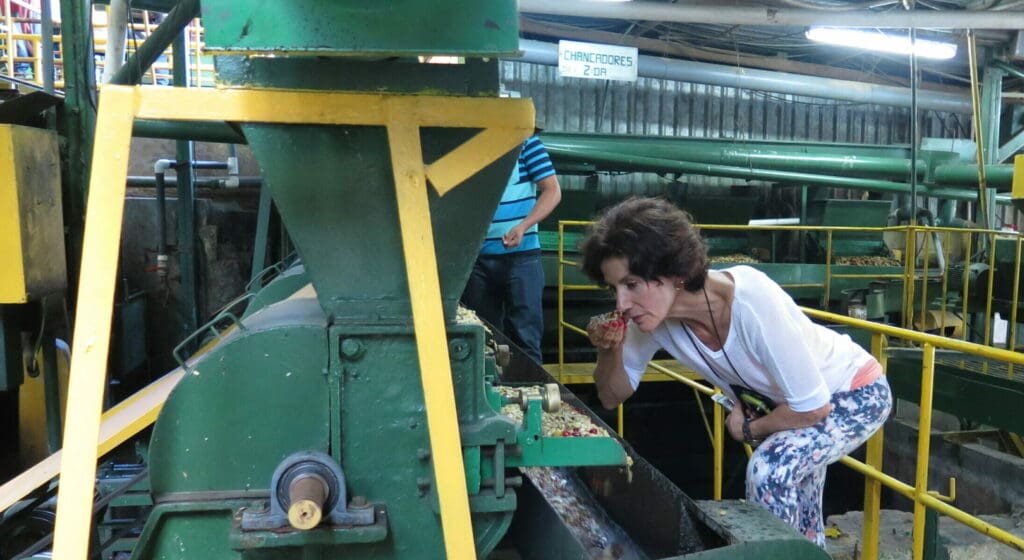 Do your guests love the classics? If you're looking for a well-rounded lot with drink-all-day flavors, considered the washed and honey lots from our dear friend Luzma (pictured here) at Santa Elena Estate in Costa Rica. ⁠
⁠
Tarrazú coffee is known for being crisp, clean, and bright, and Luz Marina's coffee offers that classic profile plus a lightly syrupy body and sweetness, and an elegant finish. Her washed coffee hast tones of dark fruit, chocolate, and black tea throughout, with medium acidity and satiny body. Bright, juicy fruit flavors of cherry, apricot, lime, and cane sugar, distinguish the syrupy honey-process coffee.⁠
Does an SO Espresso with personality excite you? ⁠
Bukonzo Joint Cooperative Union in Western Uganda is a cooperative with heart: they went from micro-credit union to coffee cooperative, dramatically improved quality from low-quality naturals to high-quality washed arabica specialty coffee, and were pioneers in GALS, a gender-equity program that has become a leader in gender-equity training for smallholder farmers worldwide. They also happen to produce some very delicious washed coffees that shine in a number of ways: single-origin batch brew, blend component, or single-origin espresso. Our current lot on the West Coast shines with flavors of raisin, almond, brown sugar, pineapple, lime, medium acidity, and a full body. How beautiful, wintry, and balanced is that?⁠
Who doesn't love a chocolatey base for a celebratory coffee blend? We're planning winter roasts this week and adore the crowd-pleasers from CODECH from Huehuetenango, Guatemala.⁠
⁠
Tucked in the Sierra de los Cuchumatanes, the highest mountain range in Central America, the Coordinadora de Organizaciones de Desarrollo de Concepcion Huista (better known as "CODECH") produces some of the best Fair Trade & Organic coffees not just in the department of Huehuetenango but in all of Guatemala. CODECH is comprised of four base cooperatives – ADIPY, ADINTHEC, ADAT, and Asociación Bitenam – and its members represent the Popti, Mam, and Q'anjob'al branches of the Mayan family. ⁠
⁠
Available on both coasts, choose from community lots with the classic Huehue blackberry and chocolate flavors or a refined microlot with elegant acidity and notes of stone fruits and citrus.⁠
⁠
Looking for something just a little off the beaten path? One of these micro-lots may be for you! We have just a few nano lots (1-7 bags) left, each featuring a different coffee variety and processing method, from farms like Un Regalo de Dios, La Bendicion, and the Lovo family. Each of these were carefully processed at Beneficio Las Segovias (BLS) under the watchful eye of the mill's owner, Luis Alberto Ballardez.
Visiting BLS feels a little like entering a sanctuary for coffee, and Luis Alberto exudes a confidence that is both calming and impressive. The cupping room, drying patios and dry mill at BLS are immaculate and appear both well used and well cared for. Quality control is taken very seriously here, and every picking that Luis Alberto receives at his wet mills and dry mill is carefully catalogued and tracked through the entire process.
The lots we have available feature juicy fruit notes, chocolate and cinnamon undertones, and pronounced sweetness and viscosity one might expect from various natural and honey processes. These coffees shine on their own as single origins, and balance well with coffees with more base notes, bringing a little joy to everyone who tries them.
What's better on a cold morning than a hot cup of earthy, sweet, Indonesian coffee?
Since they began exporting in 2013, Kopepi Ketiara quickly established itself as one the most-respected Fair Trade cooperatives in the Gayo Highlands. This is due to the excellent quality of their coffees, efficient contract performance, and a focus on innovation and continuous improvement. We have been fortunate to work closely with Kopepi Ketiara since their first exports and have seen this group evolve into the leader within the Aceh coffee producing region. They currently have 1502 producing in 19 villages in Aceh Tengah and Bener Meriah.
We have a fresh lot of coffee from Ketiara landing on the West Coast in just a few short weeks. We love this coffee for its clean yet distinct origin character-- sweet, spicy earth, bell pepper, and bright citrus-- and for the people who produce it. If you are looking for a clean, classic coffee, this one's for you!