In September 1998, Atlas Coffee Importers opened its doors, becoming the first full-service specialty importer in Seattle, the undisputed coffee capital of the US at the time. After starting his career leading expeditions around the globe and realizing the potential of coffee to bring the world closer, co-founder Craig Holt worked first for an Olympia-based roaster and then a small single-origin importer. In the latter capacity, he heard over and over from all the people he was trying to sell to that they wanted to get all their coffee from one source. 
Despite being the birthplace of coffee giants Starbucks, Seattle's Best Coffee, Tully's, and smaller local pioneers such as Espresso Vivace, Caffe Ladro, Café Vita, and many others, the majority of specialty green coffee was still coming into the Bay Area and moving up the coast in trucks to area roasters. So, on a shoestring budget, Atlas started, initially buying small lots from larger importers in Oakland and consolidating them for shipment to our small warehouse behind the office in the SoDo neighborhood of Seattle. I was hired in the spring of 1999 as the 2nd employee after getting to know them first as a roaster-client. My job, ostensibly, was to manage the sample room and QC. However, I ended up doing just about everything from talking to customers to driving the forklift and making deliveries from the back of the rusted old Landcruiser that was the company car.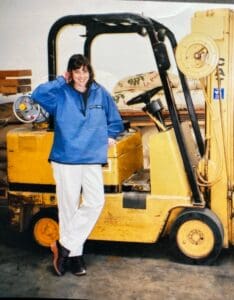 As we grew and began to import directly into Seattle, the quaint office/warehouse became too small to hold our growing inventory. Co-founder Pat Perkins left the company in 2000 and went on to co-found another critical player in the PNW coffee scene, The Green Room coffee warehouse. With our coffee moved safely offsite and having turned over the "heavy lifting" to the professionals, we began to grow in other ways.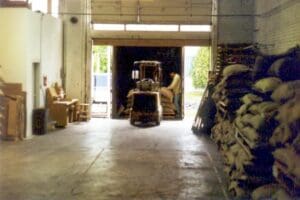 As part of the "Third Wave," characterized by a focus on quality and traceability, we began to build our own origin relationships, often working on projects with USAID, Winrock, CQI, and others to become the commercial and quality partners in programs to promote coffee production and economic growth for farmers. Craig was heavily involved with CQI and was one of the first certified Q-graders, leading him to teach classes worldwide and make even more connections with quality-oriented suppliers. As we grew and hired more and more exceptional coffee professionals, they brought their own relationships and skills to bear. They helped spread our reach across all the major producing areas (and a few minor ones!) 
From the outset, Atlas' vision has been that coffee should be profitable for every member of the supply chain and that investment in long-term relationships was the best model for a sustainable business. From this mindset, we very much see both coffee producers and roasters as our clients, and we provide all the services in between—everything from market access and digital assets to financing and logistics. We are, as one employee likes to say, "Coffee Matchmakers," providing introductions to like-minded entities and facilitating relationships with all the tools available to us. One specific way that we provide this service is by setting up cupping competitions in coffee-growing communities. This format allows individual producers to highlight the exceptional care they have put into their production and be rewarded with quality-related premiums--and hopefully to inspire their neighbors to do the same to raise the overall quality of the group. Bringing roasters to participate in the competition allows for discovering and maintaining relationships—some are now nearly 20 years old!  
As our importing has become more global, our client base has grown from a small handful of local roasters to hundreds of companies of all sizes in almost every US State and Canadian Province. In addition to our Seattle-based team, we now have New York and California staff to be closer to our clients wherever they are. We added an Education program to our offerings to help increase the level of coffee knowledge and professionalism. 
Looking back, the industry's change over the last quarter century is astounding, from the global acceptance of a standard cupping form and protocols to ever-more technical processing and brewing techniques. We've seen a market swing from around 40 cents to more than 300, a global shipping crisis that all but shut down west-coast ports and the fastest-ever interest rate increase in recent history. We've seen (and helped) new origins find the specialty market while other legacy producers have shrunk due to changing demographics, politics, and economic factors.  
When Atlas joined the Neumann Kaffee Gruppe (NKG) family of companies in 2018, we were looking for a partner who could provide resources beyond our modest scale while supporting our core values. NKG's holistic vision for the future of coffee and related investments allows us to participate in impact programs--like NKG Bloom supporting farmer livelihoods and NKG PACE working to change racial inequity in coffee--at a larger scale. Looking ahead, it's clear that the significant challenges facing the industry now--climate change and farmer livelihoods--will require the cooperation and coordination of all supply chain actors. While daunting, we are encouraged by the innovative and collaborative spirit of the coffee community and inspired to continue evolving our business over the next quarter century.