Monday, September 4th is Labor Day in the United States and Labour Day in Canada.  
To observe the holiday, Atlas Coffee Importers will be closed. Additionally, third-party warehouses are closed, and freight carriers will not be operating.
Transit Times
The recent closure of one of the nation's largest LTL carrier groups, combined with the continued high volume of nationwide freight, impacts the supply chain. Extended transit times should be expected even for clients who did not ship with USF, Yellow, New Penn, and Holland. As a standard, transit times for freight are not guaranteed. Any posted transit time estimated apply to the time freight may take between two transit hubs and do not account for delays due to staffing or equipment availability. Carriers do not provide refunds when freight takes longer than expected or estimated. We recommend that roasters place orders early, allowing extra transit time, to ensure that coffee is on hand when needed.  
Lead Times
Order processing lead times vary by warehouse; see below. Holiday closures do not count as part of warehouse lead time. Unless you specify otherwise, during regular business hours, Atlas will continue to process orders for the next available business day based upon the time your order is submitted, the warehouse's lead time, and the holiday. Click on the graphic to see it at full size.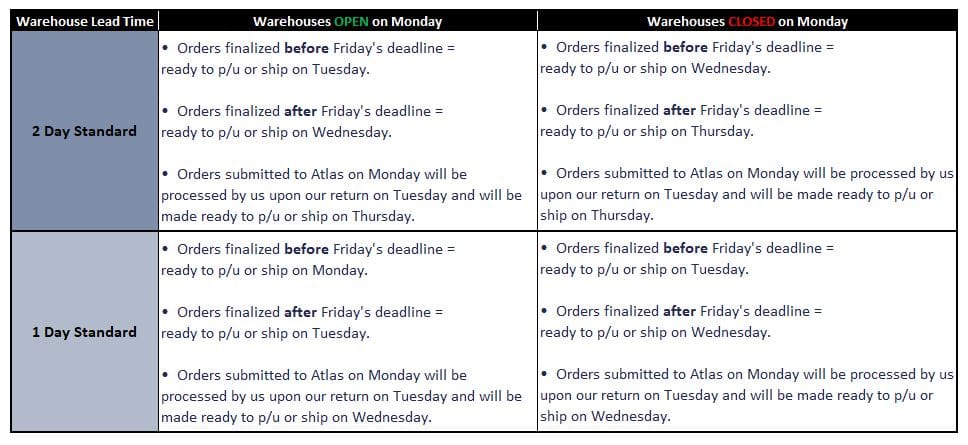 Submitting Your Order & Contacting Atlas
When submitting your order, please make sure you email the correct personnel to avoid missed orders or processing delays.
Banner Photo Credit 
Three-Lobed Coneflower aka Brown Eyed Susan by David J. Stang - source: David Stang. First published at ZipcodeZoo.com, CC BY-SA 4.0, https://commons.wikimedia.org/w/index.php?curid=61038054