Thanksgiving is Thursday, November 23 
 Wishing you all a safe and happy Thanksgiving! 
Atlas Coffee Importers will be closed Thursday, November 23 & Friday, November 24.  
Our warehouse vendors are all running modified schedules. These closures impact order timelines.   
Wednesday, November 22 | Cadeco and The Green Room will close early

Thursday, November 23 | All U.S. warehouses will be closed

Friday, November 24 | All U.S. warehouses, except Paris Brothers, will be closed
---
Wondering when to place your order? Our best advice? Order ASAP! This doesn't apply just to Thanksgiving. We expect winter weather and holiday freight to increase the already extended freight times we've all been experiencing. Plan ahead! Do your part to make sure you have coffee when you need it by placing orders early & leaving plenty of transit time. 
Order Processing Times 
Lead times vary by warehouse. Holiday closures do not count as part of any warehouse's lead time. Below is a graphic showing warehouse lead times for the holiday at the time this post was published. Timing is subject to change as some warehouses may need additional processing time. If you are arranging your own freight or picking up your order, please review the warehouse's response to the delivery order email to find the date on which they will have your order ready.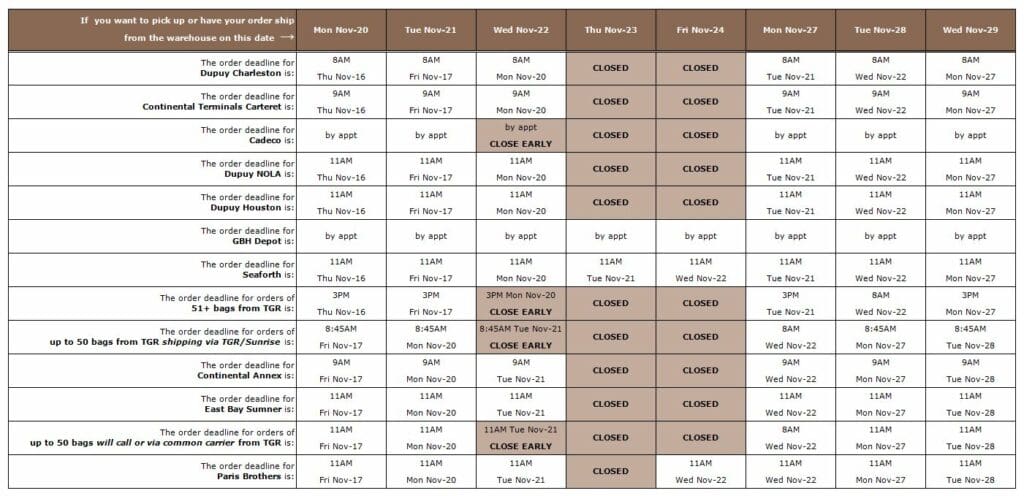 Transit Times
All transit times are estimates only. Atlas Coffee Importers has no control over shipping delays. Freight may take longer than usual as a result of carrier staffing level fluctuations, weather, freight volume, etc. Please, do not wait until the last minute to place an order. Order early and expect extended transit time may occur for any shipment. Planning ahead will help ensure that you have coffee beans when you need them.
Submitting an Order
When submitting an order, always include your delivery address, contact information, and any special requirements you might have (such as your need for an appointment or a lift-gate). To avoid missed orders or processing delays and to ensure prompt and efficient responses, please make sure you email the correct team.
Email Customer Service for coffee information or to place a new order: Include your preferred will call or shipping date in your request so that we can process your order appropriately. Orders submitted without a specified date will be processed for the next available pick up or shipping date. | CustomerService.Atlas@nkg.coffee |
Email Outbound Logistics for tracking, questions about warehouses and freight, or to file a claim. | Outbound.Atlas@nkg.coffee |
Thank you for your patience and flexibility!
Banner Photo Credit
Marta Boroń, CC by 2.0 <https://creativecommons.org/licenses/by/2.0>, via Wikimedia Commons | https://upload.wikimedia.org/wikipedia/commons/6/60/Jesienne_li%C5%9Bcie_-_Autumn_leaves_%2835850984981%29.jpg