Seasonal blends can encompass a range of flavor profiles but often lean toward rich and comforting, perhaps savory, with hints of fruit and spice. Here are our favorite coffees to help build a sweet and balanced blend or micro-lot worthy of gifting and celebration.
Susan's last stop on her June 2023 Great Lakes tour was to visit our dear friends at Kalico, co-founded by coffee pioneer Angele Ciza, who sadly passed away this past year but left a strong family coffee legacy.
One of Angele's sons, Alexandre, has been heavily involved in Kalico for the past several years and is now running the company, which includes seven large washing stations in three of Burundi's 18 provinces. Organic coffee in Burundi is virtually non-existent, but Kalico will be RFA-certified later this year.
In addition to the washing stations, Kalico has 'Shamba,' coffee from their own coffee farm plots. This year, they are trying very small amounts of three experimental processes for the first time. Kalico is also doing some honey and natural processes at Hasura Washing station, so they continue to innovate while pushing the quality for their fully washed, specialty-grade lots.
Like Brazil and Rwanda, Burundi has a biennial harvest, with a 'high year' and a 'low year.' 2023 is in the 'low year' cycle and was particularly low this year due to climate change. In addition, while coffee often flowers in September, some are seeing flowering in December, indicating that perhaps some areas in Burundi will see a fly crop later this year.
We had the opportunity to visit CPC dry mill, one of two large dry mills in Bujumbura. During high season they will have up to 600 hand sorters in their facility. Kalico uses hand sorting and UV light sorting for its specialty-grade coffee.
We also had the opportunity to visit Disyn Berna, the female-owned enterprise that employs six disabled women to sew and sell their handicrafts. They are the women responsible for sewing the stunning "Kalico Mama" bag art.
For the 2023 arrivals, we're offering three delicious washed lots: a Standard Arabica coffee, a community lot, and a Women-Produced Kalico Mama. These coffees display notes of black tea, brown sugar, baking spice, berries, and other fruits, with moderate acidity and medium body, making them an excellent fruity addition to a winter blend.
Kalico: pear, lemon, plum, chocolate, and tea with a juicy acidity and medium body
Kalico Mama:  date, apple, red grape, chocolate, brown sugar, and spice with medium acidity and body
Standard Arabica:  lime, blackberry jam, grapefruit rind, black tea, almond, and toffee with a bright acidity and medium body
As the contractor for the five-year, USAID-funded Colombian Specialty Coffee Program, ACDI/ VOCA introduced Atlas to the farmers of Monserrate in Huila in 2005. Craig Holt, Atlas' founder, initially traveled to Monserrate as an ACDI/VOCA volunteer and worked with the growers to assess the quality of their coffees, review their harvesting & processing techniques, and offer suggestions on how to position themselves in the specialty coffee market. Impressed with the possibility of truly exceptional coffee production in the community, Craig returned the following year with several roaster clients and solidified a commercial relationship.
While the blended coffee from Monserrate has always been fantastic, it didn't take long for us to realize that certain producers were taking a little more care with their farming and processing practices than others. In 2008, Atlas facilitated the first "Lo Mejor de Monserrate" microlot competition in order to give farmers the opportunity to have their lots cupped and score independently of the rest of the group. Once Monserrate producers realized that coffee buyers would pay even higher premiums for top-quality lots traceable to an individual farm, the friendly competition took off. Those first farmers who built relationships with roasters served as models of success for the rest of the community, and each year brings higher quality coffees, freshly motivated farmers, and an opportunity for roasters and producers to connect in a uniquely personal way.
Today, Atlas continues to purchase Monserrate's coffee at a high premium over the internal price for conventional coffee and promotes the majority of its production under the community's name. Enjoy spot coffee and arrivals during the first week of December as a sweet and caramelly base for your winter blends, and we'll be back soon with updates from the annual cupping competition!
Our friend Luz Marina (Luzma) Trujillo produces one of the finest coffees available on her estate Santa Elena in the highlands of Costa Rica's most famous coffee-growing region, Tarrazú. Luzma's coffee is grown under shade, and the perfectly ripe cherries are hand-picked and sorted for quality at her mill. The cherries are then carefully de-pulped, washed, and dried slowly on the patios at Finca Santa Elena to fully develop acidity and depth of flavor. Additional care is given to her coffee in the "reposo" stage, resting in parchment for at least 30 days after drying before being milled and shipped to Atlas.
Like many of our favorite growers, Luz Marina takes a holistic approach to sustainability, minimizing synthetic inputs and utilizing a closed-loop fertilizing system that composts discarded coffee pulp using red-wiggler worms. Her water treatment system meets the Costa Rican government's high environmental standards and preserves the river's cleanliness that flows through the estate. She offers her seasonal employees outstanding housing, health care, and a state-of-the-art drinking water filtration system.
Tarrazú coffee is known for being crisp and bright, and Luz Marina's coffee offers that classic profile, a lightly syrupy body, sweetness, and an elegant finish. With a bright berry acidity and medium body, the current crop of Luzma's washed coffee is balanced with notes of cherry, raisin, cranberry, hazelnut, dried berry, caramel, and toffee. It will shine on its own or pair well with a Natural African coffee.
In June, we visited Muungano and had the opportunity to learn of recent updates. Muungano currently has four main washing stations (Nyangoma, Buchiro, Kinyezire, and Nyabirehe), and three micro washing stations (Karango, Bishenge, and Chembumba), which span a vast geographical area along the western shores of Lake Kivu, from Kinyezire (where Muungano's headquarters are located) to Minova, an hour west of Goma.
Last January, Muungano purchased a small dry mill in Goma from a USADF grant and will not only be able to process this year's coffee at the mill but also offer value-added milling services to other coffee cooperatives that lack their own dry mill. Not long before our visit, Muungano had received confirmation from Nuru, the largest off-grid, mini-grid solar in sub-Saharan Africa, that they would be able to run their dry mill operations using solar energy, lowering their carbon footprint and the expense of using a gas-powered generator.
In addition to producing some of the region's—if not the country's—finest coffees, Muungano is also strengthening its value chains by investing in some of its most important members: its women. In collaboration with the Rebuild Women's Hope Cooperative and the French embassy, Muungano is currently doing a women's literacy and economic skills project. They are also learning additional income-generating activities such as sewing and craft projects.
In 2021, using Fairtrade funds, Muungano began construction on a much-needed, centrally located community and maternal health clinic. They need additional container sales to complete the construction, but even as the clinic is only partially finished, they can use one of the rooms to teach sewing. Once complete, the clinic will be able to treat wounds, provide basic medicines to community and cooperative Members, and have a maternity section. They even have land secured for an operating theatre, which will be constructed in Phase 2 after the first building is complete.
Despite numerous market-access, geographical, and climate-related challenges, Muungano continues to consistently produce some of our highest-scoring lots, which taste all the better knowing the challenging circumstances in which they were processed. Please reach out to your Atlas rep for specific cupping notes and/or samples.
We have several lots of washed coffee from Muungano. Follow up with us to choose the right coffee for you to add acidity and fruit tones to your blends.
Fully Washed Muungano, 18 bags: lemon-lime, cranberry, apple juice, peach, and black tea
Fully Washed Muungano, 45 bags: peach, black tea, nut, and toffee
Fully Washed Women-Produced Muungano, 104 bags: blackberry jam, raisin, plum, vanilla, and black tea
We visited all four of RWH's washing stations on Idjwi Island in June 2023 and their clinic. Between the Hala and Boza WS, Rebuild Women's Hope constructed a much-needed medical clinic focusing on women and children in 2019 on Idjwi. More than 2,000 babies have been born in the clinic to date, and they hope to one day have an operating theatre. The clinic offers some free services to the community, including a sexual reproductive health program with family planning services.
Rebuild Women's Hope is already certified Organic and is aiming for RFA certification soon. While we had previously visited their first two washing stations, Boza and Hala, we were also able to visit their new newer washing stations this time: Chasi (built in 2021) and Kolwe (built in 2022). Each washing station has a small team of logistics, cashiers, quality control officers, and managers. When members deliver cherry, they can either be paid immediately or use RWH as a sort of banking/savings account, withdrawing money only occasionally. Chasi and Boza, due to their more sunny locations, are also processing naturals.
Boza washing station is managed by Mary Chokoro, the only female washing station manager in South Kivu. 230 members are involved in an agronomy and agroforestry project through Oxfam Fairtrade to renew coffee trees, plant more shade trees and nitrogen fixers, and improve coffee quality.
In the midst of challenging conditions such as market access challenges, coffee smugglers, and ever-present logistical issues (they are on a remote island, after all!) Rebuild Women's Hope continues to center women through all of its coffee and initiatives.
Please reach out to your Atlas rep for specific cupping notes and samples of RWH coffees. We have two lots of washed coffee from Boza WS, perfect for a post-roast blend with the El Manzano Pacamara Natural.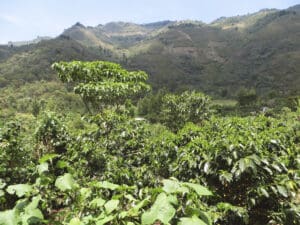 Tucked in the Sierra de Los Cuchumatanes, the highest mountain range in Central America, the Coordinadora de Organizaciones de Desarrollo de Concepcion Huista, or "CODECH," produces some of the best Fair Trade & Organic coffees not just in the department of Huehuetenango, but in all of Guatemala. CODECH is comprised of three base cooperatives: Asociación de Desarrollo Integral Productivo Yamanonh (ADIPY), Asociación de Desarrollo Integral Tierra Hermosa Concepcionera (ADINTHEC), and Asociación de Agricultores Tineco (ADAT) – and its members represent the Popti, Mam, and Q'anjob'al branches of the Mayan family.
After our first visit in late 2009, CODECH started a micro-lot program by classifying producers according to their farms' elevations. Since 2012, we've assisted in organizing an internal cupping competition for single producers that now is an annual event.
The micro-lots often exhibit the classic Huehue blackberry and chocolate flavors but can also be refined with elegant acidity and notes of stone fruits and citrus. Several Fair Trade Organic community and single-producer micro-lots landed at the end of the summer, and one lot remains at CTI in New Jersey.
Whether you want comfort or adventure, CODECH is on point as a base for your wintery blends.
What's better on a cold morning than a hot cup of rich, sweet Sumatran coffee?
Since they began exporting in 2013, Kopepi Ketiara quickly established itself as one of the most respected Fair Trade cooperatives in the Gayo Highlands. Their reputation results from the excellent quality of their coffees, efficient contract performance, and a focus on innovation and continuous improvement. Since their first exports, we have been fortunate to work closely with Kopepi Ketiara and have seen this group evolve into the leader within the Aceh coffee-producing region. They currently have 1502 producer members in 19 villages in Aceh Tengah and Bener Meriah.
Two lots of tasty coffee from Ketiara are available to choose from now on the West Coast. We love this coffee for its clean yet distinct origin-character-- sweet, spicy earth, clean wood, grape, bell pepper, and bright citrus-- and for the people who produce it. So if you want a clean, classic coffee, this one's for you!
Traceable Kenya coffees are available from either privately owned estates or cooperatively managed washing stations commonly called "Factories." Factories are typically organized in Societies, much like cooperatives organized under associations in Latin American coffee-producing countries. While private estates could market directly to buyers for some time, it's a relatively recent development that exporters have been able to sell coffees from individual washing stations (factories) directly to buyers. As a result, Atlas' buying is currently focused on just a few Farmer Cooperative Societies (FCS.)
The quality of Kenya coffee is considered among the highest in specialty coffee circles. The sweetness, complexity, and bold acidity are practically unmatched by any coffee-growing region. Fruit notes range from citrus (grapefruit, mandarin orange) to stone fruit (peach, apricot) to dark berry (blackberry, black currant) and everything in between. The diversity of Kenya's coffee profiles is part of the origin's charm. We source various styles to showcase Kenya's best coffees.
We only have three bags remaining of Kenyan coffee on the Offer List. This washed lot is from the Kangiri Farmer Cooperative Society's Kanguya Factory. With notes of lemon-lime, honeydew, green grape, cranberry, vanilla, and jasmine tea, a bright acidity, and a full body, this coffee is sure to sparkle for the holiday season. Interested? Hit up your Atlas Rep now!
Several groups we work with are at the forefront of Myanmar's specialty coffee movement, including the Mandalay Coffee Group (MCG) (a wet and dry mill, export company, and consortium of 50 estates in Mandalay), Amayar (a wet and dry mill and exporter in Ywangan owned and operated by Daw Su Su Aung), Shwe Taung Thu (a consortium of 17 villages in Ywangan who produce naturals almost exclusively), and Behind the Leaf (a wet and dry mill and exporter in Pinlaung).
Even in the wake of the coup in February 2021 and the reality of ongoing logistical, market-access, and climate-based challenges, our partners continue to produce and process specialty coffee with the highest standards and professionalism.
Micro-lots from Amayar and Shwe Taung Thu member communities became available a couple of weeks ago at the Annex and are being transferred to The Green Room, and their quality is remarkable. Amayar's coffee is washed with apple, brown sugar, hazelnut, and walnut notes. In addition, choose from the following community-produced naturals from Shwe Thaung Thu:
Ga Naing Yar, 35 bags:  cherry, cranberry, apple sauce, honey, toffee, and walnut
Kyauk Ku Pyin, 7 bags: plum, blackberry, cherry, grape, chocolate, and orange
Sin Net Chaung, 27 bags : lemon-lime, honeydew melon, green apple, kiwi, green apple, and walnut
Aldea Global producers have an average farm size of only five hectares, and the cooperative caters to smallholder farmers who ordinarily struggle to obtain traditional financing. By offering affordable loans, the group enables its members to invest in their farms, improve their yields, and increase their income. Aldea also provides its members with technical assistance and guidance on planting, pruning, fertilization, pest management, and harvesting, along with micro-credit and marketing services.
Aldea Global's "Manos de Mujer" program is designed to support women coffee farmers and promote gender equality. The program provides women with training and technical assistance on coffee farming and access to credit and financing. The program also aims to increase women's participation in decision-making processes within the cooperative and empower them to take on leadership roles. By providing these services and focusing on smallholder farmers, Aldea Global's membership has rapidly expanded to more than 8,000 coffee-producing members, most of them belonging to the Chorotega Indigenous Community.
The cooperative's commitment to quality extends beyond the coffee itself to the farming practices used by its members. Aldea Global promotes sustainable agricultural practices that are designed to protect the environment and promote biodiversity. This includes promoting shade trees and the preservation of natural habitats. By promoting sustainable practices, the cooperative is helping to ensure the long-term viability of coffee farming in Nicaragua, protecting livelihoods, and helping to ensure an enduring future for its members.
With lively acidity, light to medium body, and flavors of light fruit, sugar browning, and chocolate, we source Aldea Global as our Nicaragua SHG EP. Available now at TGR to incorporate into your holiday blends!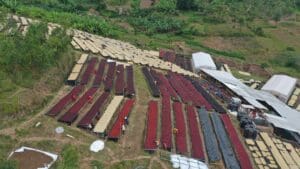 Atlas has worked with Abateraninkunga ba Sholi since 2017, when we imported their inaugural shipment into the US. Abateraninkunga ba Sholi means "Mutual Assistance" in Swahili. The cooperative has focused on improving members' lives and livelihoods through higher premiums for their coffee and greater community resources.
In addition to coffee trees at the farm level (which averages around 410 per female member), the women's association has two communal plots for harvesting and producing coffee. The first site has 2,356 trees, and the second has almost 4,000 trees as of last year.
Also, Sholi has received grants to build a community center and regional health center; they've used coffee premiums to plant shade trees, develop coffee processing infrastructure, start an Apiary project, and distribute cows to members.
Sholi coffees have some of the deepest citrus acidity we've experienced from the Great Lakes countries, shining with ruby red grapefruit and juicy blood orange. We currently have washed and natural Women-Produced lots and family lots available at TGR! Flavors of cranberry, plum, raisin, marmalade, and dark chocolate scream holidays to us.
Bukonzo Joint Cooperative Union in Western Uganda is a pioneer in gender justice. They began as a rural micro-finance society in 1999 and have evolved into a well-regarded Union of 5,500 farmer members within 72 producer groups, organized into nine primary societies, producing some of the best coffee in the region.⁠
⁠
One of the reasons we believe BJCU has been so successful is the group's use of an inclusive methodology, called GALS (for Gender Action Learning Systems), in all of their activities to ensure equal participation by both men and women in the coffee value chain and their decision-making from the household through to the cooperative level. In 2015, BJCU won the Specialty Coffee Association Sustainability Award for this work.⁠
⁠
Through an annual microlot cupping competition with Atlas, BJCU offers microlots traceable to a single micro-washing station. Also, BJCU created a profile called "Owemba," meaning "outstanding" or "exceptional" in the local language Lhukonzo. This community lot is comprised of a blend of several higher-scoring washing station lots and its crowd-pleaser profile of chocolate, fruit, sugar browning, and spice.
⁠
Over the last couple of weeks, new crop Owemba Community Lots and micro-lot coffees from the Kyalhumba and Nyabisusi MWS landed. Reach out to us to explore BJCU's gender equity work and sourcing their coffee for your blends or featured Single Origins. Available now at TGR to incorporate as a balanced base into your holiday blends!