I can't count how many times I've been walking through a coffee farm, and said to my hosts, "You realize you live in an exceptionally beautiful place, right?"
A while back, I was thinking about how the coffee trade often depicts these beautiful coffee communities in ads, but we rarely let the growers show us how they see their farm, or their town. I thought it would be interesting to see how folks who've grown up in these gorgeous areas would depict their home in pictures.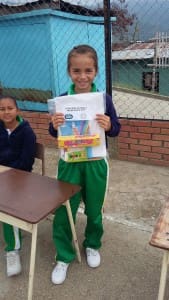 We decided to start in Monserrate, a community in Huila, Colombia, where we've been working for over ten years. Since I'm a sucker for kids, I figured it would be fun to send a bunch of art materials to the Monserrate grade school, and ask the students to show us how they see their community.
We set it up as a contest, with the top three entrants (as chosen by the Atlas staff) being awarded full school supply kits, and the winner receiving a new tablet. (Which is only for school work, not for games!) Additionally, we donated a laptop computer (no games!) and art supplies to the whole school.  The results were, as you can see from the pictures here, amazing. It's clear from the images created that these kids have a deep appreciation for their community, and for the beautiful environment in which they live.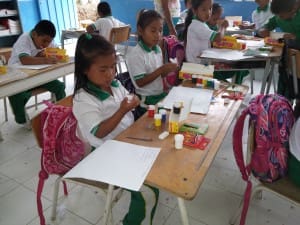 We had a terrible time deciding who should be the winner, but after much deliberation, we selected the work of nine year old Yurely. We were particularly taken with her bold use of color in the healthy environment, the smiling family, and (of course) the perfect ripeness of the coffee cherries being harvested on her family's farm.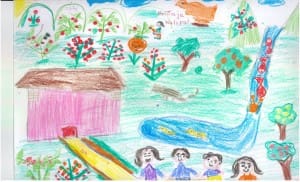 As a final component of the program, we will feature all the Monserrate art when we open Atlas' doors May 13-14 for the Greenwood Art Walk. People of Greenwood, prepare to be amazed!  We'll be returning to Monserrate in August to spend more time with the farmers and their families, and explore additional opportunities to fan the creative fire there.  Stay tuned for updates from Monserrate, and for an announcement about the next art competition in another Atlas partner community somewhere around the world!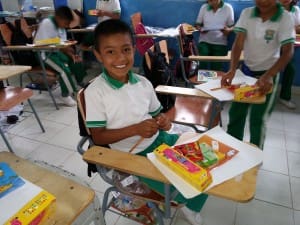 You can find plenty more photos from Monserrate, as well as more examples of the fine art from the contest, on Atlas' Flickr site.