Many of us in the specialty coffee industry are familiar with "the Q", or the Q Arabica Grader Exam: a 6-day series of calibration exercises and 20 individual tests that evaluate a person's cupping, sensory skills, and general Arabica coffee knowledge.
What's more of a mystery in our neck of the woods is the Q Robusta Exam, a similar test geared toward professional Robusta cuppers. While here at Atlas we import only a very small amount of Robusta, it plays a major role in the coffee industry, accounting for ~39% of coffee production worldwide in 2017 according to the latest ICO statistics.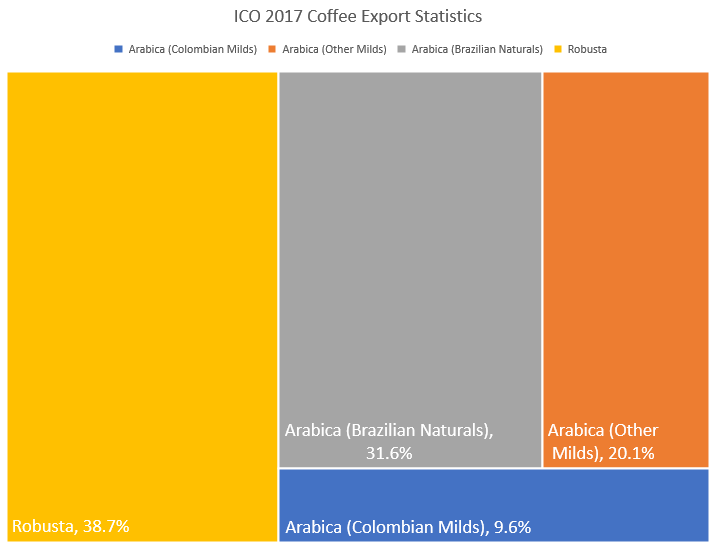 To learn more about the mysterious world of Robusta, we interviewed four seasoned Q Robusta Instructors—Mané Alves, Roukiat Delrue, Samuel Gurel, and Gloria Pedroza—to learn more about the ins and outs of Robusta and the Q Robusta Exam.
Tell us about your coffee history.  What led you to become a Q Robusta Instructor?  
Mané: I am the first "Q" Instructor and taught the first "Q" Course (2004 in Waterbury, Vermont). I have been in the specialty coffee industry since the end of the 80's. I used to be a winemaker in California, Dry Creek Valley, Sonoma.
Roukiat: I am certified in both Q Arabica and Q Robusta I took the Q Robusta course originally in 2009, with Ted Lingle, as part of the original Robusta Courses that were being taught in cooperation with the Uganda Coffee Development Authority (UCDA). After that, as soon as I was eligible to become an instructor, I started teaching the Q Robusta in CQI Project work or with private customers with interest in Robusta as well.
Gloria: I am originally from Guatemala, where in 1998 I started working at the coffee export company of the Neumann Kaffee Gruppe (NKG) in Guatemala. In 2003 I moved to Veracruz, Mexico and worked as quality manager for their sister company Exportadora de Café California. In 2004, I moved to Zug, Switzerland, where I have been working as Quality Manager at NKG Quality Service, the place where I come to cup coffees from around the world, including a lot of Robusta.
Samuel: I have been in coffee for 10 years, and spent the majority of that time in China. I own one high-elevation Gesha farm in China. Early in my coffee career, I hated Robusta, hated anyone who liked Robusta, and I would not admit there was such a thing as fine Robustas. Then one year I traveled to Bolaven Plateau in Laos and had my conversion experience. I tasted some Robusta and thought, "This is a great coffee!" It didn't have any rubber tire, no cereal grain, no funkiness. Just a really great, sweet coffee. Not in an Arabica way, but in its own unique way. I then started working closely with Dr. Manual Diaz with Robusta processing and the rest is history.
Walk us through some of the tests and how they might differ from the tests found on the Q Robusta exam.
Mané: The Robusta combo course (3 days teaching + 3 days exam) is much more difficult than the Arabica course. Robusta (even when we are talking about Specialty Robustas) have a much narrower taste profile, making it more difficult to differentiate. Triangulations and cupping with these coffees are extremely difficult. One HAS to be a good cupper to pass these tests. I would not recommend this course to an amateur, or a coffee beginner.
Roukiat: The test dynamics are all the same: 6 days split into three of teaching / practice and three of testing.  There are cupping sessions, triangulations, Le Nez du Cafe, Roast ID, Green & Roasted etc. However, they all vary slightly in order to accommodate the Robusta Standards and Protocols. For example, for the Le Nez tests, both Le Nez Du Cafe and Le Nez du Vin are used to complement for aromas found in Robusta. Sensory Skills includes the bitter component as well, not utilized in arabica. Organic Acids focus on different types of acids. The standards, protocols and cupping Form are all different as well so it definitely requires some level of experience in Robusta before approaching the course.
Gloria: The cupping protocol is slightly different, besides using a different proportion of coffee to prepare the cups, we evaluate different attributes. For example, instead of evaluating the intensity and quality of acidity individually, we evaluate the "taste modulation" between salty and sour taste, and between bitter and sweet.
Samuel: Cupping is very different because the Robusta form has you measure sweetness as an attribute in a different way than on the Arabica cupping form.
What do you see as the future of Robusta coffee in the specialty and commercial coffee industries?
Mané: Robustas ARE the future. Just think about where we are going as a species. Climate is warming up; to keep planting Arabicas, one will have to go up in altitude (where less land is available and coffee maybe not a priority anymore); reduction in varietals and tastes; more work to get the same type of coffee.
Meanwhile, Robusta is grown at sea level (which are rising, but there is much more land available). Above all, what is exciting is what Robusta growers are doing with the use of yeast and fermentation. They are transforming completely the "normal" taste of Robusta, making it taste more like an Arabica bean. I am assuming in the next 4 years you will see some of these coffees in the marketplace.
Roukiat: Because of all the reasons that we are not strangers to, such as climate change and others, Robusta - especially Fine Robusta - definitely has a bigger space in the market. Robusta has tended to be cast aside without a second look to it, while it obviously has it's incredible amount of advantages and, with the proper standards and care, can yield good quality coffee. There is, and has always been, an important market for Robusta in Europe for example; programs and efforts such as the Q Robusta support those markets as well as new emerging ones with interest in it.
Gloria: In general, not much has been done to improve the quality of Robusta, and there is a lot to be discovered. If we just change small things in the processing, we will see a big impact reflected in the cup quality.  And that is what some origins are doing since a few years, e.g. India, Uganda, Guatemala and Mexico. Even Vietnam is improving processing practices and we have seen very good results in the cup. In my opinion when Robusta is well processed, it will have a high degree of acceptance. But quality improvements require more investment, more time of preparation, etc., and that means higher costs. Many roasters are not yet ready to pay higher prices for Robusta of higher quality, because of the existing preconceptions. We are working hard on that, because we believe that high quality Robusta should be rewarded as well.
The Q-Robusta Grading courses have helped me to introduce Top Quality Robusta to roasters and interested people and all of them leave the courses with a different mindset. A few Robusta-fan Roasters offer now single origin Robusta, just in small quantities, but that business-model is already a huge step towards breaking the barriers Robusta currently faces.
Do you a preference for a particular Robusta coffee or Robusta coffee origin?
Mané: Best washed Robustas come from Asia, specially Flores island. Best yeast treated Robustas come from Brasil.
Roukiat: I have had the opportunity to actually grade a few Robusta Coffees - analyze them to see if they qualify for Q Robusta Certification (Fine Robusta) and while I've tasted many good ones actually, among my favorite have been: India, Uganda (natural) and Guatemala.
Gloria: Yes, I have a special affection for certain origins, where I have been somehow involved in anything related to improving or promoting the quality: Guatemala, Mexico and Uganda.
Samuel: Rwanda has some great Robusta. Everyone knows about Uganda, and Italians buy up best of the best before hits the market. India has amazing Robusta, as do the Philippines, Lao, and Indonesia.
Anything you'd like to share about Robusta or the Q Robusta exam that you think specialty coffee roasters should know?
Mané: If you are a coffee professional, sooner or later you will have to learn about Robusta. As the vast majority of Robustas are not good (Robusta market is in a catch-22, good ones do not exist because the market doesn't recognize these beans as a step above) the "new" Robustas should be rewarded with better prices to justify the treatments that the farmers are using to improve taste.
Roukiat: When I teach Q Arabica, I always encourage students to simply see it as this: there is an entire industry of ranges and qualities, we shouldn't limit our vision. In terms of learning, why would you decide to simply not learn about an entire segment of the industry? How are you able to express even a personal like or dislike for Robusta if you haven't tasted in with the right protocols, cupping form and compared to varying qualities of it?
Gloria: The Coffee Quality Institute (CQI) is committed to work on the improvement of the quality of coffee and the lives of people who produce it. Based on that statement and considering that Robusta represents a big portion of the total world coffee production, I think that we cannot ignore Robusta as an ingredient in a roasting business. We need to see Robusta with different eyes, embrace it and explore what it has to offer.  I always like to say: every bean has a home, so let's find a home for our Robusta beans.
Samuel: Go try it for yourself. No one can tell you – no theory will help you. Go really hunt for some good Robusta and you may be converted.
--
If the above has your interest piqued, don't forget to contact your sales rep for India Robusta samples, and to check out The Coffee Podcast's two-part series on Robusta (here and here) featuring Hannah Neuschwander, Communication Director of World Coffee Research and Dr. Mario Fernández, Technical Director at the Coffee Quality Institute.