Announcing Atlas Coffee Importers - La Marzocco Cafe Residency
Events include an ice cream & espresso social with Frankie & Jo's, Dave Eggers reading,
and pop-up shop featuring roasters from across the country
Atlas Coffee Importers celebrates its 20th birthday year with a residency at the La Marzocco Café in the KEXP Gathering Space from February 13 through March 5, 2018. The residency is designed to shine the spotlight on farmers, roasters, and local businesses while infusing the environment with a touch of Atlas culture and history.
After 20 residents at the La Marzocco Café, Atlas will be the first featured business that is not a roaster or a retailer.  We source- coffee for a wide variety of roasters, which reflect the full range of size, scope, and roasting styles across the specialty coffee industry. To reflect our customers, the beverage menu curated for the La Marzocco residency will be anchored by classic beverage offerings typically found on cafe menus, such as espresso and lattes, along with filter staples such as batch brew and pour-over on Chemex.
We are using brew methods to explore direct relationships formed with coffee producers around the world, highlighted by rotating signature beverages. In addition, we are featuring a pair of signature beverages from baristas that used Atlas-sourced coffees to compete and qualify for the 2018 United States Barista Championship, along with a drink created by the La Marzocco baristas.
Drew Billups, Director of Education and Quality Control at Atlas, is serving as the roaster for all coffee brewed for beverages during the residency, with the generous use of the Diedrich IR-12 at Victrola Coffee Roasters.  Thank you to Dan, Dennis, and the entire team at Victrola!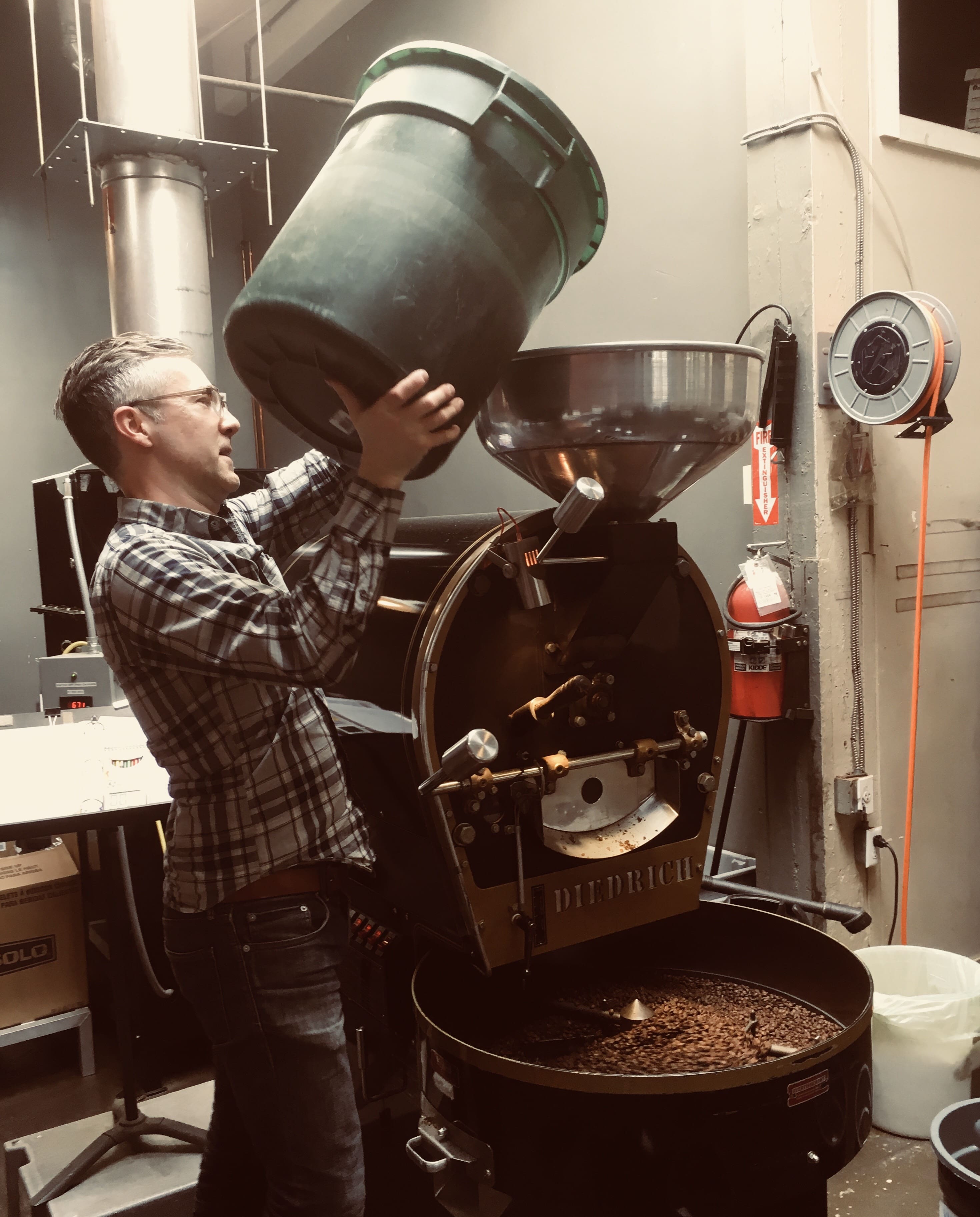 "As Importers, much of our work is done behind the scenes and hidden from coffee consumers," says Atlas Coffee Importers COO Jennifer Roberts. "In fact, importers play a critical role in the supply chain. We serve at various points as gate-keepers, advisors, match-makers, translators, paper-pushers, financiers, negotiators, and risk-managers. We're looking forward to stepping out from behind the curtain to share some of this important work with Seattle's coffee-drinking community."
Other ingredients and food were curated to represent local producers and artisans, including Fremont's Theo Chocolate, and Capitol Hill's plant-based ice creamery Frankie & Jo's, who is teaming up with us on an affogato — Rosebud espresso poured over a scoop of coconut milk-based Date Shake ice cream. Offerings also include cherry pie from Phinney Ridge's A la Mode, fruit and nut bars from Dragonfly Nutrition, and assorted pastries from The London Plane.
To curate our menu, we selected eleven of our favorite coffees and fresh-crop arrivals and then searched for roasters that were currently featuring those coffees.  The following roasters are contributing to the residency with retail coffee bags for sale, all sourced by Atlas and roasted by our partners across the U.S.: Biowilly's Beans (Tacoma, WA); Café Grumpy (Brooklyn, NY); Coava Coffee Roasters (Portland, OR); Colectivo Coffee (Milwaukee, WI); Counter Culture Coffee (Durham, NC); Dillanos Coffee Roasters (Sumner, WA); Equator Coffees & Teas (San Rafael, CA); Fulcrum Coffee Roasters (Seattle, WA); Irving Farm Coffee Roasters (Millerton, NY); and Victrola Coffee Roasters (Seattle, WA)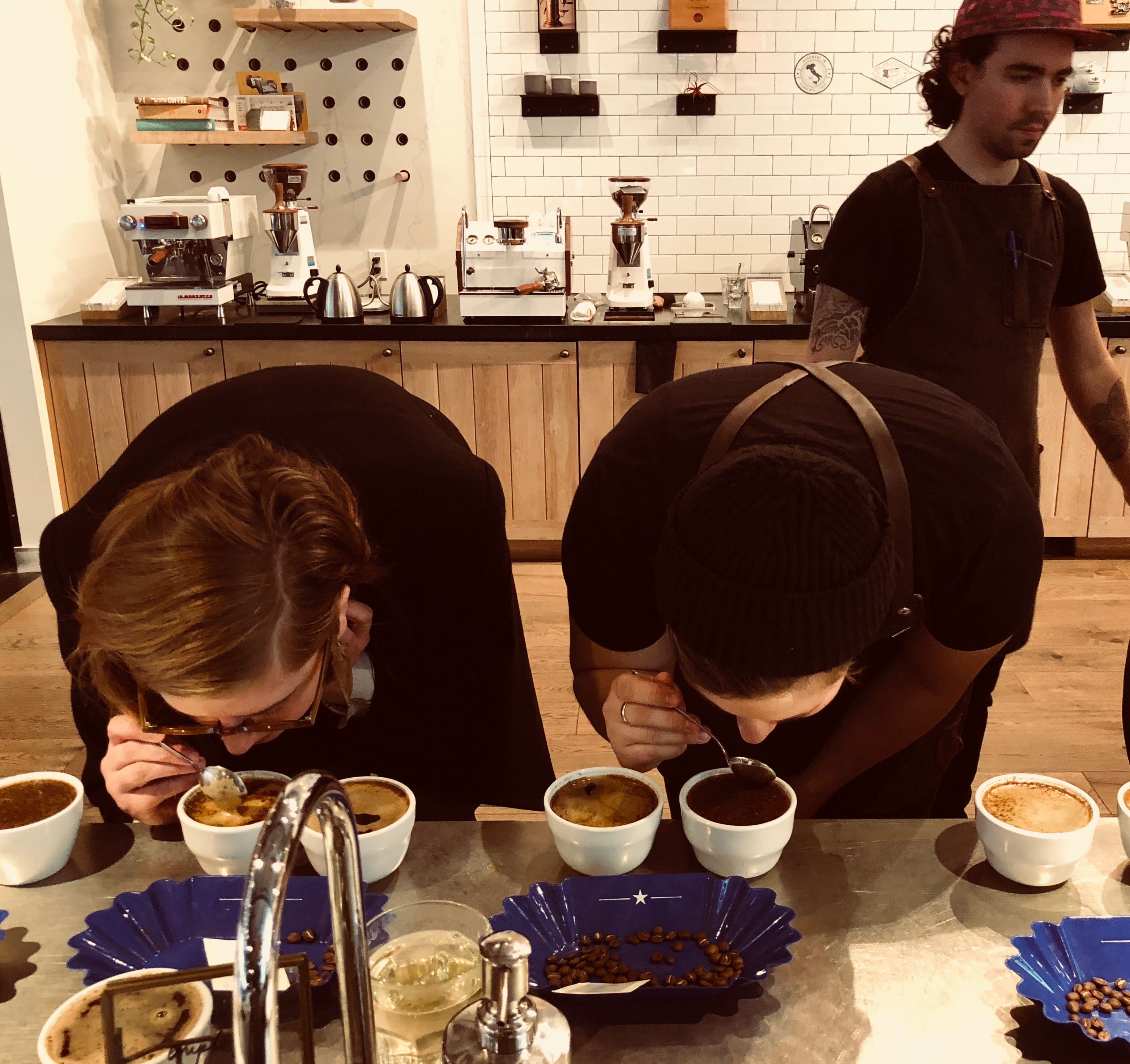 Our residency includes a series of panel discussions, presentations, and public coffee tastings to highlight the work that goes into the sourcing, logistics, and quality control work of importers. Highlights include:
On Thursday, February 15, "Dance Party Thursday," Please join us as we launch our residency at La Marzocco Cafe! This will be a celebration of all the great partnerships we've formed throughout the supply chain over the last 20 years. The party will be in the style of our weekly office tradition, Dance Party Friday. At the end of the week, we often share a few local beers, compare the flavor profiles of spirits from near and far, enjoy some tasty bites listen to music. We'd like to share this experience with our valued partners to kick off our time at La Marzocco Cafe at KEXP.
We will feature coffees from some of our closest producer partners, food catered by Mr. Gyros and beverages from Lantern Brewery, Westland Distillery, Rachel's Ginger Beer, J&A's Winery. We invite you and your team to help us launch our time at this wonderful space for the coffee community!  Email orders@atlascoffee.com for an invitation if you have not received one!
On Saturday, February 17, "The Invisible Hand," the incredible true story of one man's mission to bring Yemen's coffee to the U.S., and how Atlas helped him achieve it. Speakers include Mokhtar Alkhanshali, Craig Holt and Melissa Kelley from Atlas Coffee Importers, and author Dave Eggers, whose new book is a non-fiction account of Mokhtar's journey. Attendance is subject to capacity, so please come early.
On Tuesday, February 27, "Ice Cream and Espresso Social," where Atlas and Autumn Martin, co-owner of local plant-based ice cream company Frankie & Jo's, examine flavor and blending theory for coffee and ice cream. Participants will taste various espresso and ice cream pairings. This is a ticketed event and more information will follow.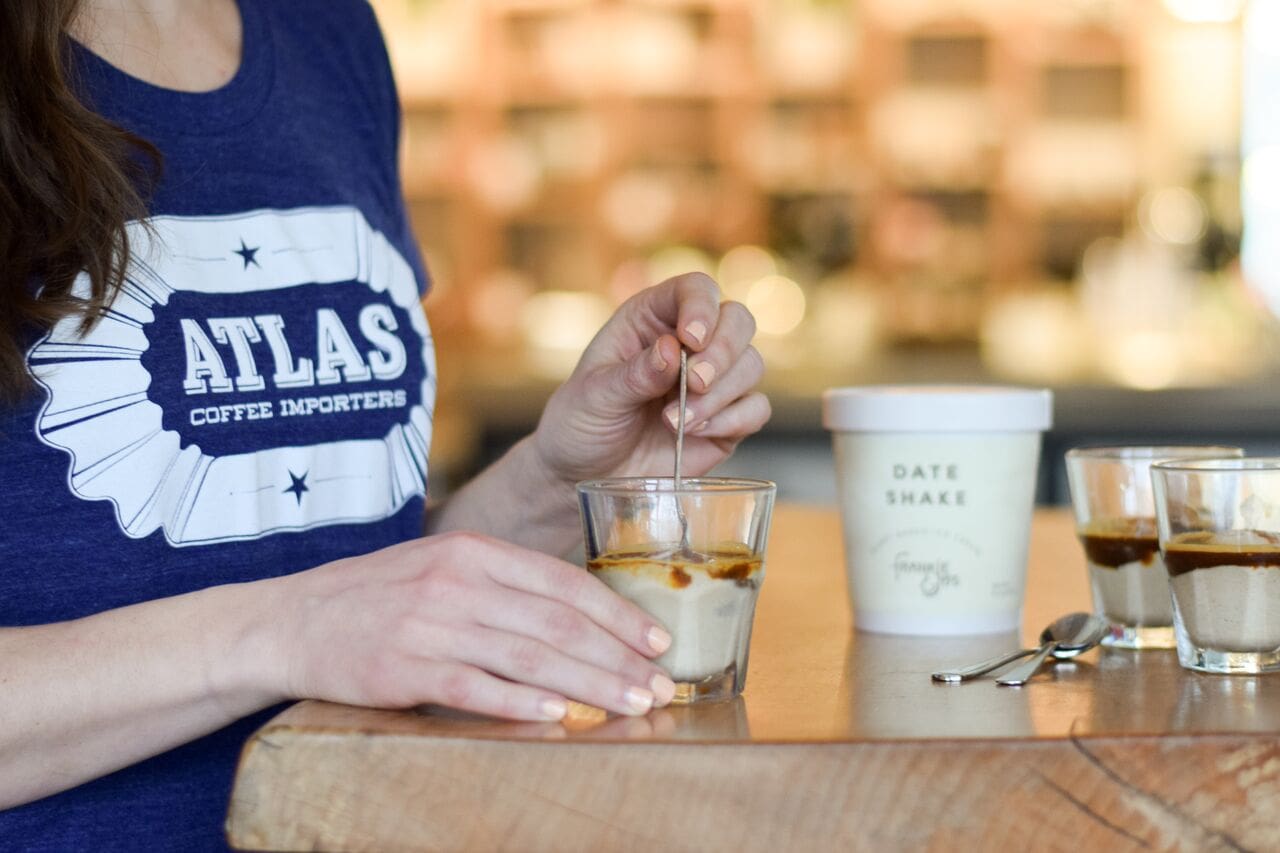 On Wednesday, February 28, "It Takes a Village," a live trip report with Jennifer Roberts from Atlas and Mollie Moisan from partner organization Twin, in conversation about coffee cooperatives in East Africa with a focus on gender equality.
For full event info and tickets, check the La Marzocco Home Calendar and Facebook page.
The Atlas Coffee Importers residency at the La Marzocco Café & Showroom will be open daily from February 13 through March 5 inside the KEXP Gathering Space at 472 1st Ave N, Seattle.  If you are in Seattle or feel like making a special visit, please let us know so that we may meet you for a cup of coffee!
To experience the residency from afar, follow @atlas_coffee and @lamarzoccocafe to learn about our featured coffees, specialty drinks, and a fantastic giveaway with our friends at Ikawa Sample Roasters!