Atlas Residency at La Marzocco Café
Week 1 - February 13th to 19th: Long-Distance Relationships
To experience the residency from afar, follow @atlas_coffee and @lamarzoccocafe to learn about our featured coffees, specialty drinks and events!
The Atlas Coffee Importers residency at La Marzocco Café in Seattle has officially launched!  We are thrilled to be the current partner in residence, and we have curated our menu and the café space to shine the spotlight on farmers, roasters, and local businesses while infusing the environment with a touch of Atlas culture and history.
We proudly source coffee for a wide variety of roasters that represent the entire range of size, scope, and roasting styles across the specialty coffee industry. As such, the beverage menu curated for the La Marzocco residency is anchored by classic beverage offerings typically found on cafe menus, such as espresso and lattes, along with filter staples such as batch brew.  To illuminate some of the innovation and emphasis on traceability within the specialty coffee community, we are featuring rotating Single Origin coffees brewed on Chemex along with signature espresso beverages. During the first week of our residency, from February 13th to 19th, we are exploring Long-Distance Relationships by featuring coffees from Myanmar, Peru, and Sumatra to highlight some of our most dear partnerships with coffee producers.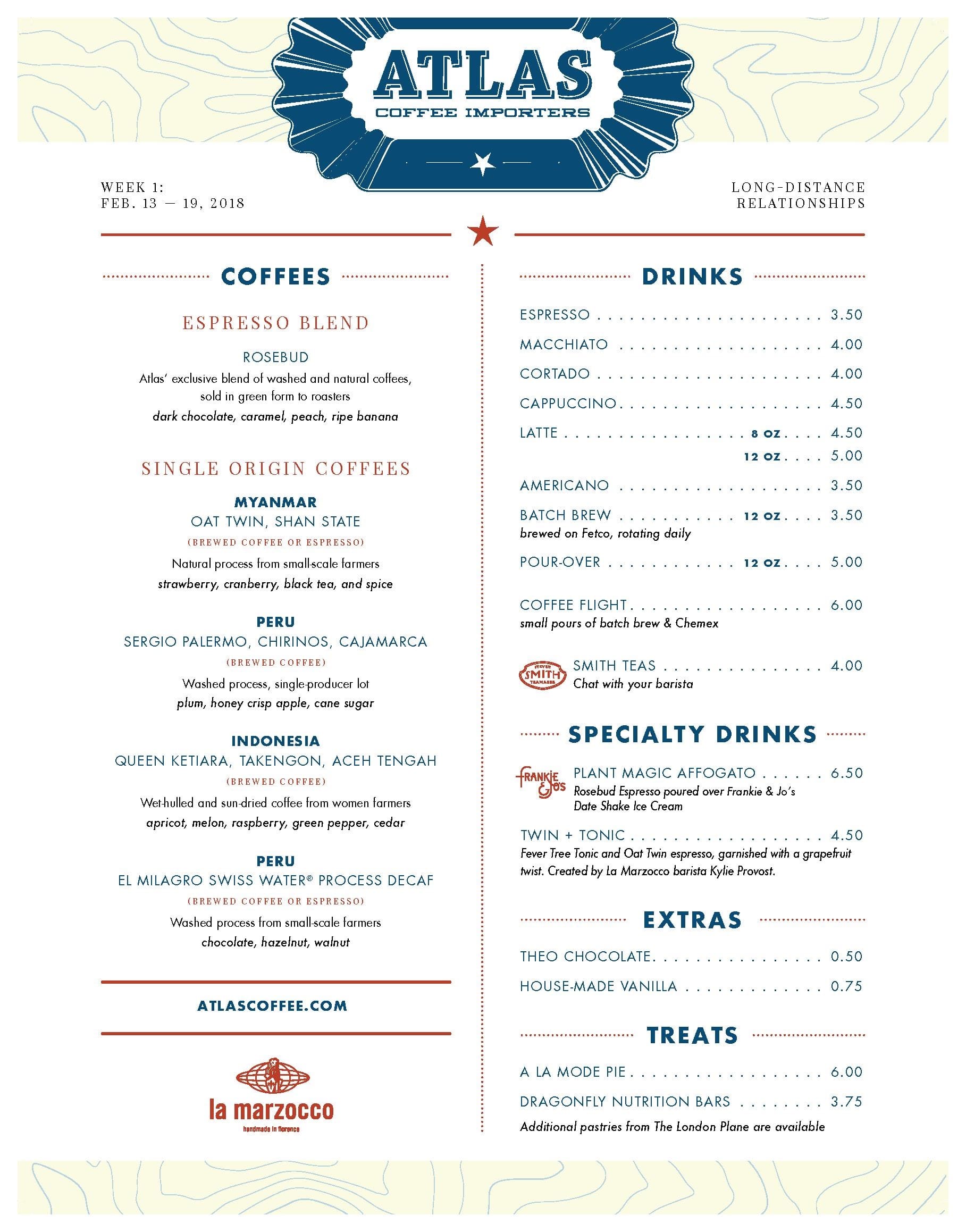 Our Single Origin Espresso of the week is a natural process coffee produced by small-scale farmers from the Oat Twin community out of Shan State, Mandalay, in Myanmar.  Though Myanmar has been growing coffee since the late 1800's, over the last several years, private entities and NGOs have been working with growers to improve agronomy and harvesting practices. These investments in milling and education have brought about the birth of a true specialty coffee business in the country.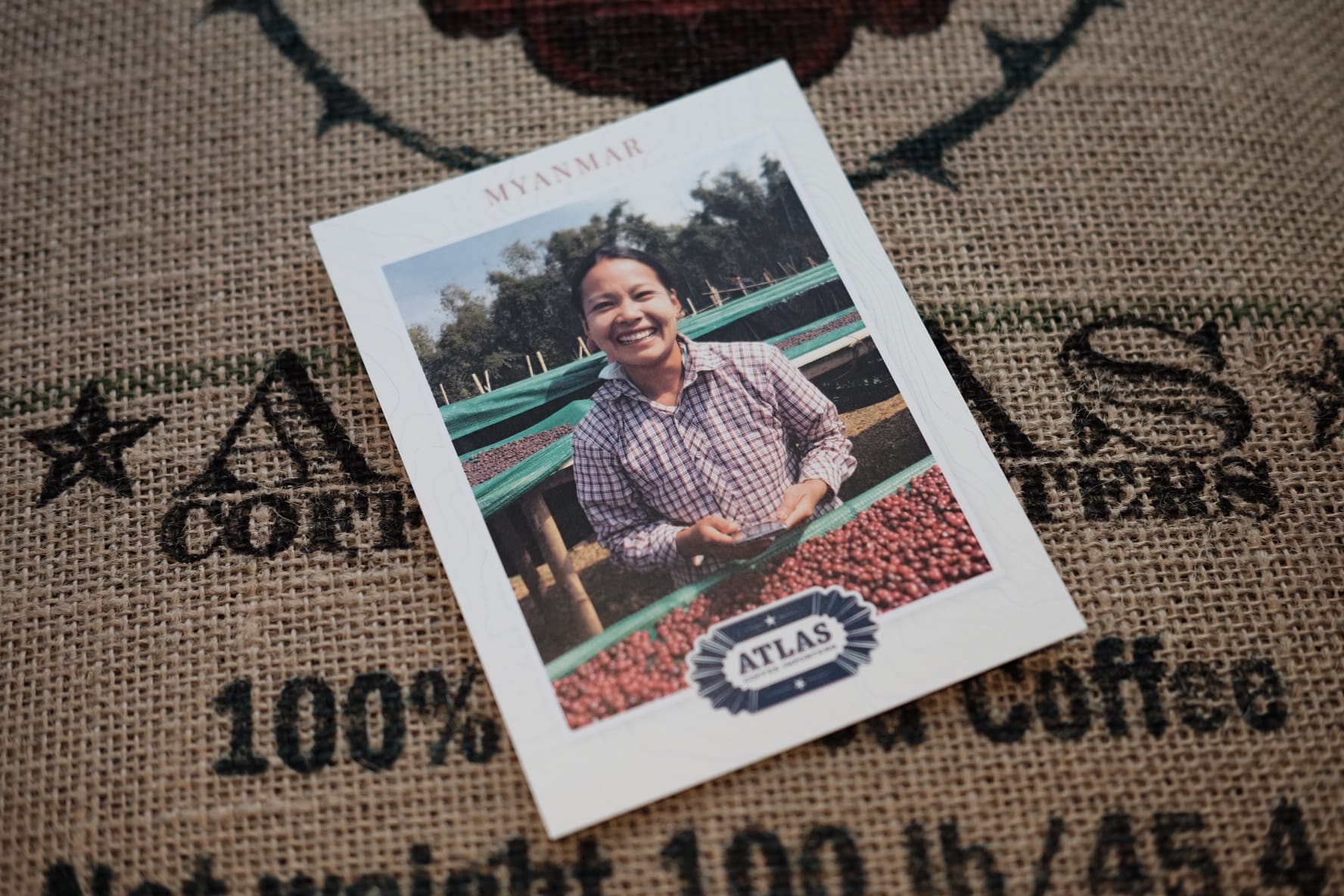 In 2016, Atlas had the honor of bringing in the first-ever containers of Myanmar specialty Arabica micro-lots to the North American market. The success of those amazing coffees was a tribute to the hard work of the coffee growers in Myanmar, and to everyone involved in the USAID-funded project that launched the Myanmar coffee growers on this path. Atlas was involved in this project from the very early stages, and later purchased the entire first season's production of specialty micro-lots.
The sweetness and complexity of the Oat Twin celebrates the hallmark deep fruit of Myanmar naturals.  With notes of strawberry, cranberry, black tea, and spice, the Oat Twin shines as an espresso extracted on the La Marzocco Strada and as a pour-over.  In the Twin + Tonic, our specialty drink created by La Marzocco barista Kylie Provost, the Oat Twin is paired with Fever Tree Tonic and served over ice in a Collins glass with a grapefruit garnish to emphasize the herbaceous quality of the coffee.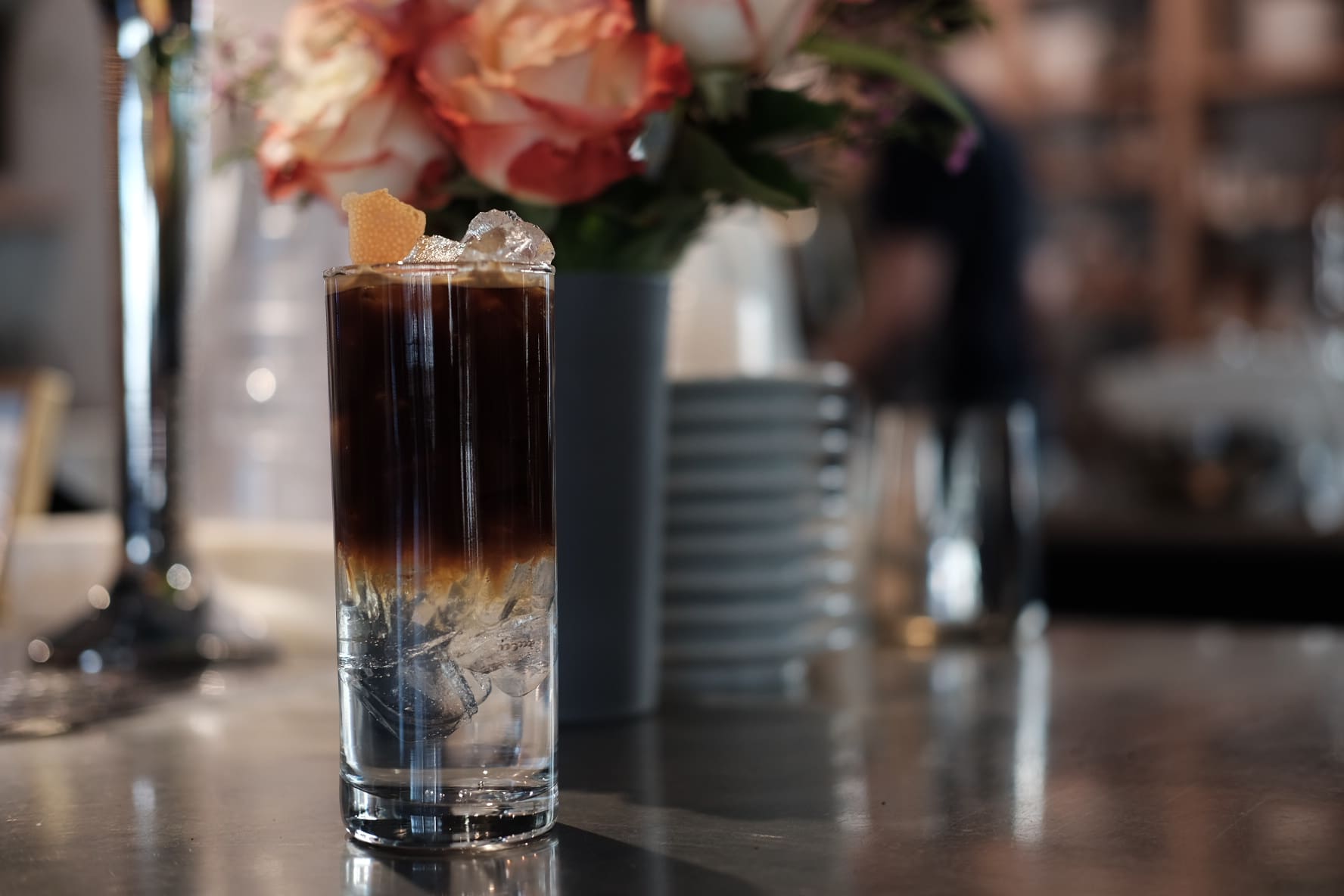 We've partnered with Kaldi's Coffee Roasting Co. in St. Louis as a featured roaster for Myanmar naturals.  To taste a representation of the Oat Twin, order their delicious Tet Kone.
This week, we also celebrate relationships with producers from Chirinos, Peru with a microlot by Sergio Palermo sourced for Irving Farm and a women-produced coffee by the Queen Ketiara cooperative in Sumatra with Equator Coffees & Teas.
Throughout our residency, La Marzocco baristas are also extracting Atlas favorite Rosebud Blend.   Atlas Founder Craig Holt shares the history of Rosebud in honor of the occasion.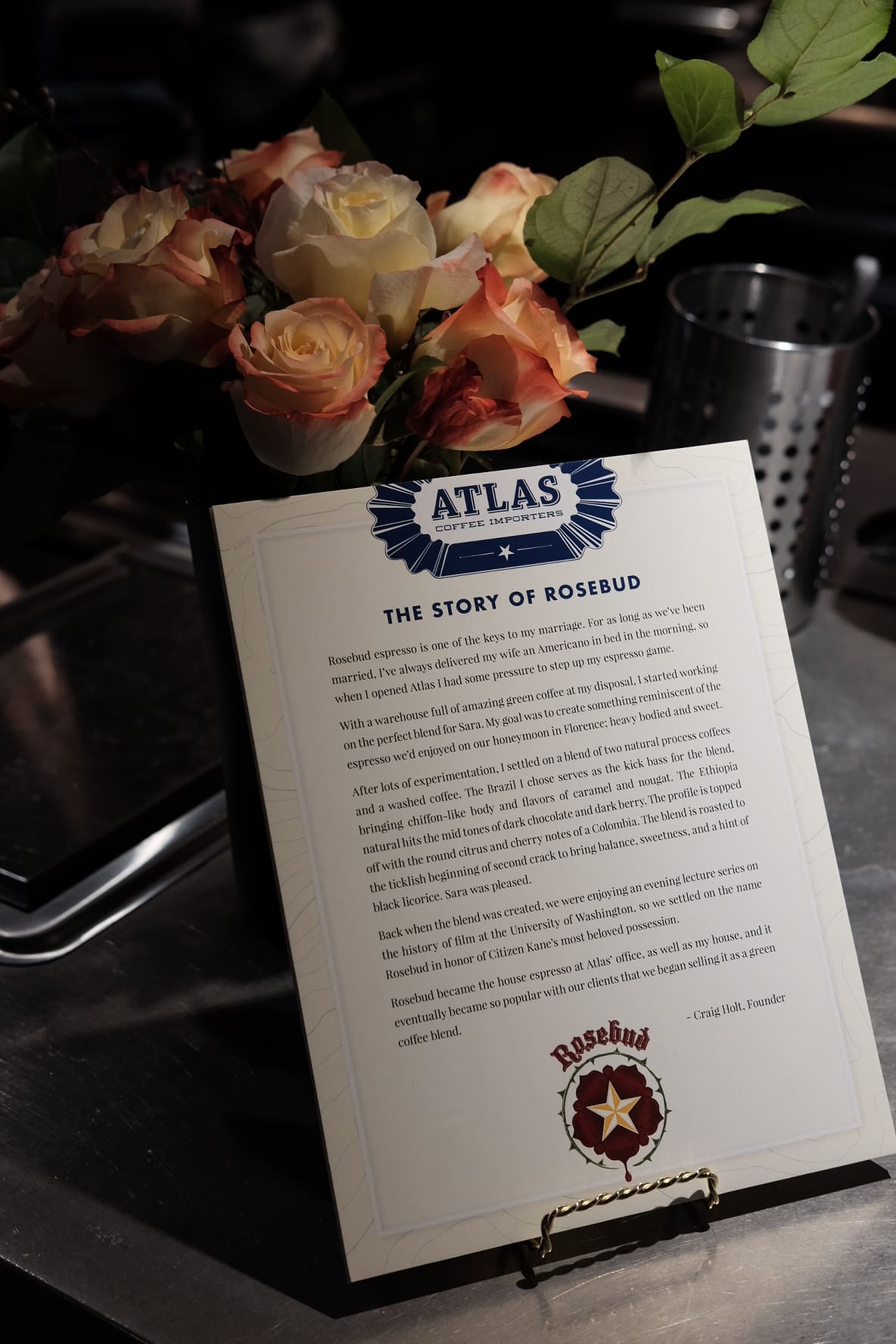 "Rosebud espresso is one of the keys to my marriage. For as long as we've been married, I've always delivered my wife an Americano in bed in the morning, so when I opened Atlas I had some pressure to step up my espresso game.
With a warehouse full of amazing green coffee at my disposal, I started working on the perfect blend for Sara. My goal was to create something reminiscent of the espresso we'd enjoyed on our honeymoon in Florence; heavy bodied and sweet.
After lots of experimentation, I settled on a blend of two natural process coffees and a washed coffee. The Brazil I chose serves as the kick bass for the blend, bringing chiffon-like body and flavors of caramel and nougat. The Ethiopia natural hits the mid tones of dark chocolate and dark berry. The profile is topped off with the round citrus and cherry notes of a Colombia. The blend is roasted to the ticklish beginning of second crack to bring balance, sweetness, and a hint of black licorice.
Sara was pleased.
Back when the blend was created, we were enjoying an evening lecture series on the history of film at the University of Washington, so we settled on the name Rosebud in honor of Citizen Kane's most beloved possession.
Rosebud became the house espresso at Atlas' office, as well as my house, and it eventually became so popular with our clients that we began selling it as a green coffee blend."
Order Wedding Blend from Seattle's micro-roaster Biowilly's Beans to experience Rosebud at home!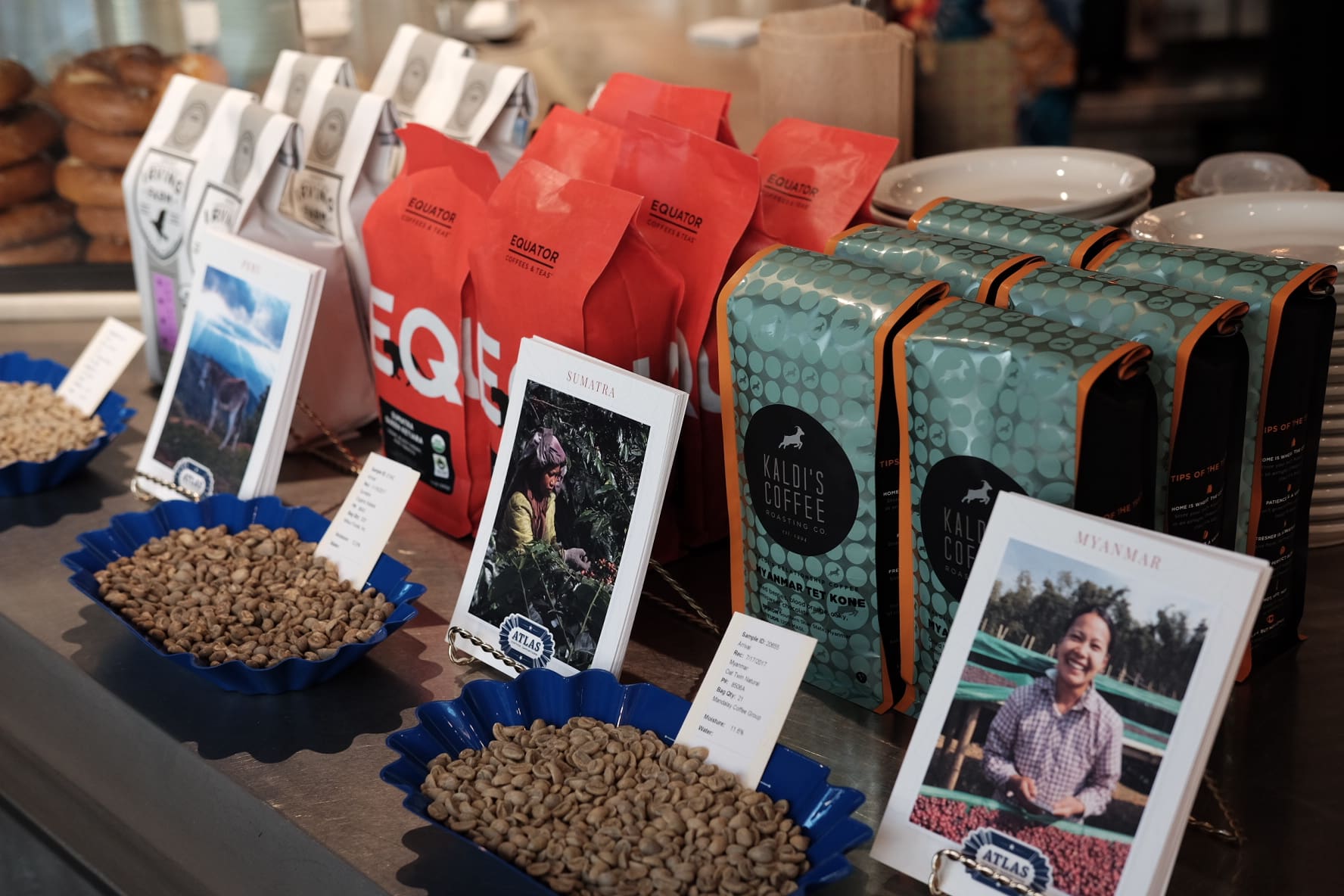 Finally, our residency includes a series of panel discussions, presentations, and public coffee tastings to highlight the work that goes into the sourcing, logistics, and quality control work of importers. Highlights include:
On Friday, February 16: "We Cup Bad Coffee So You Don't Have To" - At the official Atlas Public Cupping, we will taste some bad coffees that didn't make it past our QC team, and one or two passing lots for good measure!  We will experience what makes specialty coffee truly special and highlight the work that importers do to protect and promote quality.
On Saturday, February 17: "The Invisible Hand" - The incredible true story of one man's mission to bring Yemen's coffee to the U.S., and how Atlas helped him achieve it. Speakers include Mokhtar Alkhanshali, Craig Holt and Melissa Kelley from Atlas Coffee Importers, and author Dave Eggers, whose new book is a non-fiction account of Mokhtar's journey. Attendance is subject to capacity, so please come early.
For full event info and tickets, check the La Marzocco Home Calendar and Facebook page.
The Atlas Coffee Importers residency at the La Marzocco Café & Showroom will be open daily from February 13 through March 5 inside the KEXP Gathering Space at 472 1st Ave N, Seattle.  If you are in Seattle or feel like making a special visit, please let us know so that we may meet you for a cup of coffee!