Friday, April 7th is Good Friday
Atlas Coffee Importers will be closed. Warehouse details are below.
Closed Friday |Cadeco (TX), Continental Annex (CA), Continental Carteret (NJ), Dupuy Charleston (SC), Dupuy Houston (TX), Dupuy New Orleans (LA), Paris Brothers (MO), Seaforth (BC), The Green Room (WA)
Open Friday | East Bay Logistics (WA), GBH* (QC)       * Will be closed Monday, April 10th
---
Supply Chain Realities
Heavy freight volumes nationwide mean shipments now take longer than pre-pandemic, regardless of carrier selection. Freight may be delayed due to carrier staffing level fluctuations or weather.  For those of you who have yet to experience the delays firsthand, they can be quite impactful.
We recommend roasters order early and expect extended transit time for any shipment.
Lead Times
Lead times vary by warehouse. Please see the graphic below. Note that holiday closures do not count as part of a warehouse's lead time. Atlas will continue to process orders to be ready as soon as possible based on the time your order is submitted, the warehouse's lead time, and any holiday breaks. If you don't need your order ready that quickly, please advise our team when you are placing your order.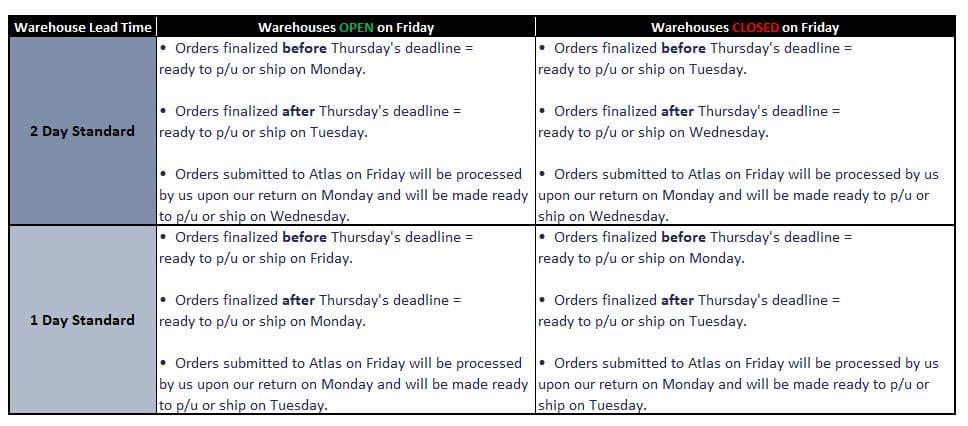 Submitting Your Order
To avoid missed orders or processing delays and to ensure prompt and efficient responses, please make sure you email the correct team.
Email Customer Service for coffee information or to place a new order: CustomerService.Atlas@nkg.coffee. Include your preferred will call or shipping date in your request so that we can process your order appropriately. Orders submitted without a specified date will be processed for the next available pick up or shipping date.
Email Outbound Logistics for tracking, questions about warehouses and freight, or to file a claim. Outbound.Atlas@nkg.coffee.
Thank you for your patience and flexibility!