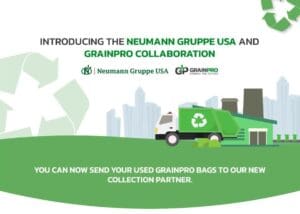 GrainPro and Neumann Gruppe USA are thrilled to introduce a special collaboration aimed at achieving a more sustainable green coffee industry.
Effective immediately, green coffee buyers have the option to participate in recycling GrainPro hermetic bags, TranSafeliners and other liners used in the chemical-free preservation of premium coffee beans. This important work is also being made possible through generous cooperation from Continental Terminals, a third-generation, family-owned warehousing company that has been a critical partner in the coffee value chain for more than 50 years.
U.S.-based roasters can now deliver their used liners to Continental Terminals locations in Keasbey, N.J., or Alameda, Calif., via their preferred delivery service (USPS, FedEx, UPS or DHL) or by personal delivery to one of the locations. Once the bags reach a Continental Terminals warehouse, they'll be prepared to continue their journey to a unique recycling facility.
How It Works
Participating is simple:
• To begin, send an email to sustainability@grainpro.com saying you'll be sending bags; an automatic response will offer helpful details and answers to FAQs.
• Next, shake the GrainPro bags clean and put just the bags in a box or GrainPro bag; adhere a label addressed to a Continental Terminals location; and apply postage. OR: Bring the bags to one of the locations during a coffee pickup.
Yes, you can include other brands of hermetic bags. However, please do not include random plastic bags, shrink-wrap plastic, zipper sliders, cable ties, jute bags or coffee beans. For the recycling effort to be effective, it can only include clean liner bags.
The warehouse addresses are:
CTI Annex                                         CTI NJ
300 Mitchell Ave                        300 Mac Lane
Alameda, CA 94501                  Keasbey, NJ 08832
Click here to watch a helpful video tutorial.
"It's our goal to be a responsible partner and leader in the green coffee industry, which means guiding the way toward improved sustainability," said Nicolas Rueda, CEO of Neumann Gruppe USA. "We're delighted to encourage the success of this effort by communicating its availability to our clients and networks."
Neumann Gruppe USA represents InterAmerican Coffee, Rothfos Corporation and Atlas Coffee Importers, the three U.S.-based import companies of Neumann Kaffee Gruppe. The NGUS companies have long-established relationships with roasters of every size and need across North America, as well as decades-old relationships with coffee producers, cooperatives and associations. Prioritizing the future of coffee — via the social, environmental and economic factors impacting it — works in service of NGUS clients on both ends of the supply chain, as well as the NGUS vision to lead with responsibility, respect and an unwavering dedication to the product and people elevated through its best work.
In the near future, GrainPro and Neumann Gruppe USA plan to expand their partnership to similar collection efforts across Europe.
Without question, improving sustainability will require industry-wide approaches and collaborations. GrainPro and Neumann Gruppe USA are hopeful that coffee roasters — true to their passion for coffee and commitment to the environment — will agree to be the essential missing collaborators in this effort and take this powerful step toward a more sustainable tomorrow.