Atlas' longest-standing farmer relationships are in Colombia, and we look forward to every opportunity to return.  One of the greatest treats of visiting the same families year after year is watching their kids grow up, and their livelihoods improve from the returns on their investments in specialty coffee.  Even more fun is watching relationships between our roaster clients and individual farmers follow the same path.
While a roaster might offer dozens of single-producer micro-lots from various countries throughout the year, a coffee farmer may have only one buyer for their entire production.  While a coffee buyer may visit dozens of individual farmers around the world in a given year, many coffee growers wait all year for the one buyer of their coffee to come and visit.  When these growers see the roasted coffee packaging that may include their name, a bit of their story and maybe even a photo, they sometimes can't believe it's all about them.  Some buyers bring tablets to show farmers how their traceable coffees are promoted online, with photos and videos that make the producers feel like real stars.  Seeing the excitement on the faces of farmers as they get to know the buyers of their coffee is, to me personally at least, one of the most rewarding aspects of trading green coffee.
Our August 2016 trip focused on three of our principal supplier groups in Colombia:  Monserrate and ASPROTimaná in the southern department of Huila, and Finca La Fragua in the central department of Cundinamarca.
Atlas' founder Craig Holt first visited the community of Monserrate in 2005.  We imported our first container from Monserrate in 2006 and began a micro-lot competition there in 2008, where some of the best-known individual farmers were first given the spotlight. La Plata is the nearest town to Monserrate, second in size only to the Huila department's capital of Neiva.  The area has developed tremendously in the 11 years that I've been visiting Monserrate.   Each year the road from La Plata to Monserrate is paved a little farther, so a drive that took nearly two hours each way in 2006 now takes around 45 minutes.  Along with greater efficiency for the visiting coffee buyers (not to mention comfort,) the improved road provides better connectivity and exchange between the two communities.  For example, children from Monserrate can get to higher-level schools in La Plata, and services from La Plata can reach Monserrate much more easily.
Our 8th annual "Lo Mejor de Monserrate" micro-lot competition was a hit as always, and we saw many of the same farmers that have been delivering coffee to Atlas for the past decade place very well in the rankings.  Nearly every farmer that participated in the event received a premium for their coffee, meaning a coffee buyer judging the competition scored the lot well and selected it for purchase.  The awards ceremony announcing the winner of this year's competition coincided with a special "Farmer's Day" event honoring Monserrate growers of all products, although the majority of farmers are focused on producing coffee.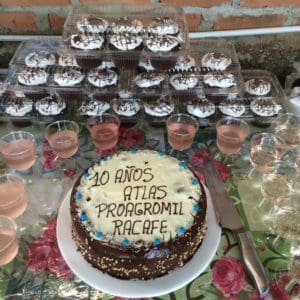 The awards ceremony also included a bubbly toast and cake celebration of 10 years of Atlas working with the PROAGROMIL association of coffee farmers in Monserrate.   Standing there, cake in hand, looking around at the farmers we've been working with for all that time, things got a little emotional.  Ten years is a long time!  While the community has grown and the farmers' lives have changed tremendously in that period, Monserrate remains a constant touchstone for us here at Atlas, and we look forward to our visit every year.
ASPROTimaná cooperative in Timaná, Huila was another focal point of our August visit.  Coop manager Robinson Figueroa is a fantastic gentleman, and an A+ coffee farmer in his own right.  Atlas' relationship with ASPROTimaná began in 2011 with a small purchase from Robinson's own farm, along with micro-lots from a few other individual farmers and a blended lot from the cooperative.  Since that first purchase, we've been delighted to see roaster clients pair up with individual farmer members of ASPROTimaná and form lasting relationships that benefit both sides.  Producers are able to invest in their farms due to the higher earnings they receive from buyers that recognize the terrific quality of their coffee.  Roasters in turn bring home fantastic micro-lots and stories of their farmer relationships to share with their own customers.
While Monserrate's main harvest period is generally from April – July, farmers around Timaná are typically harvesting their smaller fly crop (mitaca) during that period.  Even so, several of the single-producer coffees we cupped during our visit in August scored above 87 pts, and found homes right away with happy buyers.  Timing of the main harvest periods in the southern areas of Timaná, Pitalito and Garzón depend somewhat on the location of the farms relative to the Magdalena River, which bisects the valley between the Central and Western mountain ranges that define Huila's borders.  The majority of ASPROTimaná's members have their main harvest period from September – December, so we'll expect to see larger volumes (and generally higher quality) sampled around the end of the year.
One of the important lessons I've learned traveling over the years is to build some down time into busy travel itineraries.  After a morning visit to the dry mill of our exporter C.I. RACAFE, we gave ourselves nearly a full day in Bogotá to visit some of the stellar coffee shops that have opened up in the past several years.  Catación Pública (owned and operated by our good friend Jaime Raúl Duque) was first on our list and didn't disappoint.  Along with roasting in-store, Catación Pública also offers regular public cuppings (not just a clever name) as well as classes in coffee roasting, cupping and preparation.  Azahar Coffee's container store on Calle 94 was our last stop of the day and also extremely impressive.
Last on our farm itinerary (but certainly not least) was the incredible Finca La Fragua.  Located just around three hours' drive southwest of Bogotá, Finca La Fragua is owned and managed by the ever-charming Juanita Sinisterra.  Atlas has been buying coffee from Juanita since 2009, and in the years since has worked with her and third-party experts on agronomy and processing to improve La Fragua's coffee.  Atlas also invested in the planting of a variety garden on the farm, to help Juanita learn more about which coffee varieties might be the most successful in La Fragua's microclimate.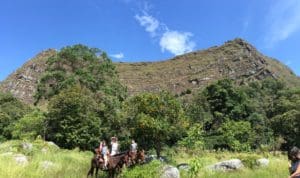 Finca La Fragua sits inside of an ancient volcanic caldera, and part of the crater rim rises majestic in a half-moon shape over the farm.  There's an unmistakable energy about the place, similar to what one encounters at other ancient sites like Copan Ruinas in Honduras or Lake Atitlan in Guatemala.  Pre-Colombian carvings from La Fragua's original inhabitants are still evident in the enormous boulders strewn about the farm.  La Fragua's individual plantaneras´ are named after local landmarks and members of Juanita's family; "Media Luna" and "La Virginia" to name a few.  And no visit to La Fragua is complete without a tour of the farm on horseback.  Juanita's greatest passion (next to her family and her farm) is her stable of horses kept at La Fragua, and she's always very generous about sharing them with her guests when they visit.
All in all, a really fun and productive trip!  Monserrate, La Fragua and ASPROTimaná continue to thrive, and incredibly both production quality and quantity are on the up and up.  While we don't have empirical proof that this is the result of new and ongoing relationships directly with buyers willing to pay a good price for excellent quality, the farmers themselves are quick to claim this as a principal source of their success.