Thanksgiving is Thursday, November 25
  Even as the pandemic and supply chain continues to throw curveballs, we are so grateful for you, our amazing roasters. We wish you a safe and happy Thanksgiving.
---
Atlas Coffee Importers and all warehouses in the U.S. will be closed both Thursday, November 25th & Friday, November 26th. Additionally, Paris Brothers and The Green Room, will close early on Wednesday. These closures impact order timelines.
Everyone is wondering the same thing. When should I order my coffee? Our best advice? Order ASAP!  Carriers are struggling to keep up with freight volumes. Even with the best of intentions, a carrier may not pick up an order scheduled, and transit may take longer than in the past. We expect this to worsen during the holiday season. Expect delays and plan ahead. Do your part to make sure you have coffee when you need it by placing orders early & leaving plenty of transit time.
Ordering Deadlines & Details
Help us to set your order up properly. When submitting an order, include your delivery address, contact information, and any special requirements you might have (such as your need for an appointment or a lift-gate.) If you are placing a will call order, include which date you'd like to pick it up.
Wondering when your order will be ready to pick up or ship? We can help!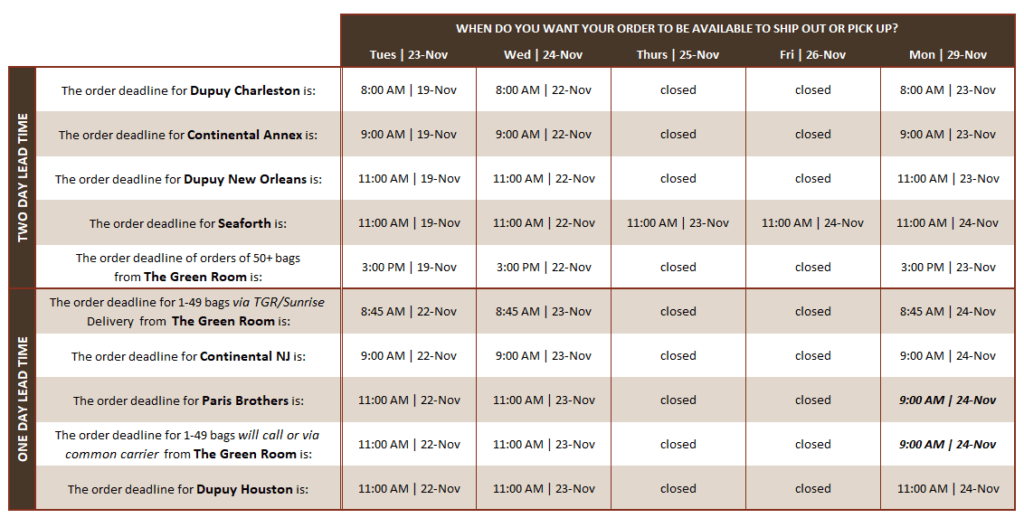 The grid above shows our order deadlines. You can click on the grid to enlarge it. It's easy to use. Just follow these simple steps:
Look along the left to find the row for the warehouse where your order will originate. Note that TGR has three rows based on the size of order and how it's moving.
Look along the top to find the column showing the date you want your order to be ready for pick up (either as will call or by a carrier).
The cell where that row and column meet lists our order processing deadlines.
Ordering from TGR or Paris? Please Note!
The Green Room and Paris are closing early on the Wednesday before Thanksgiving. Only orders finalized before 9am Wednesday will be ready for shipment or will call on Monday, November 29. Will Call p/u at TGR on Wed. 24-Nov is 7:30-11am. LTL p/u at TGR on Wed. 24-Nov is 10am-12pm. Because the LTL hours are so early, it is likely that some freight carriers may miss the LTL pickup window on Wednesday, and orders will be delayed at the warehouse until the following Monday. Plan accordingly! 
Contact Info
That is about everything. But we get it. It's a lot. If you need more info, we're available!
Okay, that's everything for now, but let's circle back next month to talk about ordering timelines for the end of the year holidays, okay? Until then, stay well. We are grateful for you and hope that you have a lovely Thanksgiving.
Credit for the beautiful banner image: Terry Lucas, CC BY 3.0 <https://creativecommons.org/licenses/by/3.0>, via Wikimedia Commons