Marcelline Buzda is the founder of Rebuild Women's Hope Cooperative (RWH), located in eastern Democratic Republic of Congo (DRC). Atlas was first introduced to Budza at the SCA Expo in Seattle in April 2018. We were immediately taken by her determination and positivity—not to mention tasty samples—and purchased our first container from the cooperative that summer. The shipment was unexpectedly delayed due to a variety of factors, but not so with this year's! Thanks to the combined efforts of RWH, Twin, and Atlas, this year's container shipped in record time, and just arrived at the Port of Seattle on September 6th. I recently interviewed Marcelline over email and WhatsApp to learn more about Idjwi Island, the history of the cooperative, and what's next.
Susan: Hi Marcelline, we're so excited to be receiving our second shipments from RWH! Where is Idjwi Island, and why did you decide to start a cooperative there?
Marcelline: Idjwi Island is located in South Kivu, in eastern DR Congo, and is the second-largest island in Africa, with a population of 250,000 and an area of 340 km² (131 miles²). There are beaches and coves from the archipelago and generous vegetation (eucalyptus, bougainvillea, coffee, pineapple, orange trees) are grown up to 2,000 meters above sea level (masl). The lake is located at nearly 1,500 masl. Idjwi Island is not connected to the National Electricity System's network, so the island's energy comes mainly from generators and solar panels, and much of the island lacks potable drinking water and paved roads.
Despite all of the potential that teeming on the island, Idjwi is essentially "landlocked" due to its geographical position in the middle of Lake Kivu. And this means that most national and international NGOs leave it to its own fate. As a result, agriculture occupies a prominent role in the emancipation of women on Idjwi. In the past, women have not benefited from the same work as men due to discrimination on many levels, from educational to economic to social.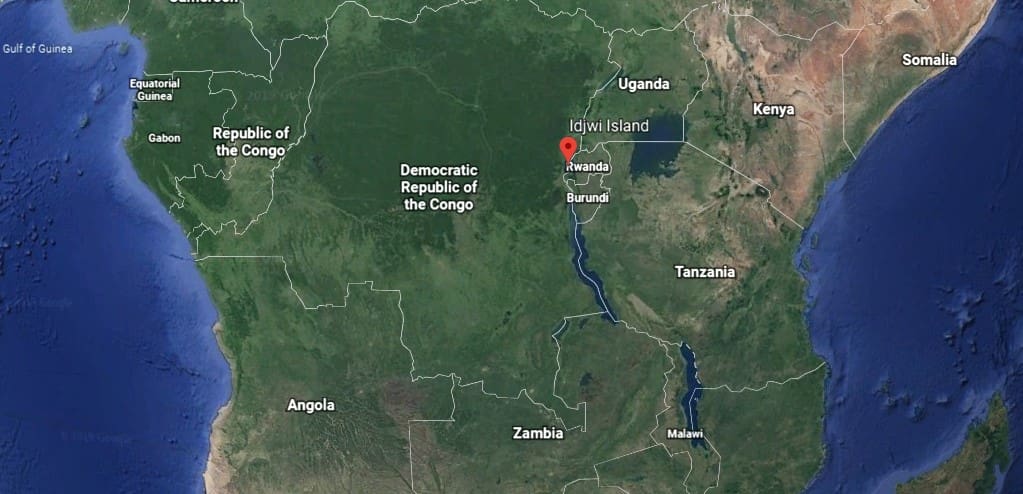 Susan: What led you to work specifically in coffee?
Marcelline: In my own life I experienced the abandonment of one of my parents, and I grew up with my mom who fought to meet all our family's needs. She taught me to always fight on behalf of women so that in the end they will be able to take care of themselves and meet their own needs. This motivated me to start a cooperative focused on women on Idjwi island. Because I am an agronomist by profession, I thought it was time for me to help women to smile again in the field of agriculture—specifically in coffee—because my parents had studied thanks to coffee, and it played an important role in my life.
I am passionate about coffee, and I found that coffee could provide for the needs of women, because women on Idjwi know about the cultivation of coffee.
Men used to say that coffee was a sector for men, and not for women, but it is women who work all day in the field until the harvest, and when it's time to sell and market the coffee, the man takes care of it. As a result, income from coffee sales was not used for the benefit of the family, and was instead spent on the man's friends, beer, and polygamy until the money ran out. In the meantime, women were at home with their children, still needing to provide for all their needs in life. This situation displeased me and I told myself that we should fight for the causes of these women.
In addition, we found that the Idjwi-South had great coffee potential but that its people did not benefit or profit from it. Due to the lack of coffee washing stations, coffee was processed at home and smuggled illegally into neighboring countries by boat, which resulted in loss of coffee and of lives (from drowning).
These are the striking facts that pushed me to say that I could try to help a community where there was record-breaking violence against women's rights.
Susan: How has this impacted men who are members of RWH?
Initially it was not easy to work in a community where women were not considered as equal to men. But I like to try things that others consider difficult and it took me three years to become accepted in the community.
I am proud because some men have started to share why women make good field managers. Some men have even given the responsibility of their fields over to their wives because when women sell coffee, they manage to cover home and family expenses, leading to more family stability.
We are still at the beginning, and still have a long road ahead to reach a place where women valued. The vision is to create a balanced and fulfilling world for all. We want to see idjwi women realize their potential and contribute to the rebuilding of DR Congo.
Susan: Can you share some of RWH's successes over the past year?
Marcelline: I am very happy to hear that you have just received the coffee from RWH for the second time and I thank the entire Atlas team for the support you gave to RWH. For the past year, we had successes such as: obtaining a new contract with another financial partner; finding new coffee buyers in Europe; buying a parcel of land for the construction of a maternal and pediatric clinic; and organizing for a second payment to members later this year.
Susan: Great news, Marcelline! What have been some of the biggest challenges RWH has faced recently or is currently facing?
Marcelline: The biggest challenge we face today affecting the production of coffee is the presence of diseases and pests in the coffee trees, which, at the moment, RWH does not have enough resources to combat. We would like to eventually set up a coffee tasting laboratory to monitor the quality of RWH coffee every day. The cooperative still has to work hard to advocate, on all levels, for women's participation in the coffee value chain.
Susan: Can you share one or two personal stories about how women within the cooperative have benefited from joining RWH?
Marcelline: Around 250 women from the cooperative benefited from income-generating training, which allows them to take care of themselves during off-season periods. RWH organized the following trainings: how to grow market gardening; literacy courses; business skills; and how to make and sell soap.
During the coffee season, female cooperative members come to work every day and are able to earn a living. For example, some use the funds to pay for their children's school fees; others build or improve their houses.
The general population has benefited from adding a potable drinking water supply, and this has reduced infectious diseases. Women used to wash and drink water from Lake Kivu.
Susan: What are members of RWH looking forward to in the coming year? What are some of RWH's long-term goals?
Marcelline: For the coming year, the cooperative wants to increase production capacity; improve coffee quality scores; increase the household income of female members of RWH; resolve health problems with its members; build a vocational training center for women to support themselves during the off-season
Long term, we want to continue to make women the center of development by creating in her a spirit of entrepreneurship and self-management; maintain a high standard of coffee quality offered to buying customers; help women know their rights and duties; and make coffee-growing a stepping stone to self-development for female coffee growers.
Susan: What are you most excited about as you think of RWH and coffee from eastern DRC?
Marcelline: What excited me the most is when I see RWH's women smile knowing where they can sell their coffee, and how they can honestly earn a living and be able to provide for their own needs through working with their own  hands—without waiting for help coming from the outside. It makes me happy and it gives me courage to continue to fight with them.
Before, coffee from Kivu region was not visible on the international market, but when I see coffee from Kivu starting to appear on the international coffee scene, I rejoice because it gives value to my country.
Susan: Do you have any questions for the roasters who purchase coffee from RWH?
Marcelline: Do you enjoy the quality of our coffee? What are your recommendations for improving the quality of our coffee? What are the general opinions of the consumers of our coffee?
[side note from Atlas –Roasters: we would love to hear from you! We will make sure to pass along any feedback to Marcelline and the members of RWH.]
Susan: Anything else you would like roasters to know about RWH?
Marcelline: Of course, we want roasters to be informed about RWH because we are already a family. By buying RWH coffee, roasters are contributing to the fight against inequality and discrimination against women. We offer them a coffee good quality that pushes us to weave a strong bond.
Susan: Thank you so much for your time, Marcelline, and for your continued efforts to improve the lives of women on Idjwi Island, DR Congo. Roasters! The shipment arrived today at the Green Room. Please reach out to your sales rep for samples or more information.