This August I traveled to northern and southern Tanzania to visit several Atlas partners to learn about updates, successes, and challenges since significant government regulations surrounding coffee took place in Tanzania in early 2018.
In January of 2018, the government made dramatic and sudden coffee regulation changes that threw the Tanzanian coffee industry into disarray. Instead of one weekly auction in Moshi, there would be four zonal auctions. Before the changes, private buyers and exporters could buy cherry, but the new regulations stipulated that only cooperatives (called AMCOS: Agricultural Marketing Cooperative Societies) could buy cherry. Farmers scrambled to organize into AMCOS, some with CPUs (central processing units/washing stations), some doing farm/home-processed coffee.
During this time, five local banks closed throughout Tanzania, many private companies pulled out their export operations, and farmers and exporters alike were forced to dramatically adapt their operations in a very short time and with little guidance. Things have settled down a bit, but time will tell if the new regional auction system is an improvement, since the regional auctions outside of Moshi are sporadic (the first Mbeya auction happened during my stay there, with few buyers and no coffee being sold).
A majority of coffee is still sold through the auction system, but for top specialty grades, sellers can apply for something called a Direct Export license if they have a buyer and want to bypass the auction. Even when a seller has a committed buyer for a lot, they will still opt to sell through the auction system, buying back their coffee, in order to avoid the hassles of the direct export.
My first stop was Arusha and Moshi in Northern Tanzania, where I visited three farms that Ibero Tanzania leases at the foothills of Ngorongoro crater; visited the four farms owned by Africa Plantations Kilimanjaro Ltd (APK); and toured City Mills in Moshi.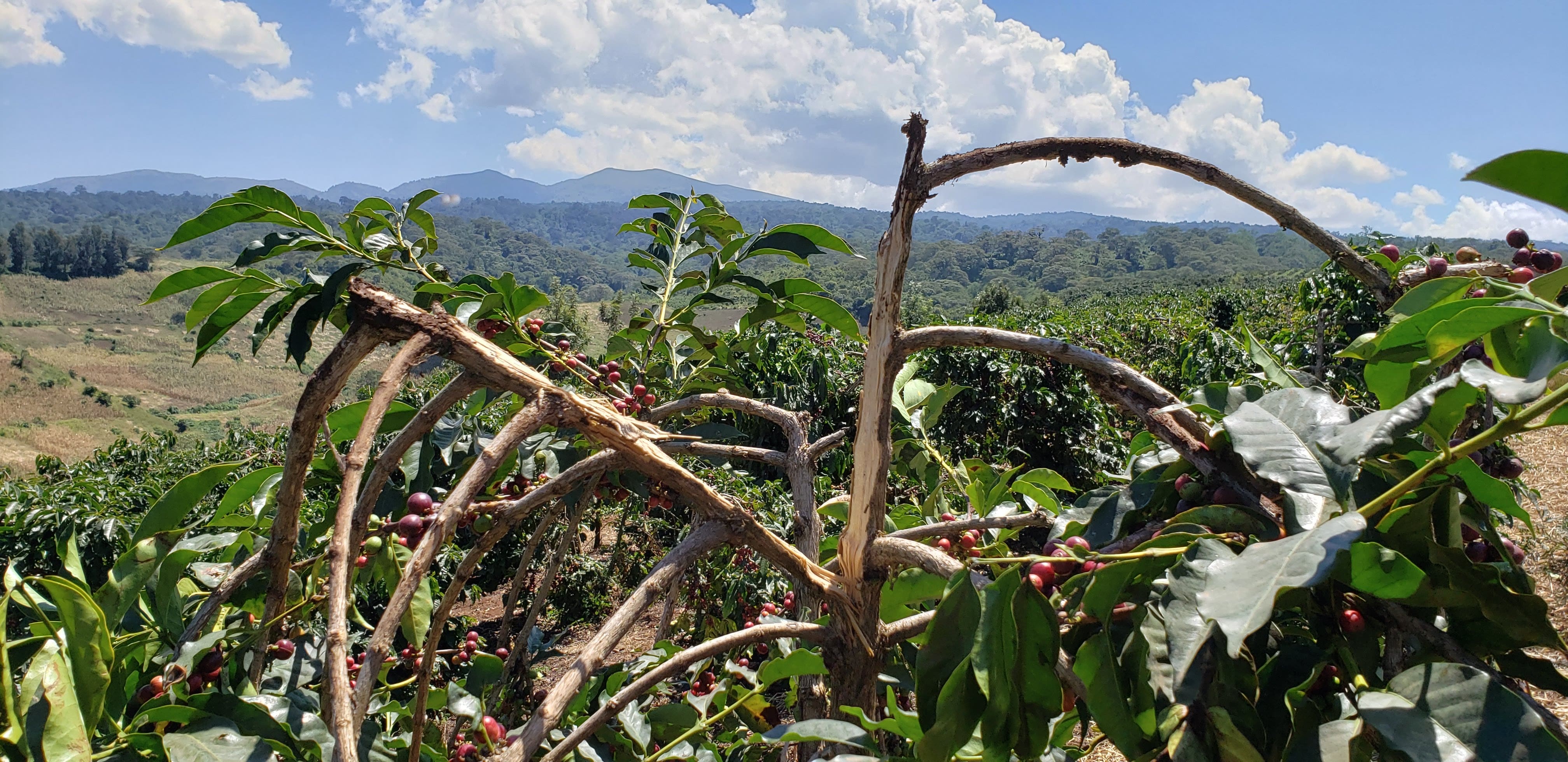 APK has four farms in the foothills of Kilimanjaro, one of which is adjacent to the Tanzania Coffee Research Institute (TaCRI), a public-private agricultural institute which has developed 19 disease-resistant (against coffee leaf rust and coffee berry disease) Bourbon and Kent hybrids known locally as "Compact" seeds. Throughout much of Tanzania, coffee yields are fairly low (~2kg cherry/tree, which equates to .32 KG or .75 lb of green exportable coffee per tree). "Compact" hybrids only take 18 months to start producing cherries versus the standard three years, and are easier than grafting or taking shoots from the mother plant in order to propagate seeds, meaning more money in farmers' pockets.  Some farmers are reluctant to stray from the varietals and cultivars they are used to working with, but others have enthusiastically adopted the high-yield hybrid.
Next up: a visit to the Tanzania program offices of non-profit Hanns R. Neumann Stifung (HRNS). In Tanzania, HRNS reaches 25,000 households across multiple agricultural sectors in northern and southern Tanzania through a variety of projects. As a part of the climate and coffee initiative they teach climate-smart agriculture, including integrated pest management; the safe handling of agrochemicals; and how to spot-apply (vs. blanket spray) pesticides.
HRNS is also teaching conservation agriculture (in the maize and beans sectors) by teaching farmers to reduce tillage in fields. Famers have started seeing an increase in yields in only 90 days, so the project is gaining traction quickly, even among non-participating households who see their neighbor's fields producing better yields and follow suit.
I had the opportunity to sit in on two youth (ages 15-35) trainings conducted by HRNS: one in the field on how to identify and eradicate coffee pests and diseases using local methods, and the other about good harvest and post-harvest practices for home-washed coffee.
Youth between the ages of 15-35 are able to apply for specific low-interest loans from the government in order to start businesses, and some of the youth at the training were planning on starting a seedling nursery, starting a model farm and earning additional income through increased yields from using good agricultural practices (GAP), such as pruning trees and planting live mulch between coffee trees.
I was also happy to hear about the household and community development program that HRNS runs, using a household approach, gender mainstreaming, and youth empowerment programs to increase gender equity at the family and community levels. Many groups have already made practical changes, such as changing meeting times to accommodate more female members. HRNS has also showcased sites for climate resilient household practices, such as promoting rain caches, solar panels, and safe stoves; if women and families are spending less time collecting water, it means more time for family and income-generating activities. HRNS is also introducing sexual reproductive health education to integrate family planning.
During one of the trainings, when I asked the group if they had any questions or comments, a young woman stood up and said, "Thank you for being a woman in coffee. In Tanzania we are told that coffee is men's work, but we know that it is women's work, too." Well, if that isn't a sign of progress…
From Moshi I flew down to Mbeya, known as the breadbasket of Tanzania due to all of its agriculture, to visit several producer groups. In the past five years, the Songwe Region in southern Tanzania (Mbeya and Mbozi districts) have earned a reputation for producing high-quality washed specialty coffee. Historically, coffee Estates in the north (Arusha and Moshi) have been known for producing the highest-grade specialty coffee, but in the past five years, as central processing gains traction in the south, we are seeing an increasing number of top-quality lots coming out of the south.
At City Mills in Mbeya, I cupped some delicious coffees, scoring between 85.5 and 87, and then visited Iloma, Shilanga, Umoja Ululu, and Idiwili AMCOS, some of which Atlas purchased coffee from this past year. Ibero Tanzania currently works with 21 AMCOS in the south and has offered interest-free pre-harvest finance, assists in building washing stations that are economically built and which allow AMCOS to focus on learning how to process coffee centrally instead of being overburdened by a massive debt and huge pulper from year one.  It was encouraging to see the progress between the AMCOS who were in their first year of centralized processing vs. third year. Due to the extreme heat and humidity conditions in the port of Dar Es Salaam, coffee is stored in Mbeya until just before it's ready to ship in order to avoid unfavorable conditions for a long period of time.
Ibero has also implemented a Coffee Club program in local secondary schools near AMCOS, where 50 students in each school receive training one day/week and each receive 50-100 trees to care for on the school's demo plot, and 50-100 seedlings to bring home and manage. I met the students at the secondary school near Shilanga AMCOs, who were enthusiastic about their seedlings, even forming individual temporary "teepee" shade trees until their actual shade trees grow big enough to provide adequate shade.  In 2018 Ibero Tanzania also distributed 15,000 shade trees to the AMCOS.
I wrapped up the trip with an invitation to a coffee club in Mbeya run by Mtemi Miya, a long-time coffee professional in the Mbeya area working to create a series of casual networking events for the coffee sector. Folks from Shamba Communal Coffee, Starbucks, City Mills, Ibero, and others were at the bbq I attended, and it was a really nice time for people to meet and exchange ideas. Mtemi also happens to purchase and roast local coffee, so I couldn't pass up an opportunity to visit his small roastery and purchase a bag. He is currently in the process of building a larger roaster, with plans for completion by the end of the year.
Tanzania is a huge country with even bigger potential for producing top-quality specialty lots, but also faces significant challenges in terms of changing government regulations, challenging infrastructure, and low yields. Tanzanian coffee is often seen as the less-impressive cousin of Kenyan coffee. But the lots we received last year from Shilanga, Iloma, and Umoja Ululu AMCOS were some of the best lots we've ever cupped, and this year's lots are equally tasty, so we look forward to the future of the Tanzanian coffee sector.