Atlas at Re:co Symposium
To experience coffee service at Re:co and Expo from afar, follow @atlas_coffee

For the first time, Re:co Symposium has curated their coffee service to highlight the work of an importer, and we are thrilled to partner with the Barista Guild of America in selecting a menu of coffees to illuminate several of our dearest relationships with producers.  Re:co (Regarding: coffee) is a "unique event designed for high-level discussion, leading innovation and strategy development for those passionate and influential in the world of specialty coffee. Through a mixture of speakers, interactive experiences and opportunities for conversation, Re:co looks at the specialty coffee market, the challenges we face and some of the solutions we have, and to shine a light on opportunities for growth and development and will delve into how these can be approached."  As such, the unique conversation facilitated by Re:co provides the perfect opportunity to examine the role of importing in specialty coffee and to provide a platform for honoring the expertise of coffee producers.
As such, we thoughtfully chose six coffees to exemplify the types of long-term relationships that we have fostered with coffee producers.  Each coffee was identified with intention to both celebrate the talent of producers in cultivating quality while appealing to a wide spectrum of flavor preferences.  It is an honor to showcase the talent and efforts of the following producers:
Fazenda Samambaia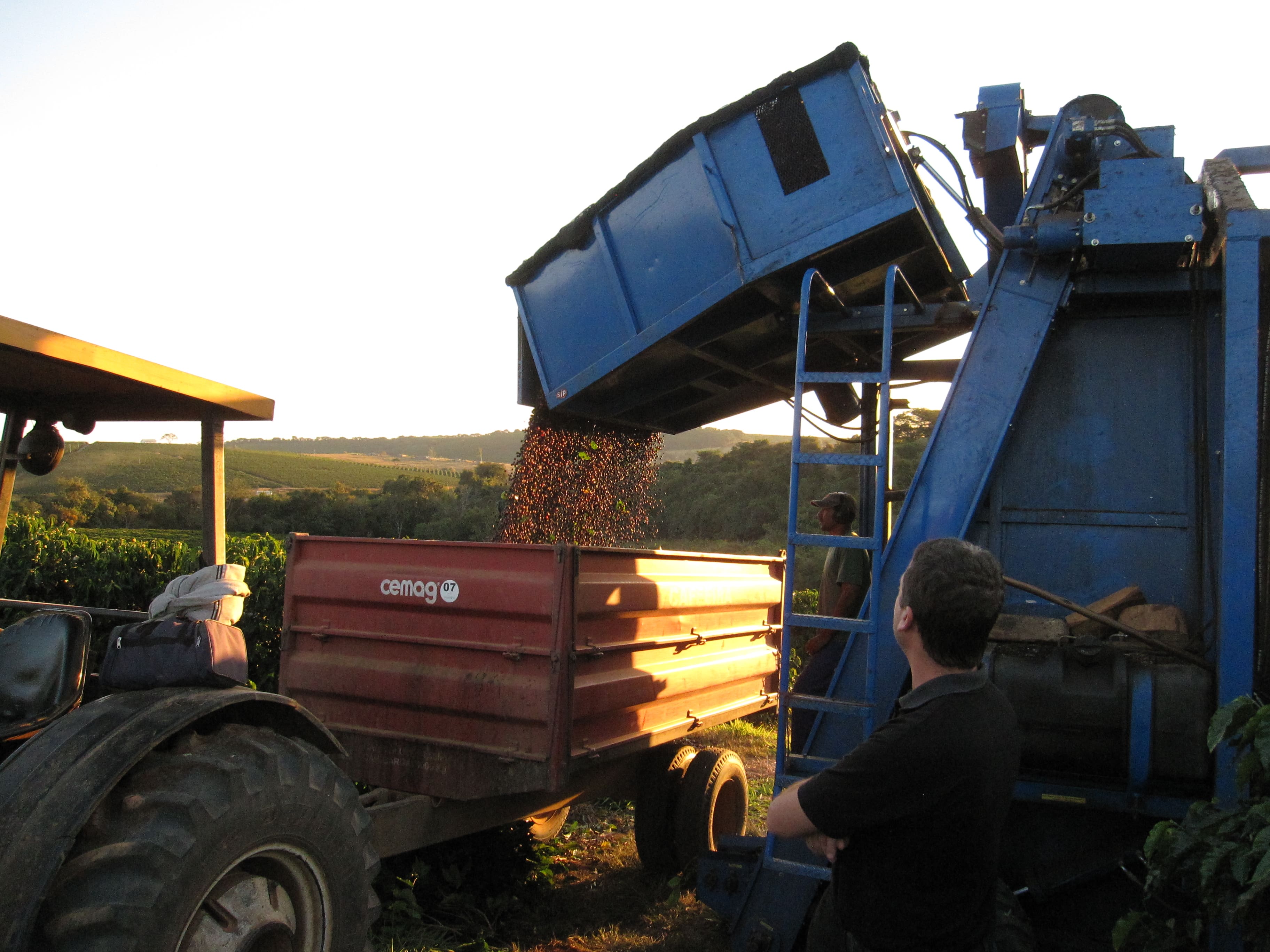 A member of the Cooperative Santo Antônio Estates, Fazenda Samambaia has been in the Cambraia family since 1896. The current generation, headed by Henrique Dias Cambraia, is expanding the original holdings and modernizing much of the production and processing.
We first met Henrique ten years ago at an SCAA expo, and told us he came to the event for the sole purpose of establishing contact with Atlas, and building a business relationship with us. It was a nice way to start, and we have been making annual visits and working on sourcing exceptional Brazil coffees through Henrique ever since.
Samambaia has recently been doing some experimental lots of hand-picked, small batch naturals–at the opposite end of the spectrum from the mass-produced natural coffee that Brazil is known for.  To celebrate the 10th Anniversary of our relationship, Henrique and SanCoffee gifted three bags of these experimental lots to Atlas, including a Natural Obata and a Yellow Bourbon.  For Re:co, we are highlighting our personal favorite, a natural Yellow Catuai, as an espresso, with notes of honey, red berries, cashew, red apple, caramel, and vanilla.
Producer: Henrique Dias Cambraia
Origin: Campos das Vertentes, South Minas Gerais, Brazil
Variety: Yellow Catuai Natural
Altitude: 1100 masl
Processing info: Natural Process
Muungano Cooperative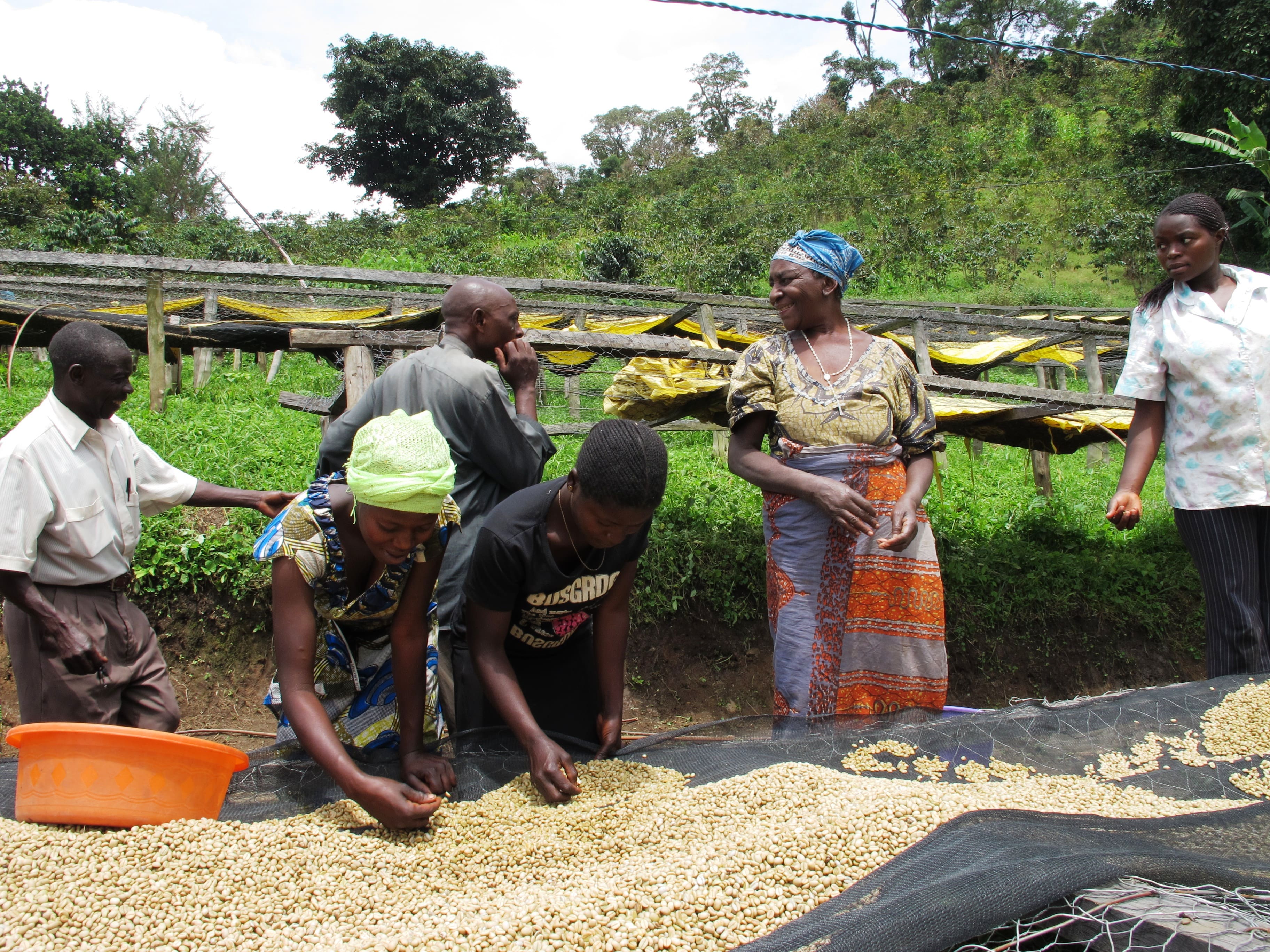 The Muungano cooperative is located over three hours south of Goma, on a questionable dirt road on the Western shore of Lake Kivu. The closest town is Minova, which is a ramshackle and bustling hamlet, trafficking largely in manioc, fish, and "road taxes." And though I did not feel that my tax dollars were being put to very good use as we banged over rocks and wallowed through muddy troughs, the visit to Muungano was totally worth the drive.
Founded in 2009, Muungano coop is comprised of around 4,400 smallholder farmers, nearly half of them women.  Gender justice is a principal focus of the members, as is integrating farmers from different ethnic groups into the operation.  The word "Muungano" actually means "Togetherness" in the Swahili language.  When we first visited the group, they were milling coffee on equipment from the early twentieth century, but still managed to produce the best Congo coffee we had ever tasted. Since then, they have installed two new washing stations, a new cupping lab and have a trained roaster and cupper on staff.  The fruits of their hard work are evident in the sweet, bright, and complex coffees they produce every year.
Despite the many challenges faced by coffee producers in the DRC, the co-op members are remarkably focused, professional, and upbeat. Our friends at Twin, who first partnered with the cooperative and did a lot of training with the producers, have done a phenomenal job of helping growers get the most out of the ancient Bourbon coffee trees growing in the region.
Muungano cooperative members are remarkable for their eagerness to learn what they could do to deepen our commercial relationship improve the quality of their production.  A visit to Muungano is a great reminder of how hard our growers work to produce their coffee – often with incredibly limited infrastructure, and in very difficult circumstances. Atlas is extremely proud to be one of the very first importers in North America to offer this exceptional coffee.  In 2017, Muungano also obtained their Organic certification, opening new doors to sustainable specialty coffee markets.
Muungano has a brown sugar sweetness with notes of ginger, vanilla, rosehips, and orange zest, and the coffee tastes delicious as an espresso, paired with milk, and and as a filter coffee on the Curtis.
Producers: Muungano Cooperative
Origin: Kiniezire, South Kivu, DRC
Variety: Bourbon
Altitude: 1480-2000 masl
Processing info: Washed at centralized washing station, and dried on raised beds.
Erin Moreno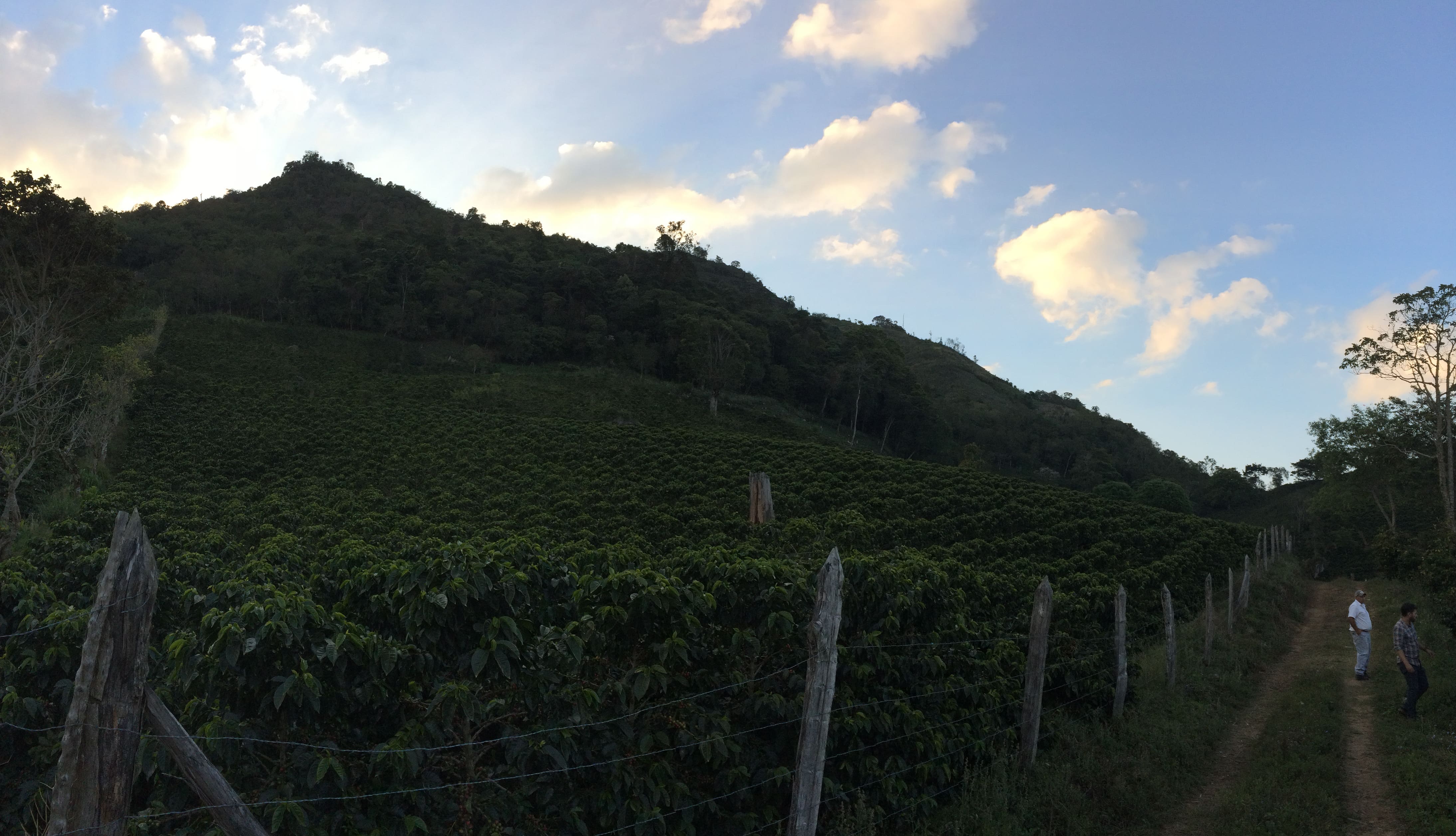 Erin is in just his third year of production, and with just two manzanas, he produces approximately 40 bags of exportable green coffee, milled by the esteemed Paz family at Beneficio San Vicente, a long-time partner of Atlas.  Year after year we're privileged to help deliver their amazing coffees to equally amazing roasters, and see new relationships be born and mature, such as with Erin. This micro-lot exhibits notes of stone fruit, raisin, plum, cane sugar, and lemon.
Producer: Erin Moreno
Origin: Beneficio San Vicente in El Cedro, Santa Barbara, Honduras
Variety: Catuai and Pacas
Altitude: 1560-1880 masl
Processing info: washed
Myin Dwin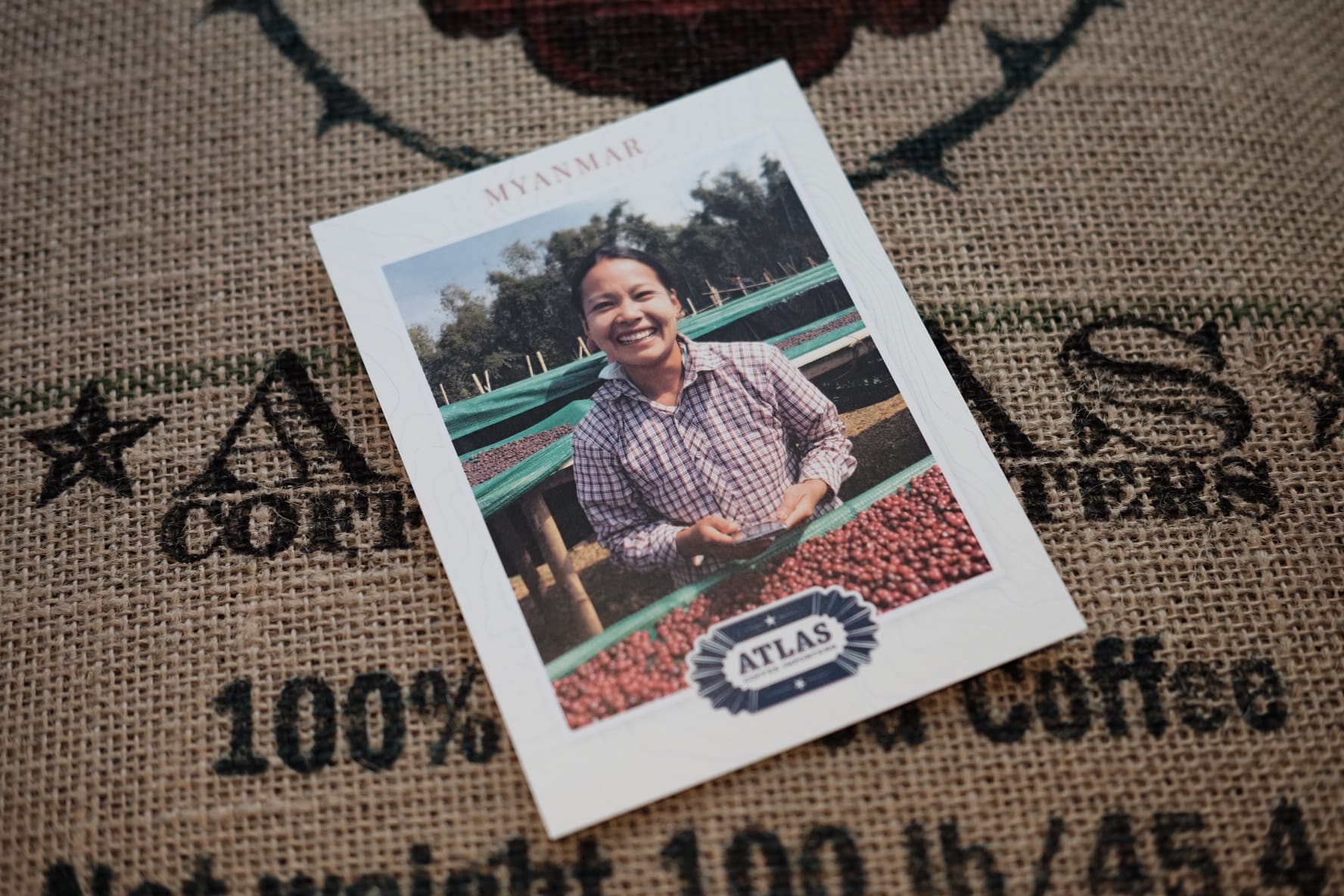 Thursday's natural process espresso is produced by small-scale farmers from the Myin Dwin community out of Shan State, Mandalay, in Myanmar.  Though Myanmar has been growing coffee since the late 1800's, over the last several years, private entities and NGOs have been working with growers to improve agronomy and harvesting practices. These investments in milling and education have brought about the birth of a true specialty coffee business in the country.
In 2016, Atlas had the honor of bringing in the first-ever containers of Myanmar specialty Arabica micro-lots to the North American market. The success of those amazing coffees was a tribute to the hard work of the coffee growers in Myanmar, and to everyone involved in the USAID-funded project that launched the Myanmar coffee growers on this path. Atlas was involved in this project from the very early stages, and later purchased the entire first season's production of specialty micro-lots.
The sweetness and complexity of the Myin Dwin celebrates the hallmark deep fruit of Myanmar naturals.  With prominent citrus tones throughout the profile, along with herbal elements, a wonderful tropical candy common to the origin, lime acidity, and a syrupy body, the Myin Dwin shines as an complex and unique espresso.
Producers: Myin Dwin Community
Origin: Shan State, Myanmar
Variety: Catuai
Processing info: Natural Process
Maria Margarita Ramirez Marcos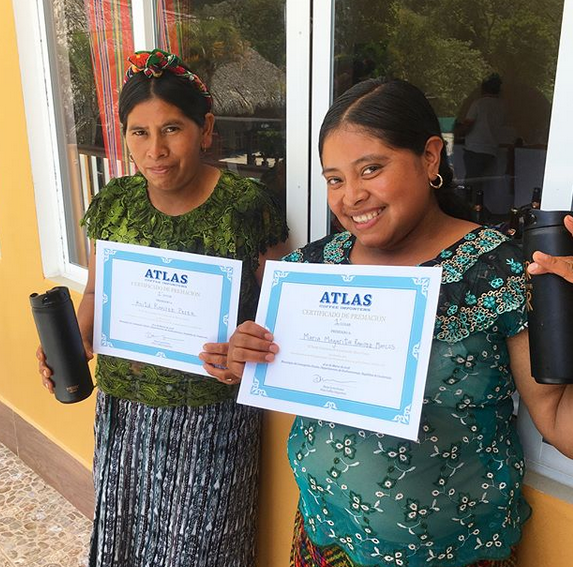 Tucked in the Sierra de los Cuchumatanes, the highest mountain range in Central America, the Coordinadora de Organizaciones de Desarrollo de Concepcion Huista (better known as "CODECH") produces some of the best Fair Trade & organic coffees not just in the department of Huehuetenango, but in all of Guatemala. CODECH is comprised of four base cooperatives – Asociación de Desarrollo Integral Productivo Yamanonh (ADIPY), and Asociación de Desarrollo Integral Tierra Hermosa Concepcionera (ADINTHEC), Asociación de Agricultores Tineco (ADAT), and Asociación Bitenam – and its members represent the Popti, Mam, and Q'anjob'al branches of the Mayan family
After Atlas' first visit in late 2009 CODECH started a micro-lot program by classifying producers according to the elevations of their farms, and in 2012 we helped them organize their very first internal cupping competition that now is an annual event. The micro-lots largely come from the ADIPY and ADINTHEC base groups and now include coffees from individual producers, which represents a major achievement for a Guatemalan Fair Trade co-op that previously had sold only full lots.
Producer Maria Margarita Ramirez Marcos, a member of CODECH, has roughly 1 hectare of land and produces 15 bags of exportable green coffee annually.  She placed #1 in our 6th annual cupping competition for the CODECH cooperative in March 2018, and Dana brought back twenty pounds of Maria's coffee from the competition for service at Re:co.  We love the notes of maracuya, cane sugar, papaya, and sage, as well as the buttery texture, of Maria's coffee.
Producer: Maria Margarita Ramirez Marcos (Maria's daughter Maria is pictured on the right)
Origin: Concepción Huista, Huehuetenango, Guatemala
Variety: Caturra, Pache Verde and Catuai
Altitude: 1660 masl
Process: washed
Sholi Cooperative
Abateraninkunga ba Sholi ("Sholi") Cooperative, meaning "Mutual Assistance," is located in Muhanga disctrict, Southern Province, in the center of Rwanda about halfway between Kigali and Lake Kivu. Established in 2008, Sholi has been producing coffee for nearly a decade, and the cooperative's name speaks to its members working together to improve both their coffee and the greater community.  The cooperative received their Fairtrade certification in 2015 and Rainforest Alliance certification in 2016. This year, in 2017, Atlas is thrilled to be importing Sholi's inaugural shipment to the U.S.
Nearly half of Sholi's 334 members are women, including two of the five board members. In 2016, Sholi received a grant to build both a community center and regional health center to serve members and local residents.
With over 400,000 trees already planted, Sholi has continued to invest in its long-term agriculture, planting 18,000 trees in 2016 and 30,000 additional trees by the end of 2017. Coffee processing at Sholi is similar to other coffee cooperatives in Rwanda. After coffee cherries are delivered to the washing station, the coffee is pulped and dry-fermented for ~2 days, then rinsed and soaked for another 24 hours before washing. Wet parchment is hand-picked on covered raised beds before being moved to the drying beds.
Sholi  truly shines, with tropical notes and citrus, red berry, and rose flavors, a lively red fruity acidity and a syrupy, heavy body.
Producers: Sholi Cooperative
Origin: Muganga District, Southern Province, Rwanda
Variety: Bourbon
Altitude: 1800-2000 masl
Processing info: Fermentation washed at washing station, and sun dried on raised beds
If you are fortunate enough to attend Re:co, please connect with Craig and Chelsey during breaks to discuss everything Atlas and our featured coffees!  Please enjoy this exploration of our featured producers, and reach out to your Atlas rep via email for more information.  In Seattle for Expo? Drop by Atlas Booth 532 for a taste of these coffees.