Saturday, July 1st is Canada Day & 
Tuesday, July 4th is U.S. Independence Day 
---
Atlas Coffee Importers will be closed on Tuesday, July 4. Closures for third-party warehouses are listed below; you may presume standard operating hours for each warehouse unless specified.
Closed on Friday, June 30 | GBH Depot (QC) and Seaforth (BC)
Closed on Monday, July 3 | Continental Annex (CA), Continental Carteret (NJ),GBH Depot (QC) and Seaforth (BC)
Closed on July 4 | Atlas Coffee Importers, Inc., Cadeco (TX), Continental Annex (CA), Continental Carteret (NJ), Dupuy NOLA (LA), Dupuy Charleston (SC), Dupuy Houston (TX), East Bay Sumner (WA), Paris Brothers (MO), and The Green Room (WA)
Transit Times | Order Early!
All transit times are estimates only. Atlas Coffee Importers has no control over shipping delays. Shipments that have traditionally taken 2 days to arrive may take longer at any point as freight may be delayed due to carrier staffing level fluctuations, weather, or many other reasons. Do not wait until the last minute to place an order. Order early and expect extended transit time may occur for any shipment.
Order Processing Times
Lead times vary by warehouse. Please see the graphics below. Holiday closures are not included in lead time. Our team will not process orders on the holiday. If you submit an order while our office is closed, it will be processed upon our return. Use the grids below to determine when your order can be made ready. Clicking on either graphic will enlarge it.
Standard Warehouse Lead Times

Order Processing During the Holiday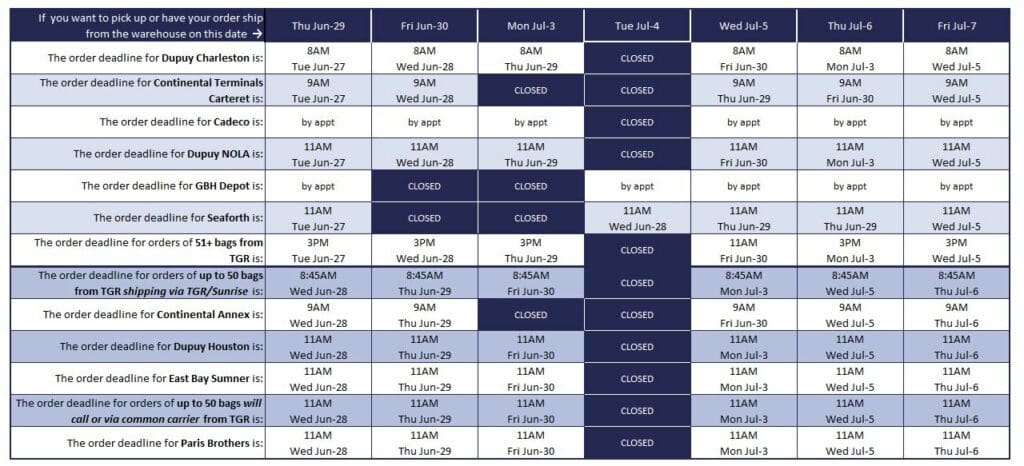 Graphic updated on June 30, 2023
Submitting An Order
To avoid missed orders or processing delays and to ensure prompt and efficient responses, please make sure you email the correct team.
Email Customer Service for coffee information or to place a new order: . Include your preferred will call or shipping date in your request so that we can process your order appropriately. Orders submitted without a specified date will be processed for the next available pick up or shipping date.
Email Outbound Logistics for tracking, questions about warehouses and freight, or to file a claim. Outbound.Atlas@nkg.coffee.
Thank you for your patience and flexibility!
Banner Image Credit | Itabashi Hanai Taikai Zenkei| 板橋区Open Photo, CC BY 4.0 <https://creativecommons.org/licenses/by/4.0>, via Wikimedia Commons