Monday, February 17, 2020 is Presidents' Day in the United States and Family Day in Canada.

Closures
Atlas Coffee Importers Inc. and most of our warehouses will be closed on  this date.
Closed: Atlas Coffee Importers, Annex, CTI NJ, Seaforth Supply, and The Green Room
Open: Dupuy NOLA, Dupuy SC, and Paris Brothers
Order Deadlines
When submitting your order, please make sure you are emailing the correct personnel to avoid missed orders or processing delays.
The guide below shows the latest possible date and time that you may finalize an order with our team to ensure it is prepared on the date you'd prefer. Find your warehouse in the left column and you're the date you'd like the order ready on the top row. Locate their intersection to note your ordering deadline. Often there are higher ordering volumes near holidays, so we recommend reviewing the deadlines and then ordering earlier than them whenever possible.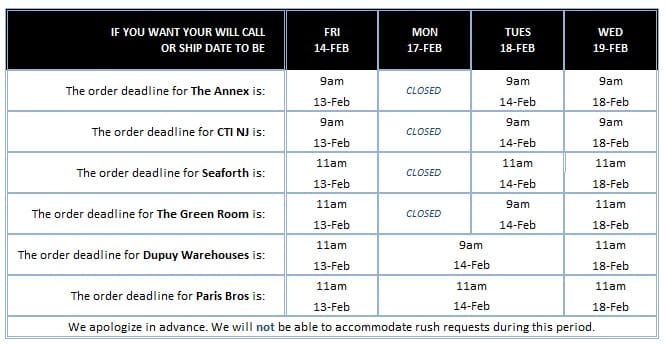 If you have any questions about the adjusted holiday schedule, please email Outbound.Atlas@nkg.coffee.