Martin Luther King Jr. Day is Monday, January 16.
Atlas Coffee Importers will be closed in observance of the holiday. Some warehouse partners and freight carriers have confirmed their schedules as well.
Closed: Atlas Coffee Importers, Continental Annex (CA), Continental Carteret (NJ), Dupuy NOLA (LA), and DUP Charleston (SC)
Open: GBH (QC), Paris Brothers (MO), Seaforth (BC), The Green Room (WA), and all freight carriers will be running on their normal schedules.
Unconfirmed: Cadeco (TX), Dupuy (TX)
Ordering Lead Times
Lead times vary by warehouse. Holiday closures do not count as part of warehouse lead time. We will continue to process orders for the next available business day based upon the time your order is submitted, the warehouse's lead time, and the holiday. Click on the graphic to see it at full size.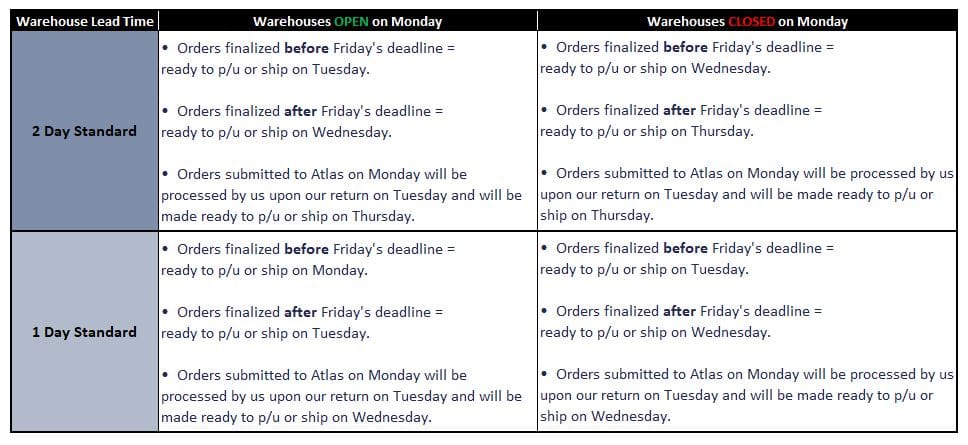 Submitting Your Order & Contacting Atlas
When submitting your order, please make sure you are emailing the correct personnel to avoid missed orders or processing delays.
Martin Luther King Jr.
Martin Luther King Jr. (January 15, 1929-April 4, 1968) was an American activist known for advancing civil rights through civil disobedience and nonviolence. https://www.nobelprize.org/prizes/peace/1964/king/biographical/
The Martin Luther King Jr. holiday on Jan. 16, 2023, is the 27th anniversary of the day of service that celebrates the Civil Rights leader's life and legacy. Observed each year on the third Monday in January as "a day on, not a day off," MLK Day is the only federal holiday designated as a national day of service to encourage all Americans to volunteer to improve their communities. To find a volunteer opportunity, click here: https://www.nationalservice.gov/serve/search
The banner image on this post is a photograph by Yoichi Okamoto - Lyndon Baines Johnson Library and Museum. Image Serial Number: A2133-10. http://photolab.lbjlib.utexas.edu/detail.asp?id=1083, Public Domain, https://commons.wikimedia.org/w/index.php?curid=1303386