Friday, July 1st is Canada Day & 
Monday, July 4th is U.S. Independence Day   
---
To celebrate Independence Day, Atlas Coffee Importers will be closed on Monday, July 4th.
Closures for third-party warehouses are listed below; you may presume standard operating hours for each warehouse unless specified.
Closed on July 1: GBH Depot (QC) and Seaforth (BC)
Closed on July 4: Atlas Coffee Importers, Inc., Continental Annex (CA), Continental Carteret (NJ), Dupuy NOLA (LA), Dupuy Charleston (SC), Dupuy Houston (TX), East Bay Sumner (WA), Paris Brothers (MO), and The Green Room (WA)
Transit Times
Estimated transit times are not guaranteed. Carriers do not provide refunds when freight takes longer than expected. Extraordinarily high freight volumes nationwide continue to impact transit times, and shipments may take much longer than you may be used to. Holiday closures will worsen the situation. Please plan ahead and place your order with plenty of extra transit time built in.
Lead Times
Order processing lead times vary by warehouse; see below. Holiday closures do not count as part of warehouse lead time. Unless you specify otherwise, during regular business hours, Atlas will continue to process orders for the next available business day based upon the time your order is submitted, the warehouse's lead time, and the holiday. Click on the graphic to see it at full size.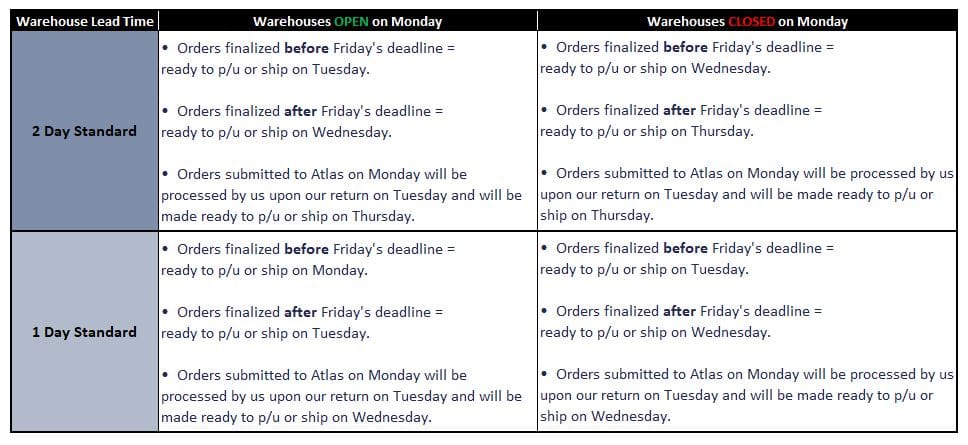 Submitting Your Order & Contacting Atlas
When submitting your order, please make sure you email the correct personnel to avoid missed orders or processing delays.
Statue of Liberty Photo Credit
Ronile, CC0, via Wikimedia Commons, https://commons.wikimedia.org/wiki/File:Statue_of_liberty_head_2013-10-28.jpg