Monday, September 6
th
 is Labor Day.    
In observance, Atlas Coffee Importers will be closed. All warehouses in the U.S. and Canada will be closed as well. 
 
Transit Times
Please be aware that nationwide freight volumes continue to increase the transit times, and shipments are likely to take much longer than you may be used to. Holiday closures worsen the situation. Please plan ahead and place your order with plenty of extra transit time built in.  
Lead Times 
Order processing lead times vary by warehouse. Most warehouses can process orders submitted by the deadline for the following business day. However, Dupuy Charleston, Dupuy New Orleans, and Seaforth all require 2 days lead time. Volume surges at any warehouse may increase lead times with limited notice. Holiday closures do not count as part of warehouse lead time.  
Click on the graphic to see it at full size. Atlas will continue to process orders for the next available business day based upon the time your order is submitted, the warehouse's lead time, and the holiday.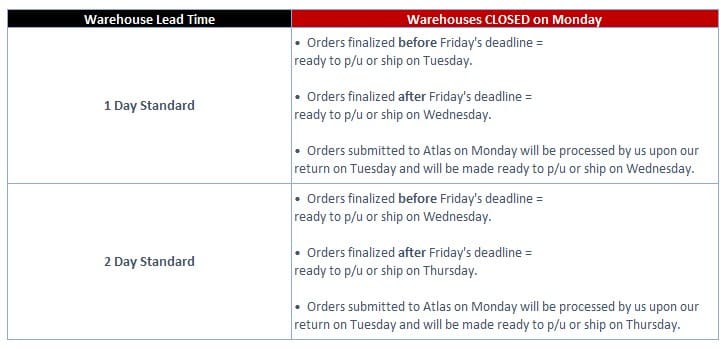 Submitting Your Order & Contacting Atlas 
When submitting your order, please make sure you email the correct personnel to avoid missed orders or processing delays.  
Wonder what Labor Day is all about?
It's more than just a symbol of the end of summer for many Americans. Here is some info to peruse after placing your coffee bean order: Labor Day 2021: Facts, Meaning & Founding - HISTORY
Banner image
Three-Lobed Coneflower aka Brown Eyed Susan by David J. Stang - source: David Stang. First published at ZipcodeZoo.com, CC BY-SA 4.0, https://commons.wikimedia.org/w/index.php?curid=61038054