Atlas has been buying coffee from Cooperative Agricole Muungano ("Muungano") in eastern DR Congo since 2013. Even as Muungano has steadily grown in both membership and volume (e.g. they have gone from producing 3 MT—~50 x 60kg bags—of green coffee in 2009 to 177 MT—~2,950 x 60kg bags—in 2019), their quality has remained top-notch, their drive to better their community (they started a women's association and have done extensive gender-equity training) and experiment with new processes (they exported their first larger amount of natural-process coffees this year, with resounding success) is downright inspiring.
Muungano cooperative was established in 2009, with its headquarters located in the town of Kiniezire, located along the western shore of Lake Kivu three hours south of Goma. As of January 2020, the cooperative has 4141 members (1,849 women, 2,292 men) across 16 sectors, is Fair Trade and Organic certified, and has a Board of Directors composed of 3 women and 4 men. (For more background reading, you can read this blog post  on our June 2018 visit or visit our traceable page here). Their processing steps are many, as described in this flowchart: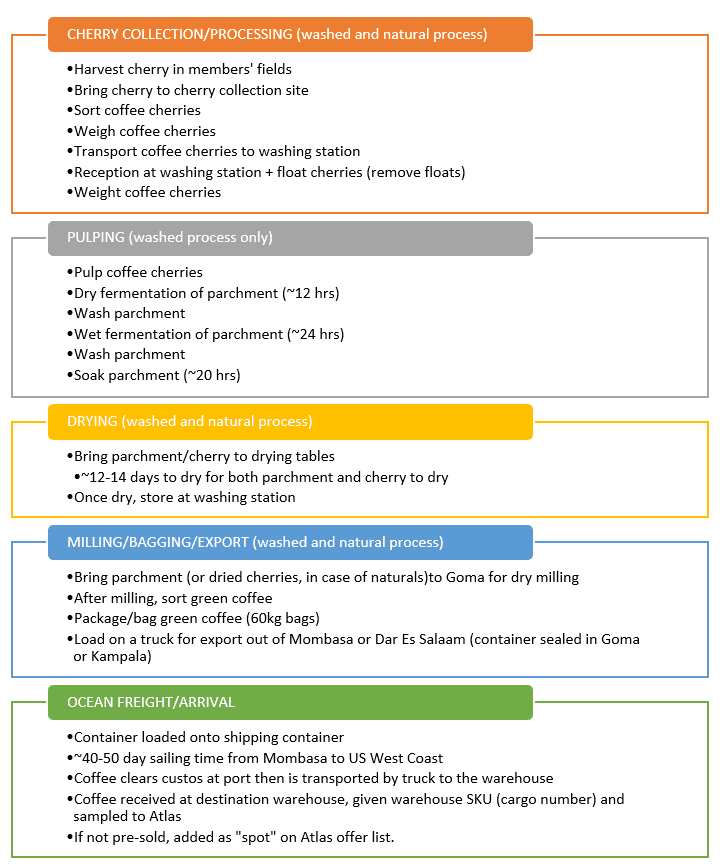 While we were unable to visit Muungano in 2019, I'm in regular contact with Muungano's manager Daniel Habamungu Chinyabuguma via email and WhatsApp.  Based on our conversations we wanted to post a short interview about Muungano's latest goings-on, including their first year of processing naturals, the addition of a new washing station, and training on sustainable agriculture, good governance and cash-flow management.  As of February 1, 2020, new-crop arrivals of fully-washed Muungano lots are available on both the West and East Coast!
Susan: What were your impressions after your first year of processing naturals?
Daniel: Our first impressions were good because we wanted to do it. The issue was the lack of customers. When tasting it in our lab, we were very impressed with the quality.
Susan: Based on this year's results, I hope you don't have a lack of customers for the natural process! Any general updates from Muungano this past year?
Daniel: We started using two micro washing stations in two areas distant from the larger washing stations. We also started a coffee expansion project funded by USADF (United States African Development Fund) that seeks to increase revenue for members through improving the quantity and quality of our coffee.
Susan: How did Muungano decide to start trying processing natural-processed coffee?
Daniel: Muungano had dried only 5kg of natural coffee [before the 2018 season]. After arriving to our office, a consultant took the sample to Belgium, and the sample was very good. And this is how we sold our first 10 bags in 2018. The year 2019 was very, very good as you had noticed.
Susan: Do you have plans to process natural-processed coffee for next season?
Daniel: Yes, we plan to process up to 100 bags of natural-processed coffee for next season.
Susan: We are already looking forward to next year's lots, as this years lots sold out within about a week of arrival. How did processing the naturals change the workflow at the washing station?
Daniel: It changed a lot of things : At the level of the drying tables, natural coffee occupies a lot of the drying tables. There has also been an increase in the daily labor force.
Susan: Did you run into any issues (lack of drying table space, bad weather, etc.) or anything unexpected?
Daniel: At the level of drying tables : We had a lot of difficulties with the drying tables because natural coffee occupies many of the drying tables.   We also encountered difficulties in the weather because natural coffee likes more the period of sun and for us the rain was a challenge.
Susan: Did you only process the naturals from one washing station, or several? If so, which washing stations?
Daniel: Natural coffee was processed in two washing stations: BUCHIRO and the micro washing station in the town of CHEBUMBA
Susan: How is Muungano's 4th washing station coming along?
Daniel: The [construction of the] 4th station is going well despite the need for more drying tables and a larger pulping machine. It produced 37,500 kg of parchment for fully washed coffee for 2019.
Susan: Any project updates or successes from this past year?
Daniel: We had training in good governance organized by USADF [United States African Development Foundation], training on cash-flow organized by Root Capital. For success: The fact of having signed the contract (project) between Muungano and USADF, and the production of good quality coffee for the year 2019.
Susan: Anything else you would like to share with our roasters about natural-processed coffee or Muungano from this last harvest?
Daniel:  We say thank you to our buyers, and we guarantee that the quality will always be very good. The biggest aspirations of Muungano is to improve the conditions of its members through the coffee sold and to be always the first cooperative in the quality of coffee in the DRC and in the world if possible.
Susan: Thank you for your time, and for Muungano's incredible commitment to both quality and the improved livelihoods of its members. C'est du bon boulot!