Atlas Residency
at La Marzocco Café
Thank you to our partners!
Serving as the last resident of the La Marzocco Café was an outstanding experience for everyone at Atlas, and we are so incredibly grateful for the opportunity!
We strive to be good and to do good in supporting coffee producers, coffee roasters, and every partner along the supply chain. Most often, our role is to serve as an invisible presence.  However, the experience at La Marzocco Café enabled us to share the story of our work and our relationships with the specialty coffee industry in a rare way.
"As Importers, much of our work is done behind the scenes and hidden from coffee consumers.  In fact, importers play a critical role in the supply chain. We serve at various points as gate-keepers, advisors, match-makers, translators, paper-pushers, financiers, negotiators, and risk-managers. We're looking forward to stepping out from behind the curtain to share some of this important work with Seattle's coffee-drinking community."  Jennifer Roberts, C.O.O. of Atlas.
Just like the little miracle that is coffee, creating a retail expression of our work as a specialty coffee importer was completely a result of collaboration.  We sincerely appreciate the willingness of Amy Hattemer and Carolyn Reddy to deviate from the norm of featuring roasters and retailers as they conceived of featuring Atlas at La Marzocco and their leadership in executing our vision and coffee dreams.   The team of baristas at the La Marzocco Café represents some of the best in the industry, and we are in awe of their enthusiasm, expertise, and dedication to sharing the story of partners.  Amy, Carolyn, Elizabeth Hafner, Julia Bennett, Leah Muhm, Lani Paschall, Kylie Provost, Rickie Hecht, Sue Kim, Terika Raak, Lucas Rickerson, and Matt Topping, you are the best!   Thank you for being masters at your craft, for extracting our coffees with such care, and for maintaining a dialogue with us to support quality.  Furthermore, thank you to Jenn Callender for sharing our story in such a beautiful way through social media.

Thank you so much to the following coffee producers and roasters, whom allowed us to share their work and how they partner with Atlas as an importer.  Throughout the residency, Drew Billups, Atlas Director of Education and Quality Control, roasted all coffees for beverage service on the Diedrich IR-12 at Victrola Coffee Roasters.  In creating our menu, we selected a range of coffees to tell the stories of our coffee producers.  After choosing coffees, we reached out to roasters that were also supporting those farmers to serve as featured roasters of retail coffee.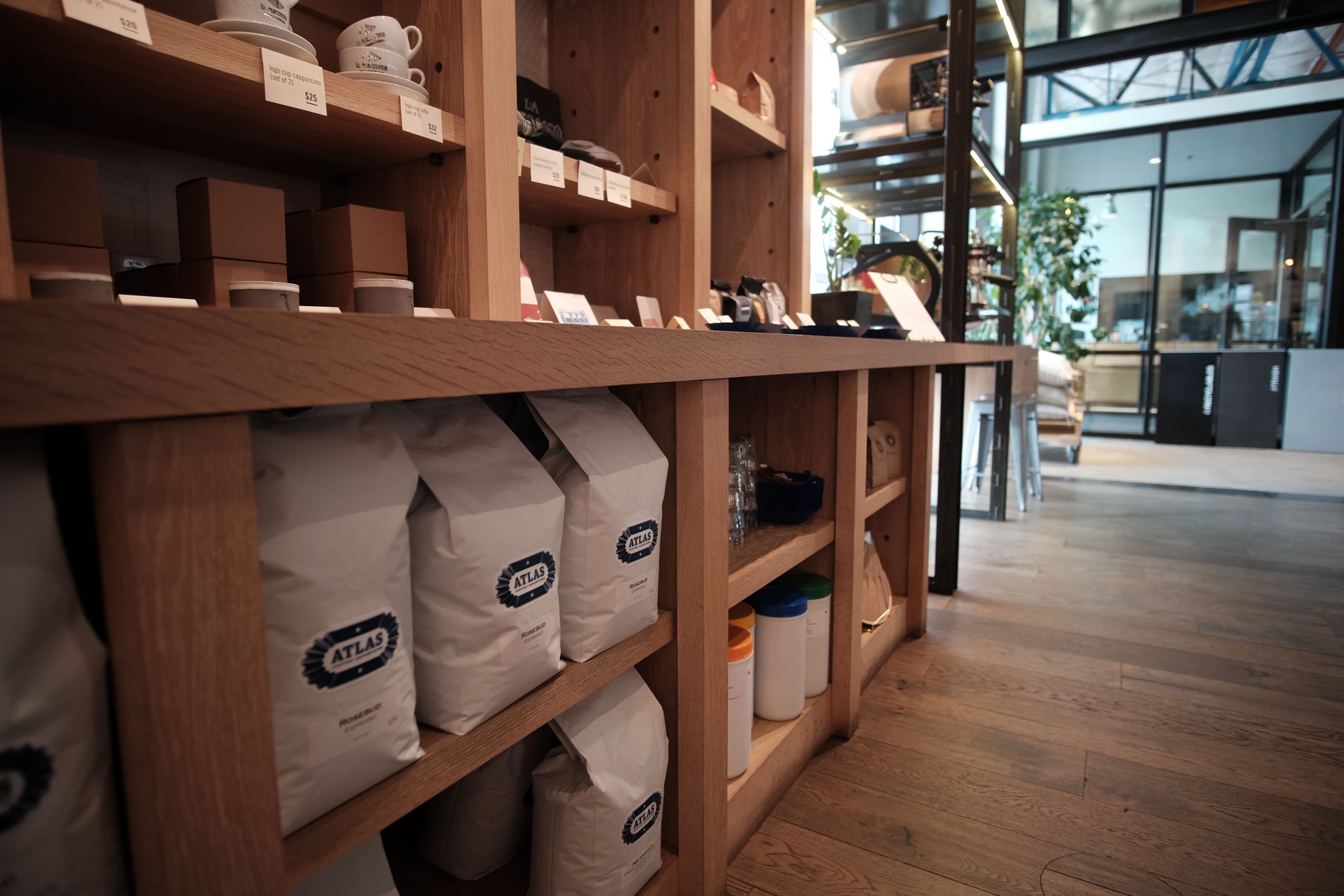 Photo by ForageWorks.
Every week, these items remained staples:
But we also changed it up…
During Week 1: " Long-Distance Relationships"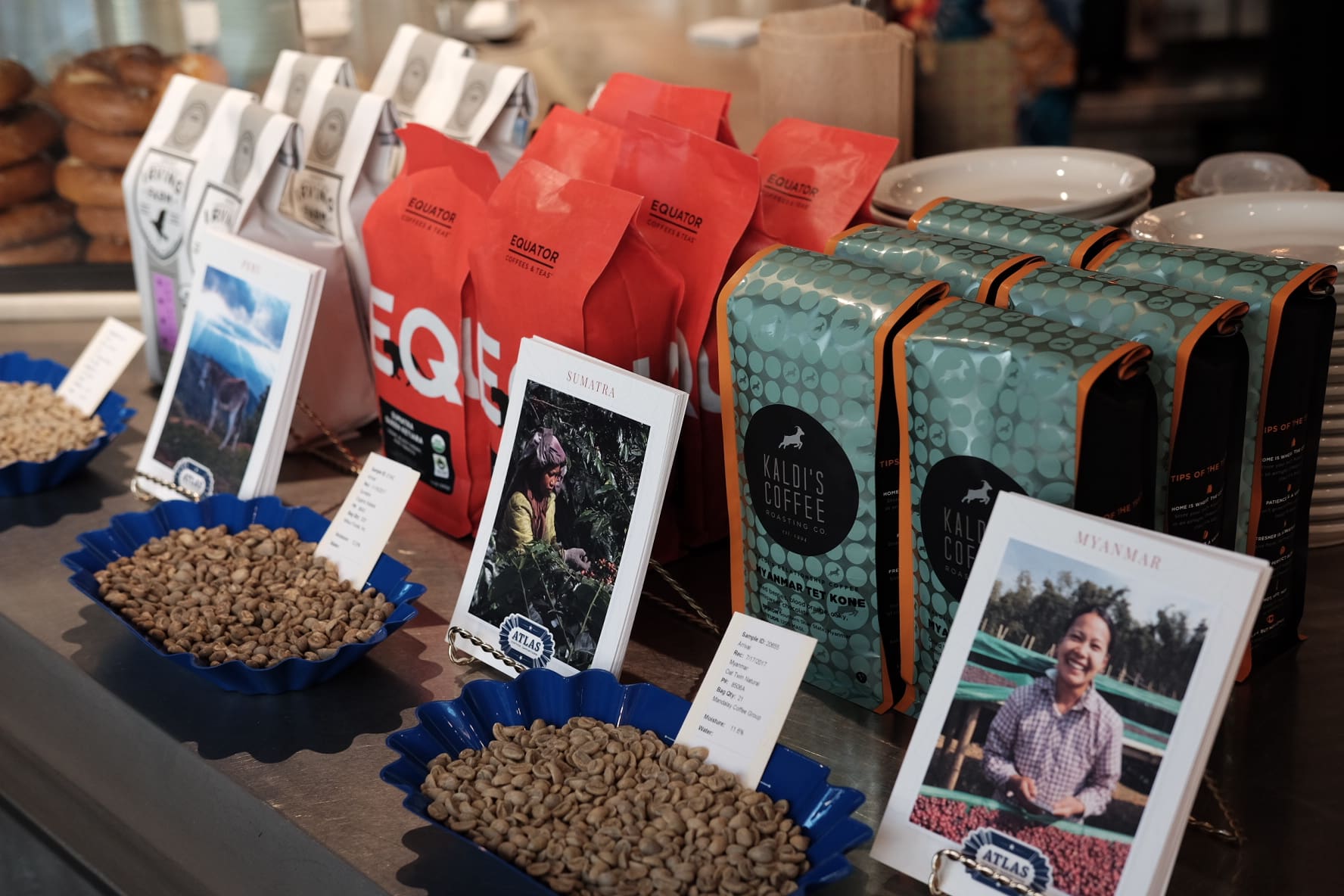 Photo by ForageWorks.
We explored a few of our most beloved relationships with coffee producers and some of the roasters that loyally support them, including:
A natural-process coffee from small-scale producers of the Oat Twin Community in Shan State, Myanmar, as represented by Kaldi's Coffee Tet Kone.
Producer Sergio Palermo's coffee from Chirinos, Cajamarca, Peru, as sourced for Irving Farm. Mayita Mendez, Manager of Strategic Partnerships, served as a guest brewer!
A semi-washed coffee from the Queen Ketiara Cooperative, produced by women farmers in Takengon, Aceh Tengah, Indonesia, as sourced for Equator Coffees & Teas.
For Week 2: "Solid Foundations for Quality"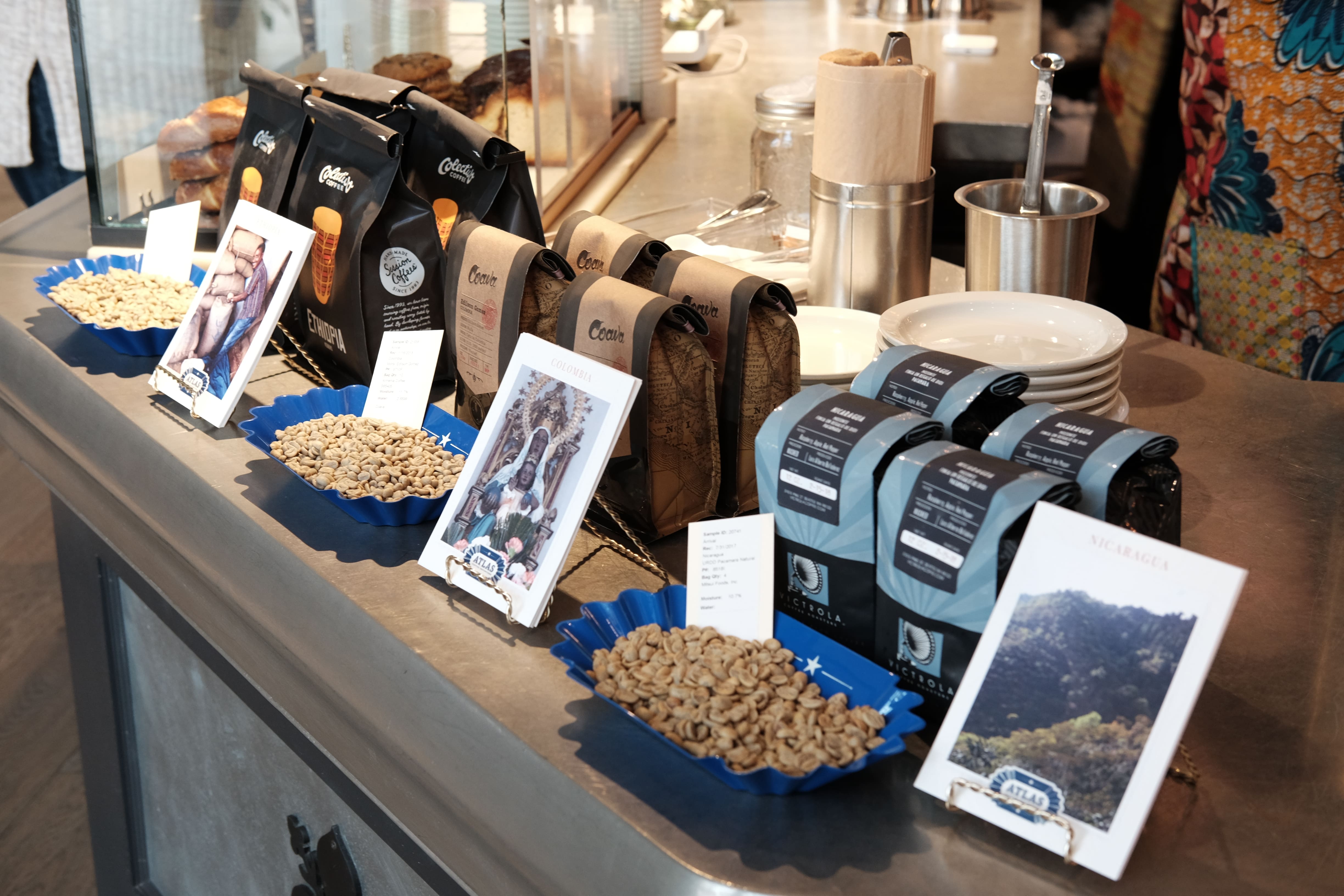 We examined the exceptional quality that results from institutional support at origin and lengthy partnerships, as represented by the following farmers and roasters:
Coffee from small-scale producers at Shara Washing Station near Yirgacheffe, in Gelana Abaya, Ethiopia. This coffee was sourced for USBC Qualifiers by first-time barista competitor Lizzie Johnson from Bluebeard Coffee in Tacoma, WA.  Lizzie's signature beverage "The Wink" served as our featured specialty drink of the week. During the residency, Colectivo Coffee roasted their Kebero.
A microlot sourced for Coava by owner Matt Higgins from producer Edilson Gomez, member of the Monserrate Cooperative in Huila, Colombia.
A natural Pacamara grown and processed by our friend Luis Alberto Ballardez Moncada on his farm Finca Un Regalo de Dios in Nueva Segovia, Nicaragua. Victrola Coffee Roasters, featured their washed Pacamara from Luis this week.
And in Week 3: " The Power of Partnerships"
We appreciate our partner-organization Twin, a U.K. based NGO, and our collaboration with cooperatives in the Great Lakes region of East Africa, including DRC, Burundi, and Rwanda, which results in coffees with remarkable clarity and sweetness.  The featured coffee cooperatives exemplify the quality that results from collaboration, and particularly the team work of female producers due to the focus on gender equity amongst producers:
A washed bourbon produced by small-scale farmers of the Muungano Cooperative in South Kivu, Democratic Republic of Congo, roasted by Dillanos for US Barista Competition Qualifiers competitor Sam Spillman. Sam's signature beverage Togetherness served as our specialty drink during Week 3.  Our friends at Counter Culture roasted a different lot from the Muungano Cooperative, Buchiro, for which Atlas served as an agent.
A washed bourbon produced by farmers of the Hingakawa Women's Association of the Abakundakawa Cooperative in Gakenke District, Rwanda, was featured by Fulcrum. Moreover, you may support the community of Bukonzo Joint, Uganda, by purchasing one of the aprons worn by the La Marzocco Baristas during the residency from Fulcrum and learn more about the experience of Blas on his trip to Uganda with Atlas.
Angele Ciza's washed bourbon from Shamba, Kirundu Province, Burundi, as sourced for Café Grumpy with Green Buyer Cheryl Kingan. Order at home and support the Terimbere Cooperative through The Shamba Mushroom Project.
In addition, we are thankful to the following individuals and businesses for making beverages and treats possible and delicious:
We hope that you had the chance to visit the café, or that you at least enjoyed sharing our experience through watching and reading online!  Are you a commercial roaster that wants to learn more about the green coffee celebrated at La Marzocco Cafe?  Email Brooke, Chelsey, and Katherine at sales@atlascoffee.com or complete an Atlas Application here.
Our Founder Craig Holt began Atlas with the simple idea of connecting growers and roasters in a common language of quality and mutual benefit.  This year, we celebrate the 20th Anniversary of Atlas Coffee Importers, and we could think of a more fun way to do so.
Thank you, from Craig and all of us at Atlas!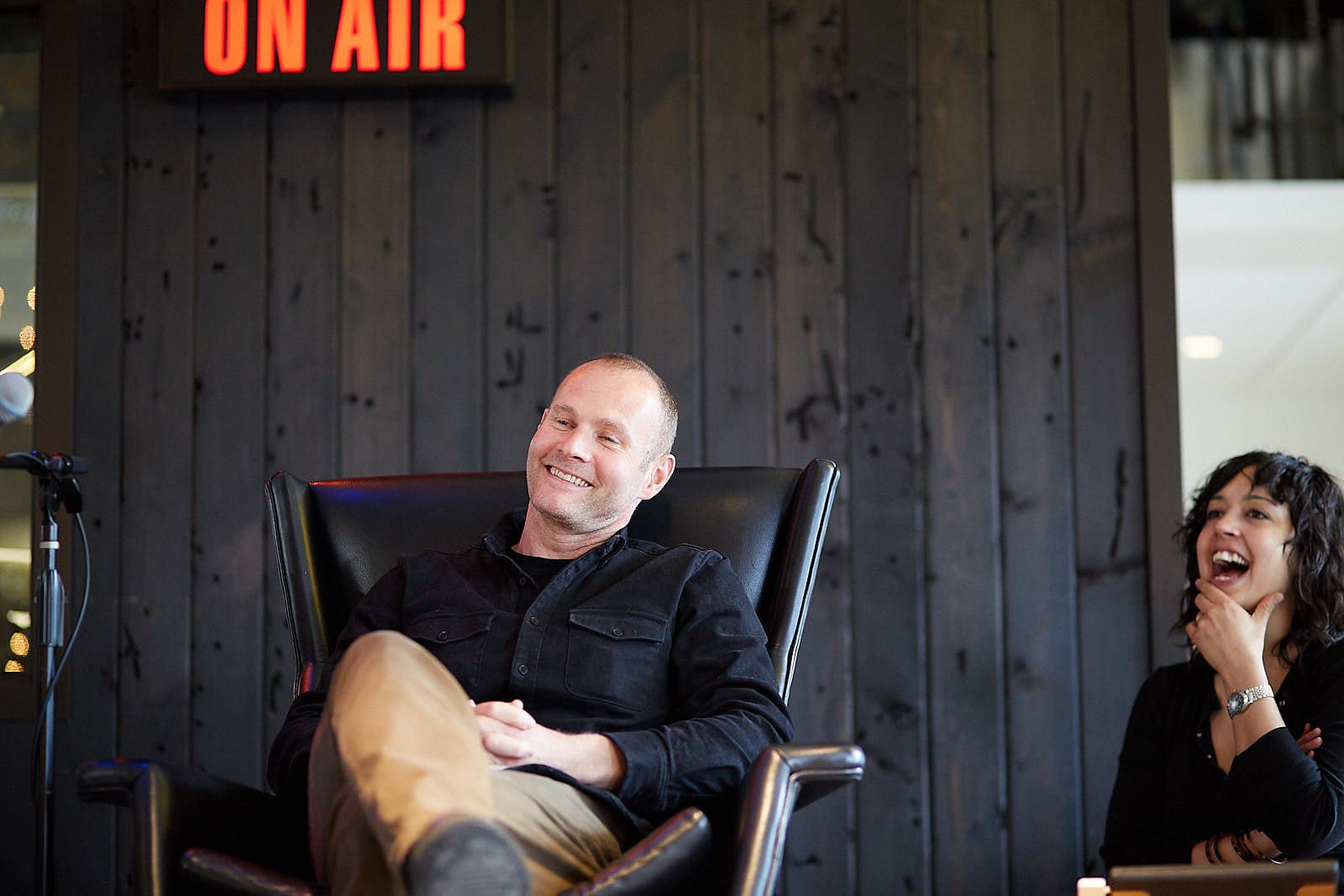 Photo by ForageWorks.
To continue to learn about upcoming events and fresh coffees at Atlas Coffee Importers, follow @atlas_coffee.
To experience the current resident at La Marzocco Café, our friends at Onyx Coffee Lab, follow @lamarzoccocafe.  For café event info and tickets, check the La Marzocco Home Calendar and Facebook page.